Hundreds of global figures call for end to disastrous war on drugs
World consenus on the war on drugs is starting to fray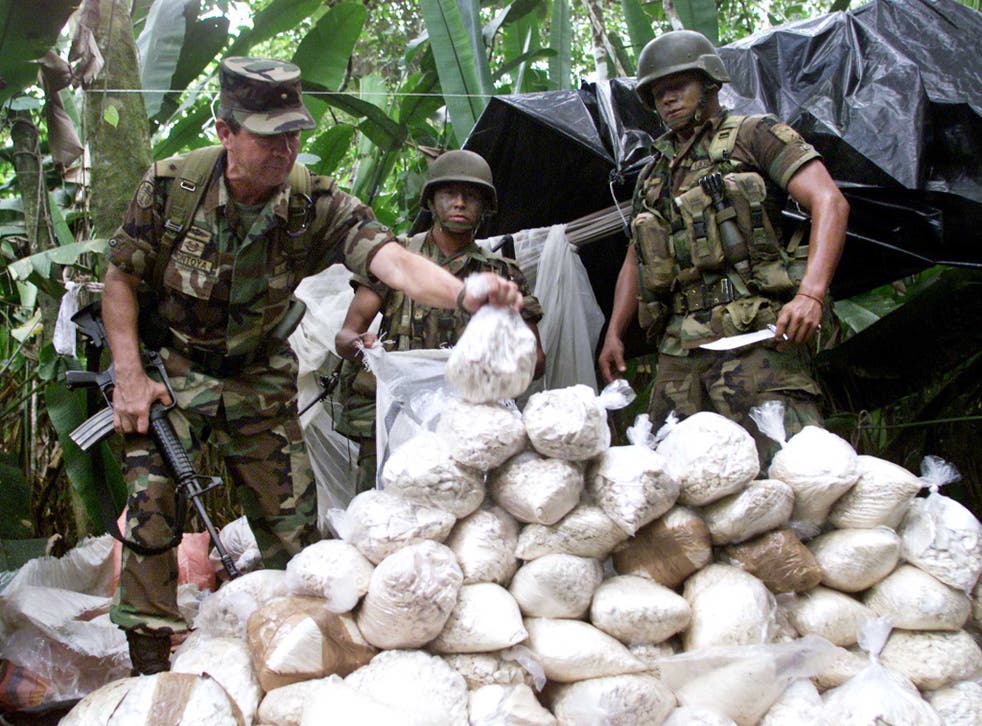 World leaders gathering in New York next week for a special United Nations summit to review the organisation's nearly 20-year campaign to rid the world of illegal drugs are being urged to reverse course and acknowledge that worldwide prohibition has caused more harm than good.
The message has been delivered in an unprecedented open letter to the UN Secretary General, Ban Ki-moon, from more than 1,000 prominent figures from the worlds of politics, activism and entertainment. The effort was orchestrated by the Drug Policy Alliance, which has led efforts to challenge western policies of criminalising the possession, use and distribution of drugs.
Signatories include three US senators - Elizabeth Warren, Cory Booker and presidential runner Bernie Sanders - businessmen Warren Buffett, George Soros, Richard Branson, Barry Diller, actors Michael Douglas and Woody Harrelson as well as several former world leaders, among them the ex-presidents of Mexico and Britain's former deputy Prime Minister, Nick Clegg.
Urged on by the United States and European goverments, the UN formally committed itself in 1998 to eliminating illegal drugs worldwide within ten years, a wildly impractical goal. A backlash movement has grown steadily in recent years which holds that prohibition rather than helping the world has created vast and powerful criminal networks and endless cycles of violence, with Mexico being exhibit number one.
Meanwhile, several countries have seen a new and increasingly open debate about abandoning old anti-drug dicta, notably regarding cannabis, including Britain. Even the United States has seen a crumbling of the national consensus on banning marijuana, which is now legal in several states.
"The drug control regime that emerged during the last century has proven disastrous for global health, security and human rights," the letter said. "Focused overwhelmingly on criminalisation and punishment, it created a vast illicit market that has enriched criminal organisations, corrupted governments, triggered explosive violence, distorted economic markets and undermined basic moral values.
"Governments devoted disproportionate resources to repression at the expense of efforts to better the human condition. Tens of millions of people, mostly poor and racial and ethnic minorities, were incarcerated, mostly for low-level and non-violent drug law violations, with little if any benefit to public security."
The special session, which will open on 19 April, will fall far short of what the signatories to the letter are asking for. However, it is likely to be a milestone meeting nonetheless if, as seems certain, it for the first time offers a platform to those willing at least to question the wisdom of current policy. The session was brought forward two years at the request of Mexico, Guatemala and Colombia, three countries on the front lines of the narcotics conflict.
That is not to say, that the issue does not remain very delicate for many governments. Activists demanding a change in direction were disappointed this week when the President of Mexico, Enrique Peña Nieto, cancelled plans to attend. Last November, the Mexican Supreme Court ruled that current prohibition laws in the country violates the civil rights of its citizens.
"The president is putting his head in the sand," said Lisa Sánchez of the pro-legalisation group Mexico United Against Crime. "The government is sending worrying signals that it is not interested in the issue of drugs. The cancellation of the president's participation is another sign that he doesn't care and doesn't want to debate, and doesn't want to take a stand."
But the signatories to the letter hope at least that they will help force the UN to acknowledge that the drug elimination goal it set itself in 1998 is neither viable nor helpful. "The influence and diversity of the leaders who signed this letter is unprecedented," said Ethan Nadelmann, Executive Director of the Drug Policy Alliance. "Never before have so many respected voices joined together in calling for fundamental reform of drug control policies."
Join our new commenting forum
Join thought-provoking conversations, follow other Independent readers and see their replies