Oscar Pistorius sentencing: paralympian was a violent inmate, prison nurse claims
Defence lawyer and nurse clash over her claims that Pistorius was violent and prone to tantrums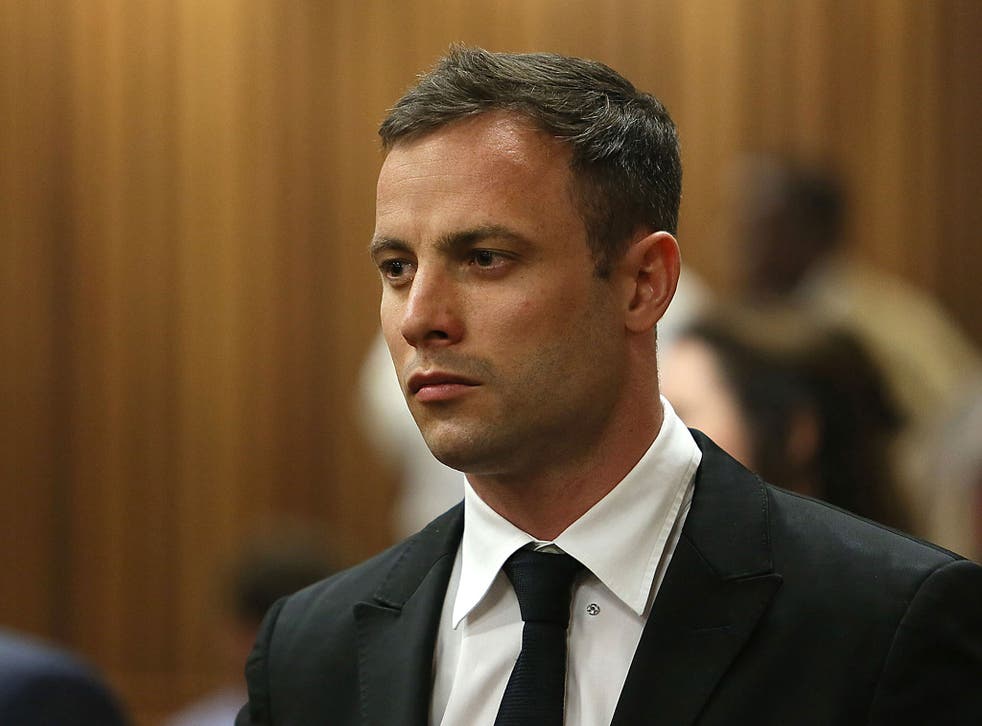 Oscar Pistorius' defence lawyer and his prison nurse have clashed over whether the athlete was a violent, difficult prisoner.
Charlotte Mashabane told the High Court in Pretoria, where Pistorius is being sentenced for the murder of his girlfriend Reeva Steenkamp, that she had been at the receiving end of the paralympian's "tantrums" on three occasions.
Ms Mashabane, the assistant health manager at Kgosi Mampuru II prison, where the paralympian was jailed for a year, claimed that one incident occurred in March 2015 when he screamed at her as she approached his cell while doing her morning rounds on the prison's hospital wing.
A more serious incident occurred, she said, in January 2015 when a family member brought in medication for Pistorius.
Ms Mashabane said that she did not immediately give Pistorius the medication because the correct procedure was for it to be approved by the prison doctor first.
She told the court that Pistorius responded by shaking with anger and banging on the duty room table.
"He started again with the anger, that I must give him the medication, with this face, with this anger," Ms Mashabane said.
But Pistorius' defence lawyer Barry Roux accused the nurse of embellishing her account, suggesting that in fact the paralympian had just been sad that he couldn't have the medication when what the prison was giving him wasn't working.
Oscar Pistorius: Career in pictures

Show all 34
Mr Roux first asked Ms Mashabane: "Are you going to tell the court that this is a violent person?"
Ms Mashabane initially said: "I am not going to tell that he is violent."
But when Mr Roux immediately asked her to clarify whether she considered Pistorius violent, the nurse said: "Yes, sometimes he could [be violent]."
This drew a withering response from Mr Roux.
"Oh, he is violent? Now you realise your answer is not good, it's OK to change?"
Ms Mashabane insisted Pistorius had threatened her: "You will be frightened, with the anger, shaking, when he was banging on the table."
Had earlier got Ms Mashabane to clarify that when she referred to Pistorius banging on the table, she meant with a notebook that was in his hand, not with his fist.
Taking the nurse through her evidence, he asked about the March 2015 incident when Pistorius complained about being disturbed by Ms Mashabane while the paralympian – according to Mr Roux – was still in his underpants.
Mr Roux asked Ms Mashabane: "That surprised you, because before that he had been a kind person?"
Ms Mashabane replied: "Yes, we never had a problem."
Mr Roux asked the same question for a second and third time, on each occasion getting the response that until that March 2015 incident, Ms Mashabane had regarded Pistorius as kind.
The lawyer then reminded Ms Mashabane that the March 2015 incident came after the alleged January 2015 table banging.
Which meant, Mr Roux suggested, that when Pistorius was supposedly banging on the table, Ms Mashabane had actually regarded him as a kind person: "Because we know that before March 2015 he was a kind person."
As Ms Mashabane insisted, "No, no," Judge Thokozile Masipa interrupted to warn the defence lawyer: "Mr Roux, that is trapping the witness."
She also told those watching in the public gallery to refrain from laughing, saying: "This is not a picnic. Sometimes things said by witnesses are funny but just restrain yourself."
This was a reference to the laughter that granted the nurse's claim that Pistorius had been happy for her to treat him with "Rub Rub", an ointment, after he injured his hand in the gym.
Mr Roux had been suggesting Mr Pistorius had been unhappy about being denied an X-ray, a claim denied by Ms Mashabane.
She also denied the defence team's earlier claim that Pistorius had overheard the rape of another inmate, who subsequently hanged himself.
Ms Mashabane said the ward where the incident occurred had been "very far from where Mr Pistorius was staying."
Ms Mashabane said that because of Pistorius's clashes with her, she was eventually asked by her superior to avoid interacting with him.
The sentencing hearing continues on Wednesday.
Join our new commenting forum
Join thought-provoking conversations, follow other Independent readers and see their replies