Philippines may withdraw from the International Criminal Court, says President Rodrigo Duterte
Vladimir Putin has signed an order to withdraw Russia's signature from the Court's founding treaty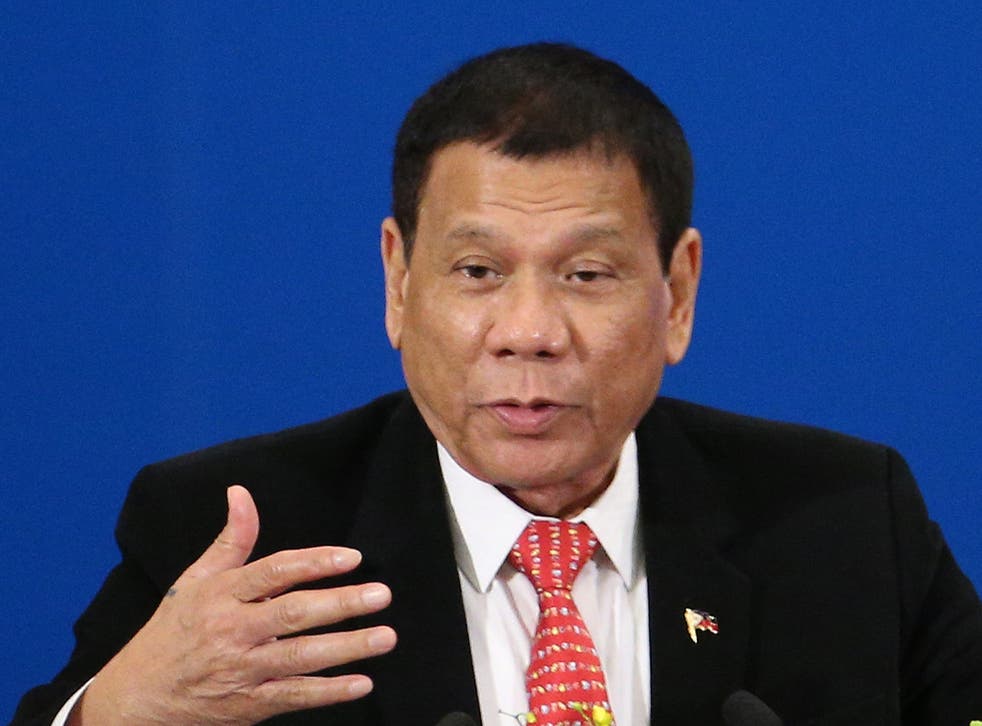 Philippines President Rodrigo Duterte has said he might follow Russia's step to withdraw from the International Criminal Court (ICC).
Mr Duterte called the Court "useless" and railed against the United States and other Western nations, which have accused him of illegal killings as part of his agressive crackdown on drugs.
"They are useless, those in the International Criminal [Court]. They [Russia] withdrew. I might follow," he said in comments ahead of his departure for Lima to attend an Asia-Pacific summit.
Mr Duterte said that if Russia and China were to create a "new order" then the Philippines would be the first to join it.
He also appeared to blame the United Nations for failing to prevent wars all over the world.
Russian leader Vladimir Putin signed an order to withdraw his country's signature from the ICC's founding treaty on Wednesday.
He may have been "emboldened" to do so by the election of Donald Trump, the director of the Centre on Conflict, Rights and Justice at SOAS, University of London has said.
The most controversial quotes from Rodrigo Duterte

Show all 9
"The ICC is holding an event now in the Hague, there have been three African withdrawals and on the heels of that we have the election of a US President who is not going to be supportive," Dr Leslie Vinjamuri told The Independent.
"Russia's a little bit emboldened by the election of Trump."
Mr Duterte is seeking a meeting with Mr Putin in Lima this weekend, which comes as he pursues an independent foreign policy aimed at weaning the Philippines off dependence on longtime ally the United States.
The President, known for his frank statements, speculated that Russia's ICC move might be because of its air strikes in Syria.
"What could be the reason? I really would not know," he said. "Maybe to protect what they are doing in Syria, the incessant bombing and the killing of civilians."
The Philippines became a member of the ICC in 2011, but last month the Court's chief prosecutor expressed alarm over Mr Duterte's war on drugs and the more than 2,400 people killed.
Rodrigo Duterte says he 'doesn't give a s*** about human rights' as 3,500 killed in war on drugs
Fatou Bensouda said in a statement that the Hague-based tribunal may be able to prosecute the perpetrators of the killings.
Mr Duterte said he was annoyed about the criticism he had received and that "nobody was listening" to his reasons for having the crackdown, including US President Barack Obama.
Additional reporting from Reuters
Register for free to continue reading
Registration is a free and easy way to support our truly independent journalism
By registering, you will also enjoy limited access to Premium articles, exclusive newsletters, commenting, and virtual events with our leading journalists
Already have an account? sign in
Register for free to continue reading
Registration is a free and easy way to support our truly independent journalism
By registering, you will also enjoy limited access to Premium articles, exclusive newsletters, commenting, and virtual events with our leading journalists
Already have an account? sign in
Join our new commenting forum
Join thought-provoking conversations, follow other Independent readers and see their replies