Edward Snowden 'yet to seek' Russia asylum as NSA whistleblower emerges from hiding
Fugitive from US intelligence services emerges from hiding at Moscow airport and says he wants to be allowed to fly to Latin America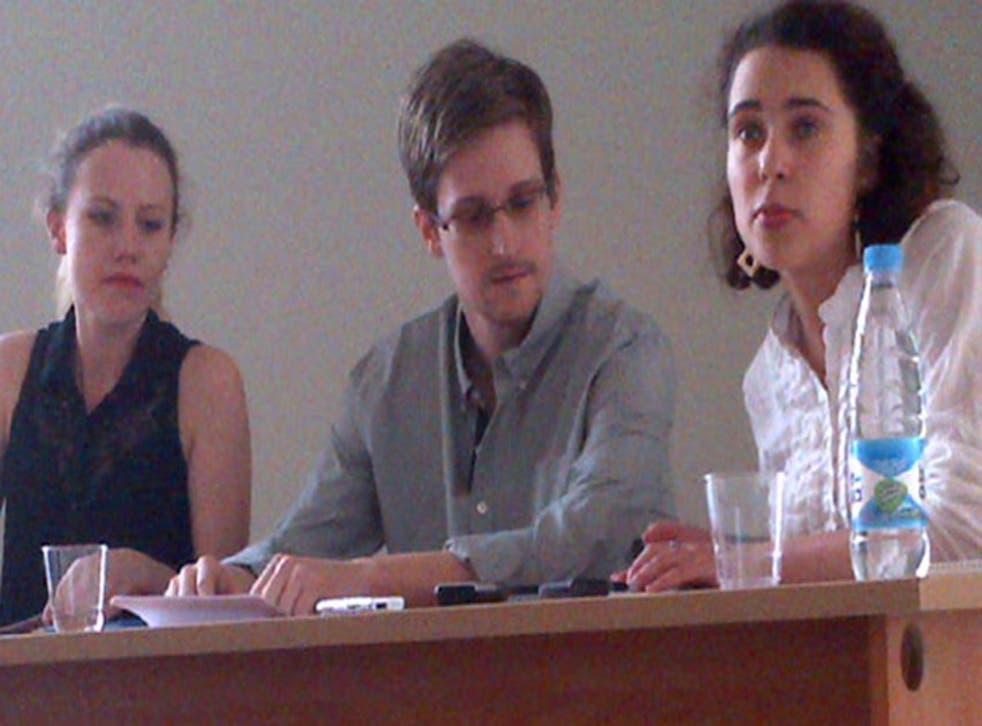 Russia has not received an asylum bid from fugitive Edward Snowden, Moscow officials say after the NSA whistlebower emerged from hiding.
Mr Snowden announced that he plans to apply for asylum in Russia, during a 45-minute meeting with a number of the country's rights activists, lawyers and MPs.
Konstantin Romodanovsky, the director of the Russian migration service, said on Saturday that no request had been made.
The former US intelligence contractor came briefly into view for the first time in the nearly three weeks he has spent at Moscow's Sheremetyevo airport. The whistleblower has been neither seen nor heard from since he landed from Hong Kong on 23 June.
Mr Snowden fled the US after revealing details of widespread surveillance of internet communications by the National Security Agency.
He made a brief statement, which was later made public, before taking questions from those who had travelled to meet him.
"He said that his conditions here are just fine, and that he felt safe, but that he can't stay here forever," said Tanya Lokshina, of Human Rights Watch, who took part in the meeting. "He called on us to intervene with President [Vladimir] Putin and help him to gain asylum here."
Mr Putin has previously said that Mr Snowden could have asylum only if he stopped "harming our American partners" with his leaks. Ms Lokshina said Mr Snowden had said he "did not find Mr Putin's condition problematic because the things that he did were not harmful to the US".
Vyacheslav Nikonov, an influential Russian MP who was also in the meeting, said Mr Snowden had categorically ruled out further leaks.
"I asked him very straighforwardly about Putin's condition and he said that he was ready to accept it," Mr Nikonov said. "He said all of that is in the past now, that he's done everything already and he doesn't want to harm his country."
In the statement, Mr Snowden said he believed that individuals could break laws if it was for the greater good and he had leaked information about US surveillance programmes out of a sense of duty.
"I did what I believed right and began a campaign to correct this wrongdoing," reads the statement. "I did not seek to enrich myself. I did not seek to sell US secrets. I did not partner with any foreign government to guarantee my safety. Instead, I took what I knew to the public, so what affects all of us can be discussed by all of us in the light of day, and I asked the world for justice."
Mr Snowden thanked Russia and the Latin American countries that have offered him asylum. He also called on the US and Europe to not interfere with his travel plans. He indicated that his Russian asylum request was a temporary measure to allow him to leave the airport before he could travel on to another country, quite possibly Venezuela. President Nicolas Maduro has said he would consider an asylum request favourably.
The saga around Mr Snowden has been unfolding since he landed at Sheremetyevo on an Aeroflot flight from Hong Kong nearly three weeks ago. He was expected to board a flight to Havana the next day, but never showed up for it. Some have even suggested that he might not be in the airport at all, but at a safe house watched over by Russian security services or in another secret location.
Now it seems he really is in the airport, although with the entire transit zone having been scoured by the world's media it is likely he is being guarded in a private part of the airport. "It seems like he's living here," said Mr Nikonov. "Our meeting basically took place in a transit corridor and there were frequent flight announcements; Snowden said 'I've got used to these by now'.
"He looked healthy, and he smiled a lot, though he didn't joke. And his haircut looked great."
Join our new commenting forum
Join thought-provoking conversations, follow other Independent readers and see their replies