The forgotten girls: By 2020, there will be 50m child brides under the age of 15
This week's international 'Day of the Girl' offers governments, the UN, and charities an opportunity to address a shocking - and growing - trend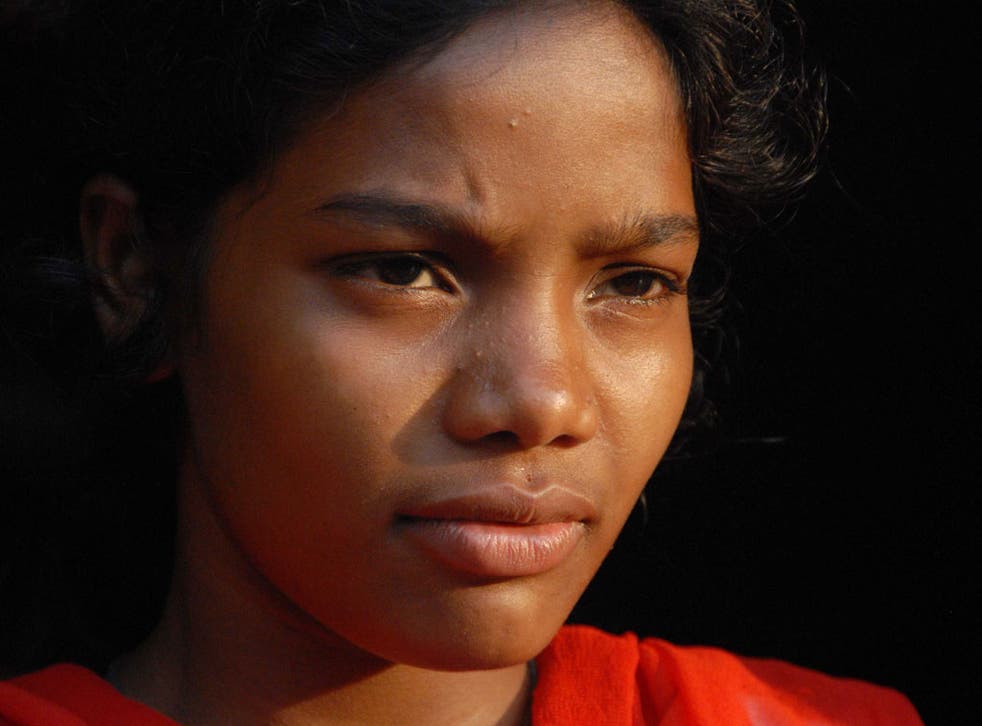 When 12-year-old Nargis was woken up, one morning in Bangladesh, by two women she did not know, she was confused. She did not understand when they told her she would be marrying their brother in just a few weeks, or that she would be leaving her parents' home. When she became a mother two years later, losing her son after only 16 days, the pangs of fear were familiar. Now, with a frail child to bring up, she is much more resolute: "I don't think girls should marry before they're 18 years old."
Today, days before the first internationally recognised Day of the Girl, experts warn that child marriage is, without exception, the biggest challenge to girls' development. The number of girls married before the age of 15 is expected to double over the next decade, the United Nations Population Fund (UNFPA) has warned. By 2020, there will be around 50 million wives under the age of 15. This will pass 100 million by 2030, if current trends continue.
Babatunde Osotimehin, executive director of the UNFPA, said the "shocking" projections were being released to call the world's attention to the scale of the problem. "We are dealing with the largest generation of young people the world has ever known," he told The Independent on Sunday. "This is the marrying off of children who don't even understand what it is to be married or to be an adult. Girls are being robbed of their childhood. They have babies before they are ready, and we see intergenerational poverty. We need to stop this vicious cycle."
Across the developing world around one third of girls get married before 18, according to Unicef. Around 10 per cent, like Nargis, will not have even have turned 15. Marie Staunton, chief executive of the children's charity Plan UK, called child brides the "most forgotten of all the invisible girls". Married children are generally isolated, she warned, at greater risk of violence, abuse and exploitation, and more likely to drop out of education.
Nargis, who once dreamed of being a teacher, left school after the wedding, which her parents arranged. She moved in with her 15-year-old husband, to cook and clean for him and his family. Eight years later, she still lives there, with her only child, who is undernourished, because she is unable to provide the amount of breast milk that he needs. Her story is not dissimilar to the more than 10 million girls who are married off each year; her father was poor and hoped a wedding would provide security for his child.
"It was very sudden when my parents announced I was to get married. I cried, but I was eventually forced to marry. There was no way to say no," Nargis said. "On my wedding day, I didn't know what to do. Once my grandmother and sister had gone, I had to go and live with my husband. I didn't know him. That night I felt strange, and very scared.
"After the marriage, it felt like mental torture. I was silent, but my health started to break down. I gave birth to a son when I was 14 years old, but he died. Now I have a child who is a year and eight months. When I was getting married, I had five close friends. Two are still in school, but three are married. I never see them now. When I was in school and with my friends, I was very happy; I really want to go back."
Bangladesh has one of the world's highest rates of child marriage – with almost one in three children marrying before they turn 15 – but the issue is a global one. Child brides are most common in South Asia, where 46 per cent get married before the age of 18, in Sub-Saharan Africa, where the figure is 37 per cent, and in Latin America and the Caribbean (29 per cent). The highest rates in Europe are found in Georgia and Turkey, where 17 per cent and 14 per cent of girls, respectively, marry before they turn 18.
IN 2010 more than 700 girls younger than 10 were married in Iran, the number increasing by more than a third in a year.
For Francesca Moneti, Unicef's senior child protection specialist, child marriage is an "extreme survival mechanism" that can increase when there is an emergency, such as a food crisis. She said there was anecdotal evidence that families in Niger had turned to child marriage in larger numbers this year as one of a number of "survival strategies".
She added that child marriage can contribute to a "chronic situation of malnutrition" when young, undernourished children give birth to babies that are born with low weight, creating "nutritional insufficiencies across generations". Heena, a 16-year-old girl from a family of farmers, in Nepal, was forced into a marriage last year with a man 10 years older than her, and is about to give birth. She says that when she discovered she was to wed, she cried for a year.
"Married life is very hard work. I wake early at 5.30 every morning. I have to fetch water, prepare meals, sweep, go to the farm with my mother-in-law and wash all the clothes. We live in a mud house with small areas of land to farm," she added. "I am really scared for my future. I have no way to earn a living and I am going to be raising a child in this poverty. There is no hospital nearby. I am worried about giving birth to this baby safely, but I have no choice."
She has reason to worry. Pregnancy is the biggest killer of teenage girls in the developing world, causing 50,000 deaths in the 15-19 age group each year. Girls aged between 10 and 14 are five times more likely to die during pregnancy than women aged between 20 and 24.
While politicians, charities and community workers stress that legislation is essential for reversing the upward trend in child marriage – more than 100 countries have established 18 or older as the legal minimum age for girls to marry without consent – they stress that "quality education" is one of the best ways to keep children from becoming brides. More than a third of girls in some of the most impoverished parts of the world drop out of education at the end of primary school, says a new report by Plan, Because I Am a Girl, to be released this week. Globally, only 74 per cent of girls between the ages of 11 and 15 are in school, compared with 83 per cent of boys.
The international development minister, Lynne Featherstone, said the coalition was "stepping up our support to provide education opportunities to up to a million of the world's poorest girls through the Girls Education Programme. Even a year of schooling can vastly reduce the chances of a teenage girl ending up in an early marriage."
Additional reporting by Jonathan Owen
Case studies...
India: Nitu
Child marriage prevalence: 47 per cent
Nitu was 10 years old when she was told by her grandfather one morning to prepare for a ceremony being held in her village, close to the border of Pakistan. She was excited. She and her two older sisters, Preeti, 12, and Suki, 15, were given ornaments and new clothes. Nitu thought the process of walking around the ceremonial fire was a game. Only when it was over did she realise she and her sisters were now married. They had all become child brides.
Now 17, Nitu has just returned home to her mother, who is unwell, and her father, after suffering seven years with her husband, a potter in his twenties, whom she says used to drink and abuse her. Her older sister, Suki, now mother to a three-year-old boy and a two-year-old girl, has moved back with her. Her middle sister is still living with her husband. Too traumatised to discuss what went on sexually, Nitu says she will never have children with her husband.
"My grandfather, my mother's father, had us married because my father was in the hospital. He was extremely ill. My family wanted us to marry in the presence of my father – they thought he would not recover, we would be orphaned and there would be no one to take care of us. At the time I actually enjoyed the marriage ceremony, as I didn't really know what was happening. But soon I realised that walking around the fire meant I was now married and had to live with my in-laws. I lost the games I used to play, as well as my smile.
"I went to live with my husband after we had been married already for two years. My husband abused me – he beat me and screamed at me. Any money he earns through farming and driving, he spends on alcohol. When he is drunk, he beats me. I will never have children with my husband, however much he beats me. We all looked after our in-laws, our husbands, the children and our own mother. We lived together in a small house made from clay and grass. I helped my sister with tailoring, farming and household chores."
"My father was in hospital for years, but his health is now much improved. When he recovered he went to meet with my husband. He saw his behaviour and he didn't like it. He refused to have me live there and bargained with him to get me back. My father is angry with how my husband has treated me. He says I will only be allowed to return to my husband's home if he changes his ways, but the negotiations are still under way. There is a lot of community pressure. My father wants me to remarry – but I refuse to. I hope to support my family through embroidery and tailoring. If I had ever had the opportunity to go to school, I would have liked to have been a teacher."
Sierre Leone: Esme
Child marriage prevalence: 48 per cent
When 13-year-old Esme was approached in her compound by a neighbour of the man who wanted to marry her, she said no. But as her parents had fled to the east of Sierra Leone during the war, and she had grown up an orphan, she had little choice. Her husband was 12 years her senior and, she says, beat her and used her for sex. When she enrolled in a school to learn a trade, he left her and their three-year-old daughter. Now, 17, Esme says she will never marry again.
"My husband was much older than me. I was 13 and he was 25 years old. He punished me by making me watch while he had sex with other women. I was like a slave – cleaning and cooking and not going to school. After I became pregnant, my husband didn't want me or the child.
"I needed to support us both. I heard from a friend about the Forum of African Women Educationists, which helps girls in my situation. But once I enrolled, my husband left me. I started to starve myself. I wanted to die. I now sell peanuts to help earn money. I care for my child and the lady who brought me up."
The girls' names have been changed to protect their identities
Join our new commenting forum
Join thought-provoking conversations, follow other Independent readers and see their replies