US will 'hold to account' any state or group who targets 'innocents', says Rex Tillerson
America's Secretary of State is due to meet his Russian counterpart this week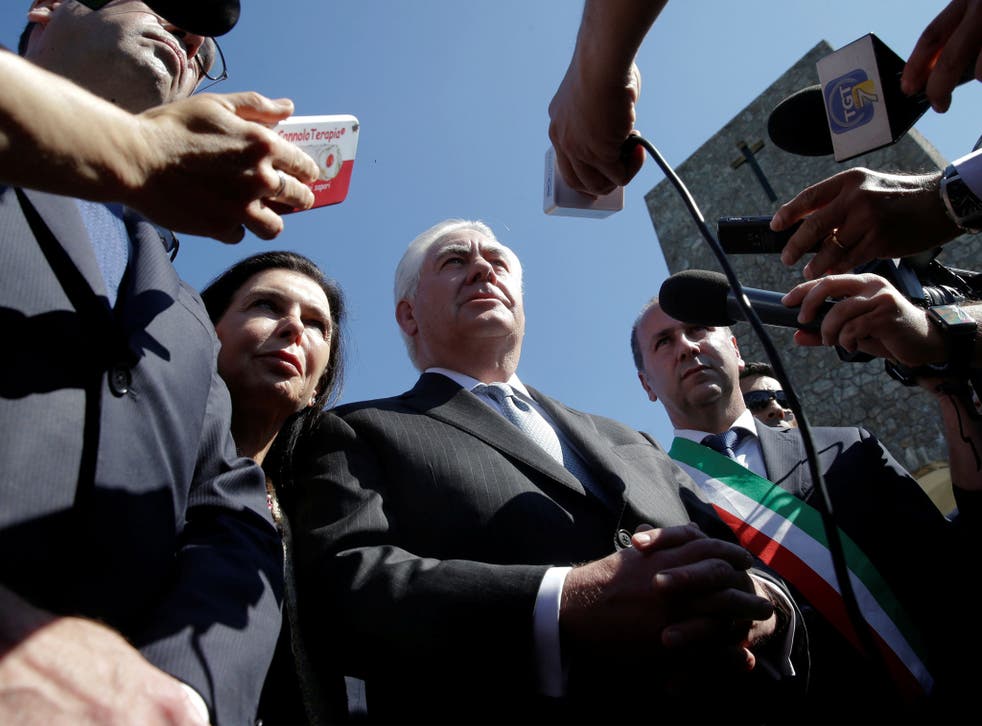 The US will "hold to account" any state or group who targets "innocents", Secretary of State Rex Tillerson has said, in a thinly-veiled warning to America's adversaries in Russia, North Korea and the Middle East.
The remarks from Washington's most senior diplomat are a further sign of deepening tensions with Moscow and come after America's envoy to the United Nations raised the prospect of further airstrikes in Syria.
Mr Tillerson, in Italy for his first gathering of G7 foreign ministers, said: "We rededicate ourselves to holding to account any and all who commit crimes against the innocents anywhere in the world."
He is due to travel to Russia after the two-day event for highly charged talks with his counterpart Sergei Lavrov.
The Kremlin responded on Monday by saying the US strikes on Syria showed a reluctance to cooperate on the part of the Trump administration.
"The American side has demonstrated its complete unwillingness to somehow interact on Syria and take into account the interests and the concerns of others," presidential spokesman Dmitry Peskov said.
Last week's nerve gas attack in the rebel-held town of Khan Sheikhoun, which killed more than 80 people, led Donald Trump to launch 59 tomahawk cruise missiles at a Syrian air base.
Hours later, America's ambassador to the UN, Nikki Haley, said the US was "prepared to do more" to stop Syrian President Bashar al-Assad using chemical weapons.
Mr Tillerson – a former oil company boss with no diplomatic experience – said at the weekend that he was hoping for "constructive" talks in Russia.
He is not due to meet President Vladimir Putin but will hold talks with the Russian Foreign Minister.
British Foreign Secretary Boris Johnson has come under fire for cancelling his meeting with Mr Lavrov following discussions with the US.
He had been due to visit Russia on Monday, which would have been the first visit by a UK foreign secretary in more than five years.
Syria: What led to the US airstrikes?
But Mr Johnson attacked the Kremlin and said he would instead focus on building support with allies to secure a ceasefire in war-torn Syria.
"We deplore Russia's continued defence of the Assad regime even after the chemical weapons attack on innocent civilians," he said.
"We call on Russia to do everything possible to bring about a political settlement in Syria and work with the rest of the international community to ensure that the shocking events of the last week are never repeated."
Join our new commenting forum
Join thought-provoking conversations, follow other Independent readers and see their replies