German election results: Urban liberal voters turn out to contain far-right AfD
Turnout in wealthier urban areas hostile to AfD is up, preliminary figures show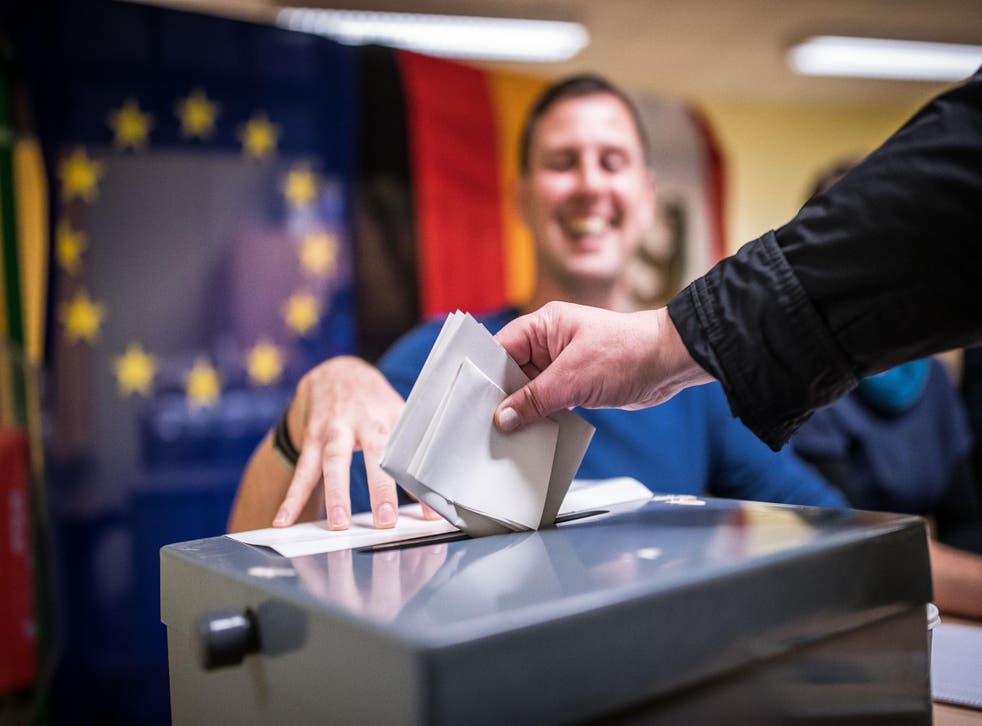 A strong showing for the far-right AfD party in the German elections may be contained by a surge in liberal urban voters turning out to stop them, early indications suggest.
The anti-immigration and anti-Islam Alternative fur Deutschland is expected to be the first far-right party to win MPs in the Bundestag for half a century when polls close today – but the party may not fare quite as well as expected if early turnout figures are to be believed.
Numbers released by the German federal returning officer in the early afternoon show turnout across the country was roughly static at 41.1 per cent, compared to 41.4 per cent in the most recent previous elections in 2013.
But the overall national picture appears to be disguising a shift on the ground, with voters turning out in force in many wealthier urban areas, while poorer and more rural areas associated with the AfD see lower turnout.
The state of Hesse, which contains the city of Frankfurt, the well-to-do financial capital of continental Europe, saw turnout substantially up, from 40 per cent at 2pm on election day 2013 to 45.9 per cent at the same time this year.
Meanwhile Thuringia, the so-called "green heart of Germany", saw turnout as of 2pm down to just 50.9 per cent. It was 55.6 per cent at the same time the same year.
Turnout in wealthy the wealthy port city of Hamburg was up, while the former coal mining and industrial area of Saarland saw a fall in turnout.
The German capital Berlin – which is poorer than the rest of the county – appeared to buck the trend of urban areas having significantly higher turnout. It was roughly static at 27.2 per cent, up just 0.1 per cent on the last time as of 2pm.
Higher turnout in urban areas would likely favour more established parties such as the liberal FDP and Greens, who do well in cities – barring a major reversal of previous trends.
AfD sources in Berlin said they expected their results to average between 11.4 per cent and 14.6 per cent – with stronger showings in former East German areas.
With polls open until 6pm local time there is still plenty of time for voters in other areas to get turn up at polling stations, however, and the picture could change.
German election 2017

Show all 14
German politicians, including the president, Frank-Walter Steinmeier, urged voters to go to the polls this morning.
"It has perhaps never been as clear that the elections are about the future of democracy and Europe," he wrote in the tabloid newspaper Bild.
"If you don't vote, others decide."
Join our new commenting forum
Join thought-provoking conversations, follow other Independent readers and see their replies