Vladimir Putin revealed to have told Assad: 'We will not let you lose'
Conservative MP David Davis also reveals Russia stepped back from bombing over peace talks critcism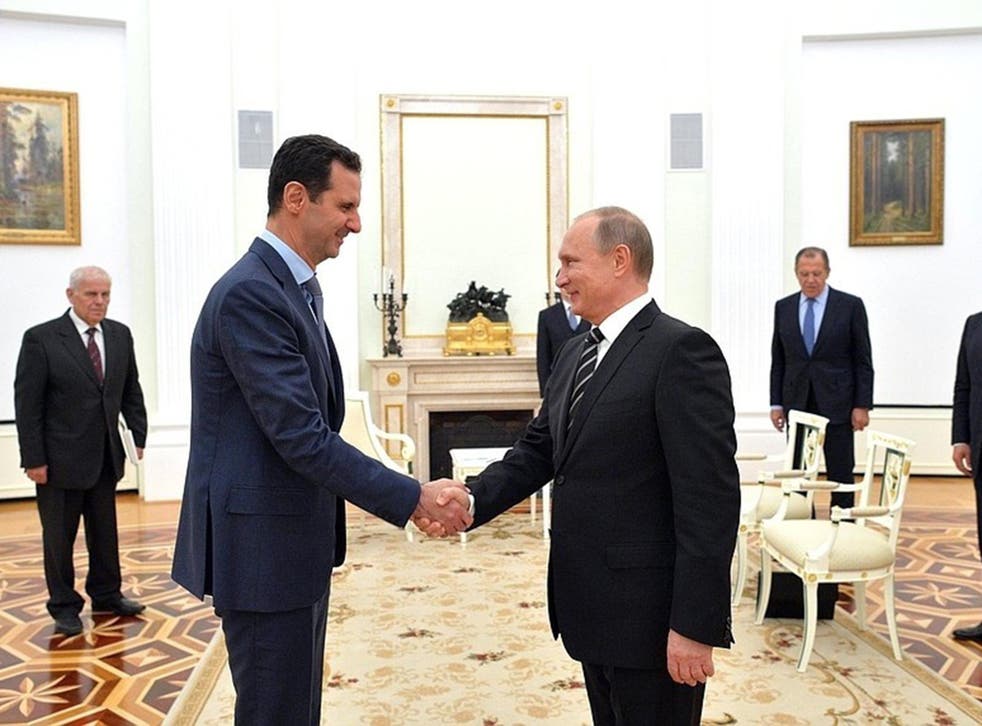 Vladimir Putin has personally assured Bashar Al-Assad that Russia will not let the Syrian government lose the civil war, according to a senior MP who recently met the Syrian dictator.
During a visit to Damascus as part of a fact-finding mission, the Conservative MP David Davis held face-to-face talks with President Assad.
He told the BBC's Andrew Marr Show that the Syrian leader discussed the motives behind President Putin's partial withdrawal of military forces from the country, after Russian troops proved instrumental in turning the tide of the war in favour of the regime.
In pictures: Russian air strikes in Syria

Show all 19
"The Russian intervention completely put the Syrian army back on its feet. I asked him why [Putin] downscaled it," Mr Davis said. "[Assad] said: 'Because Russia was being criticised for stalling the [peace] talks,' taking away the incentive for him to negotiate it.
"But then there was a line that came out of it, almost as a throwaway line, he said: 'Putin said, we will not let you lose.' For me, that was in some ways the most important phrase of the entire visit."
Mr Davis, a former minister and one-time Conservative leadership hopeful, said that an assurance of Russian support, if it had been given, meant there could only be a regime victory, or a negotiated settlement in Syria.
The West, he said, should therefore embark on a strategy of economic persuasion and offer the regime "a Marshall Plan for Syria" – a reference to the economic support the US provided to rebuild Germany and other European countries after the Second World War.
"Syria used to be the Germany of the Levant – bread basket, pharmaceuticals, textiles, you name it," Mr Davis said. "That then allows us to say: 'You want this, you've got to negotiate properly, do what we want and create a civilised regime.'"
President Putin ordered the withdrawal of the majority of Russia's troops from Syria in March, leading to speculation of a rupture between Damascus and Moscow.
However, Russia has maintained a military presence in the country, and the regime continues to make gains against the array of rebel forces fighting in the country, recently driving Isis fighters out of the ancient city of Palmyra and its surrounding area.
Join our new commenting forum
Join thought-provoking conversations, follow other Independent readers and see their replies