RBS involved in conference on Middle East weapons sales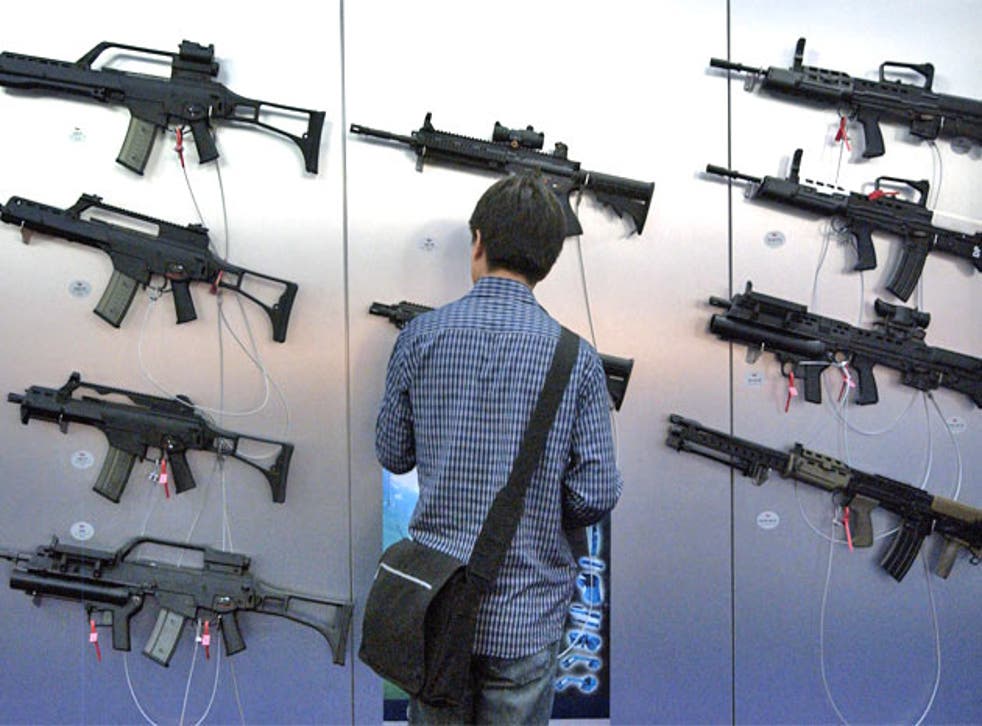 The Royal Bank of Scotland's is sending delegates to a conference promoting weapons sales to the Middle East.
The Independent has learned that the state-owned bank – which is 83 percent owned by the tax payer – is attending a conference on Thursday organised by the London Chamber of Commerce.
The revelation comes amid growing concerns about the bank's ethical record since it was rescued by the tax-payer three years ago.
Last month The Independent exposed how the state owned bank invested in companies known to manufacture cluster bomb parts and also helped bankroll Belarusian dictator Alexander Lukashenko with a series of government bond deals. The bank has since made a u-turn on both controversies, vowing to halt any deals with either Belarus or cluster bomb manufacturers.
Thursday's networking event, entitled "Middle East – a vast market for UK defence and security companies", comes just a week before Britain's defence industry displays its wares at DSEi, a massive exhibition at the London Excel centre which is often described as the world's largest arms fair.
Campaigners have condemned the conference as further evidence that British arms companies will continue to sell to authoritarian regimes in the Middle East despite the frequent use during this year's Arab Spring uprisings of both deadly and non-lethal weaponry to quell popular dissent.
A flyer for the conference obtained by The Independent boasts how the Middle East remains "one of the regions with the greatest number of opportunities for UK defence and security companies". The publicity material, which features an attack helicopter on its front, recommends Saudi Arabia, the UAE, Bahrain and Oman as lucrative clients that should be "targeted". All four regimes tolerate little dissent and are frequently accused of gross human rights abuses.
In Bahrain alone more than 30 people have been killed since protests by the country's majority Shi'a population broke out against the ruling Sunni Al-Khalifa family earlier this year. Last week protestors claimed that 14-year-old Ali Jawad al-Sheikh was killed when armed forces fired a tear gas canister at his head.
Britain brought in export restrictions on Bahrain after the authorities began firing live ammunition at protestors. It had previously emerged that UK companies had sold tear gas canisters to the Bahraini regime. Libya, another country that used lethal force on its people, was also a major customer of British defence contracts prior to this year and was invited to the DSEi when it was last held in 2009.
UKTI, the government department charged with promoting British business interests abroad, will also have a presence at Thursday's arms conference. RBS had initially agreed to host the event at its London headquarters on Bishopsgate and provide a speaker. But a spokesperson said yesterday that the event had been moved for operational reasons. The London Chamber of Commerce would not confirm where the event would now take place when it was contacted by The Independent this afternoon.
Peter Bishop, the chamber's deputy chief executive said: "It's certainly the LCC's intention for the event to go ahead but I can't say much more than that"
His reticence may be because arms campaigners have vowed to picket the conference. Sarah Waldron, Campaign Coordinator at the Campaign Against the Arms Trade (CAAT) said: "Last Wednesday a 14-year-old boy was killed by riot police in Bahrain - the latest victim of the regime's brutal crackdown on peaceful protest. Yet, for this seminar, Bahrain is a 'top destination' for companies wishing to increase their 'business potential'. These are sickening euphemisms for an abhorrent event: a taxpayer-owned bank and taxpayer-funded civil servants are lining up to help arms dealers profit from repression."
Michael Strachan, Deputy Head of Group Media Relations at RBS, defended the bank's involvement in Thursday's event: "The defence sector provides employment for several hundred thousand people in the UK," he said. "It is plays a significant role within the UK economy as well as supporting UK armed forces. We have robust policies in place that govern how and where we do business which are guided by the UK Government, but are fully committed to supporting the sector."·
A UKTI spokesperson insisted that the arms exports have brought in more than £5 billion over the last five years, benefiting 65,000 jobs. He added that Britain's export license criteria "is one of the most stringent globally."
Join our new commenting forum
Join thought-provoking conversations, follow other Independent readers and see their replies