Special report: World food injustice - the facts on a plate
From London to Liberia, nearly a billion people are living a hand-to-mouth existence. Katie Grant reports on global hunger and finds out how these families get through the week
Special report: World food injustice - the facts on a plate

Show all 12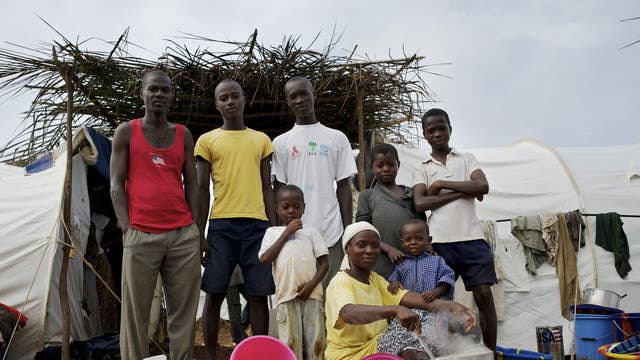 One in eight of the world's people goes hungry every day – that is 868 million people, more than the combined populations of the US, Canada and Europe – and here, courtesy of Oxfam's Food for All campaign to tackle global hunger, is the evidence on a plate.
These pictures feature families from around the world with their weekly food supplies. They range from Akavumu, Rwanda, where the Nyirazina family grows sweet potatoes, beans, sorghum grains and cassava shrubs to survive, and Vavuniya, Sri Lanka, where the Kumarapar family prepares meals of vegetables, rice and chicken, to Tower Hamlets in east London, where the Kerrs receive non-perishable items by their local food bank.
Oxfam says there is deep injustice in the way food is grown and distributed. The world's poorest people spend 50-90 per cent of their income on food, compared with just 10-15 per cent in developed countries. The World Bank estimates that 44 million people fell below the poverty line in the second half of 2010 due to high food prices.
The campaign launch comes just after figures were published last week showing that up to half the world's food is being wasted. According to the Institution of Mechanical Engineers report Waste Not, Want Not, while about four billion metric tonnes of food is produced globally each year, 30-50 per cent (or 1.2-2 billion tonnes) of it "never reaches a human stomach".
And it's not just rich countries such as the UK and the US throwing good food away; it is also being wasted in poor countries in the developing world. The difference, says Oxfam, is that, while food languishes uneaten in fridges here, in developing countries it goes to waste because of poor harvesting, storage and transport. In Vietnam, for example, a staggering 80 per cent of rice is lost between the field and the table.
The UN's Millennium Development Goals aimed to halve the levels of hunger found in 1990. To achieve this, the number of chronically undernourished people needs to be cut by 40 per cent to 500 million by 2015.
"The world produces more than enough food to feed everyone," says Kate Raworth, senior policy researcher for Oxfam. "Meeting the calorie needs of every person living with hunger would take less than 3 per cent of today's global food supply."
Brahim family
Northern Chad
Etta Brahim has seven children. A week's worth of food for the whole family is in the white bag. "The lack of food is killing us," says Etta's sister, Ashta Hamid, dressed in red, centre.
Mbunibya family
Dungu, Democratic Republic of Congo
Olivier and Miatadi Jeanne Mbunibya have five children, and live on a diet of peas, kaunga (corn flour), manioc leaf and palm oil.
Josephyan family
Armenia
The seven members of the Josephyan family must make a bag of wheat flour, 2kg dried split peas, 1kg sugar, 1l of cooking oil, 500g of potatoes and 500g of pasta last all week.
La Shari family
Shikapur, Pakistan
Husna La Shari used to harvest wheat and rice, but flooding last July means she now struggles to provide for her elderly husband and seven children.
Nyirazina family
Akavumu, Rwanda
Collette Nyirazina has half a hectare of land on which she grows sweet potatoes, beans, sorghum flour and cassava, but bad harvests mean her family is going hungry.
Miralieba family
Kaftakhana, Tajikistan
BiBi-Faiz Miralieba, her niece and four children subsist on a minimal amount of onions, potatoes, rice and bread each week.
Shiferaw family
Mogadishu, Ethiopia
Tsega and Wubalem Shiferaw and their daughter Rekebki with a week's supply of food, including vegetables, maize and sorghum flours, vegetable oil and a paste of spices.
Kumarapar family
Vavuniya, Sri Lanka
Seventy-year-old Selvern and her three daughters have a comparatively varied diet of tomatoes, potatoes, onion, chili, spinach, leeks, cabbage, pumpkin, rice, flour and chicken.
Kerr family
Tower Hamlets, London, UK
Ian Kerr is a full-time carer to his disabled son, Jay-J, 12. Physio costs force them to go to a local food bank for non-perishables.
Ismayilov family
Azerbaijan
The Ismayilovs have a small supply of flour, potatoes, oil and onions to see them through the week. Price rises make it "impossible for the poor to survive", says Tahir, far left, who is unemployed.
Blagnon Gnepa family
Harper, Liberia
The Blagnon Gnepa family live in a temporary refugee camp for Ivorians fleeing the violence across the border, and are given essential rations such as oil and grains.
Mudsingwa family
Gutu District, Zimbabwe
Three generations of the Mudsingwa family live together, their supplies consisting solely of nuts and maize flour that is turned into a porridge-style paste for every meal.
Join our new commenting forum
Join thought-provoking conversations, follow other Independent readers and see their replies