Pope Francis to meet the Archbishop of Canterbury for the first time in Rome
Both claim an interest in global justice and financial regulation, as well as a common distaste for gay marriage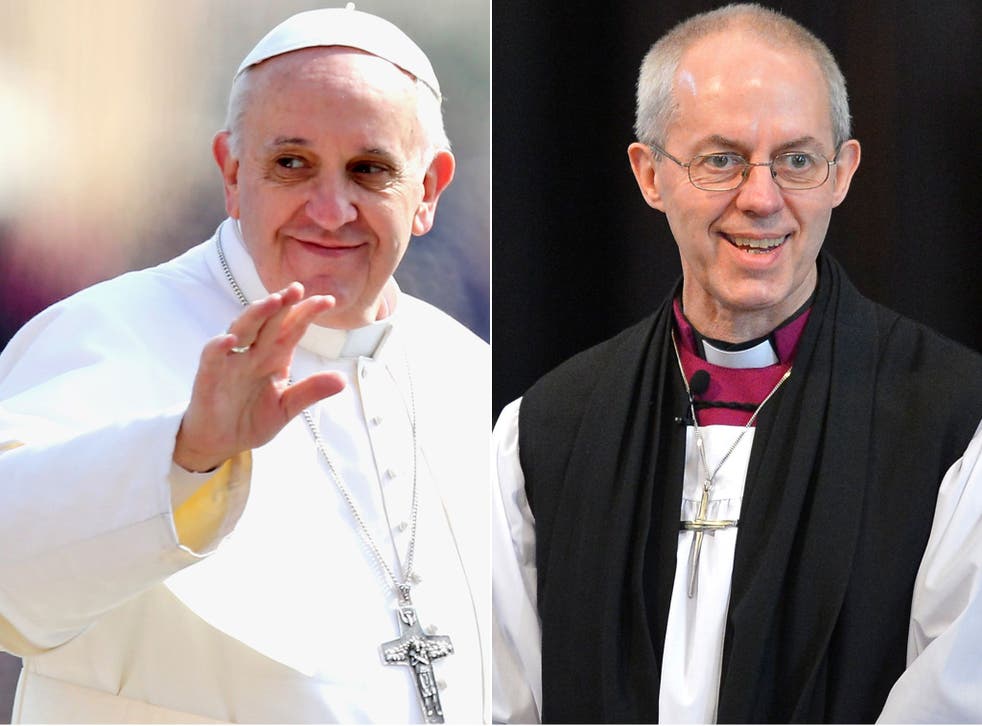 Pope Francis will meet the Archbishop of Canterbury, Justin Welby, for the first time this week.
The Vatican has announced that the two will meet while the Most Rev Welby is visiting Rome.
Both were interesting and unexpected choices for their roles, which they both took on shortly before Easter, and have been outspoken on issues around wealth and inequality.
They also share interests in global justice, ethical regulation of financial markets and conflict resolution.
In April the Archbishop, himself a former oil executive, condemned the financial industry's "culture of entitlement," telling the Financial Times: "In banking, in particular, and in the City of London, a culture of entitlement has affected a number of areas – not universally by any means – in which it seemed to disconnect from what people saw as reasonable in the rest of the world."
The Pope has similarly hit out at money's influence on public affairs, telling a group of ambassadors: "Money has to serve, not to rule. The worship of the golden calf of old has found a new and heartless image in the cult of money and the dictatorship of an economy which is faceless and lacking any truly humane goal."
The pair are also both staunchly against gay marriage.
The Vatican said the Archbishop - who spoke against the Marriage (Same Sex Couples) Bill in House of Lords last week - had collaborated "closely" with the Roman Catholic Archbishop of Westminster, the Most Rev Vincent Nichols, to "safeguard" marriage and other Christian values.
Last week a Church of England priest branded the Archbishop a "w****r" for resisting the government's attempts to legalise gay marriage.
Rev Marcus Ranshaw was reacting to the Archbishop's warning that the bill would effectively "abolish" the traditional institution of marriage, the "cornerstone" of society.
Join our new commenting forum
Join thought-provoking conversations, follow other Independent readers and see their replies