Review of the Year 2015: From Eddie Redmayne's Oscar performance to Donald Trump outraging the world
The world is not all bad; among smoe of the most horrific atrocities seen since the Second World War, there having been major feats including the first female bishop and water found on Mars
Saturday 26 December 2015 10:32
comments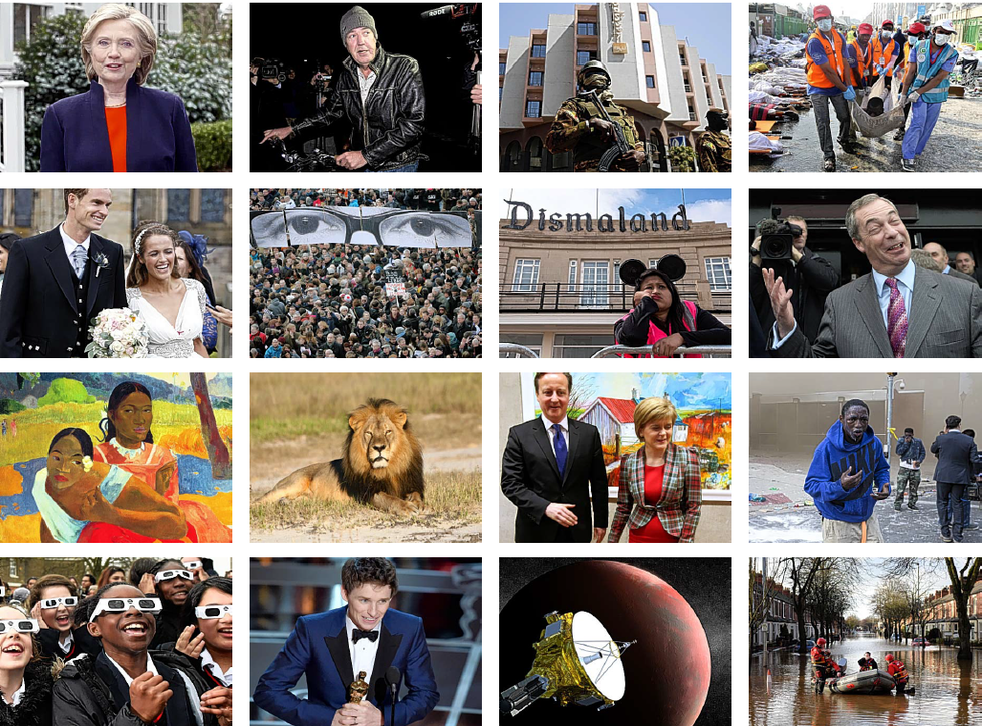 JANUARY
2 January: Prince Andrew accused of sex abuse
The Duke of York is accused of abusing a teenage girl, Virginia Roberts, who says she was kept as a "slave" by financier and sex offender Jeffrey Epstein. In court papers filed in a civil case in Florida, Roberts alleges that, as a teenager, she was pressurised into having sex with the Duke – who denies the claims. Three months later, the judge orders that the claims be struck from the public record – but not before a photograph of the Duke and Roberts together has been widely circulated.
3 January: Boko Haram's Baga killing spree
Around 2,000 people are killed as Boko Haram, the Islamist terror group, goes on an indiscriminate killing spree in and around Baga, in north-eastern Nigeria. The town itself is mostly destroyed by fire. A senior Catholic archbishop, Ignatius Kaiguma, accuses the West of not doing enough to help. Later in the year, a study by the Institute of Economics and Peace will name Boko Haram as the world's deadliest terror group: in 2014 it killed 6,664 people, whereas Isis was responsible for 6,073 deaths.
7 January: 'Charlie Hebdo' staff massacred in terrorist attack
Islamist gunmen break into the offices of satirical magazine Charlie Hebdo and open fire on the staff, killing 11 and wounding 11. They also murder a gendarme outside the building; five more people are killed, and 11 wounded,in related attacks. Two suspects, Said and Chérif Kouachi, are killed after a siege on 9 January; an accomplice, Amedy Coulibaly, dies in a separate siege in a supermarket. By then the phrase "Je suis Charlie" is ubiquitous, and worldwide demonstrations of solidarity take place over the weekend of 10-11 January, with many world leaders among 700,000 marching in Paris. The magazine's next issue, on 14 January, sells 7.95 million copies instead of the usual 30,000.
22 January: Surgeon denounces 'watered down' devolution as Cameron announces new powers for Scotland
David Cameron unveils draft legislation to give Holyrood extensive new powers. This follows the eve-of-referendum vow made by the leaders of the three main parties in September 2014, subsequently confirmed and clarified by the Smith Commission. The new powers include control over some income tax, some welfare policies, air passenger duty, some consumer issues, and fracking. Nicola Sturgeon, First Minister, says the package is "watered down" and that Scotland was promised something closer to Home Rule. The Prime Minister insists that the deal represents the limit of the new powers that will be granted.
25 January: Syriza wins Greek elections
Radical left-wing party Syriza wins a momentous victory in the Greek general election on an anti-austerity ticket. Party leader Alexis Tsipras, who will become Prime Minister, says the result is "a defeat for the Greece of the elites and oligarchs" that renders the "troika" (the IMF, European Commission and European Central Bank) a thing of the past. As the year unfolds, this will come to seem both simplistic and over-optimistic. By June, Greece has fallen into arrears on an IMF loan. Many banks, and the Greek stock exchange, temporarily suspend business. Tsipras calls a referendum on whether or not to reject a new €86bn bailout deal. In July, 61 per cent of Greeks vote against it. Tsipras calls a new general election – and by September Syriza is back in power. A new austerity package is passed in November.
27 January: Female bishop for Church of England
In a landmark moment for the Church of England, the Right Reverend Libby Lane is consecrated as the eighth bishop of Stockport – the first female bishop in the history of England's established church. The consecration comes 69 years after the ordination of the first female Anglican priest (in Hong Kong) and 21 years after the ordination of England's first female Anglican priests. "Today is an occasion of prayer and of party," says the Archbishop of York, who conducted the service.
30 January: Sue Knight faces murder charge
Marion "Suge" Knight, the hip hop mogul and Death Row Records founder, faces murder charges after being linked with a hit-and-run attack in Compton, Los Angeles, that left one man dead and another injured. The producer hands himself in to a West Hollywood sheriff's station, and his bail is initially set at $2m (£1.3m). This will later be revised, first to $25m and then to $10m. As the end of the year approaches, Knight, who has had health problems, will still be in jail, awaiting trial. This was not his first brush with the law: he has convictions for robbery and assault.
FEBRUARY
1 February: Cairo releases Australian journalist
The Australian Al Jazeera journalist Peter Greste, who was arrested in December 2013 while on temporary assignment in Egypt, is freed after 400 days in jail. He had been sentenced to seven years in prison for, supposedly, spreading false news and supporting the Muslim Brotherhood. Two colleagues who were arrested with him, Mohamed Fadel Fahmy and Baher Mohamed, are released on bail on 12 February. Greste is deported back to Australia.
3 February Isis posts video of pilot being burnt alive
A video posted by Isis appears to show Muath al-Kaseasbeh, a Jordanian pilot captured in Syria, being burnt alive, supposedly in early February. Isis had previously been negotiating for al-Kaseasbeh's release, along with that of Japanese journalist Kenji Goto, who was beheaded at the end of January. Subsequent intelligence suggested that al-Kaseasbeh had actually been murdered in early January, despite the subsequent negotiations.
4 February: UK backs three-parent IVF
The House of Commons votes overwhelmingly for Britain to become the first country to authorise the controversial technique of mitochondrial donation. This method, which combines the DNA of three people into one IVF embryo, will for the first time alter the human genetic make-up or "germ-line", not just of the IVF babies created by the process, but of future generations of children within affected families.
6 February Gauguin masterpiece becomes world's first $300m artwork
A painting by Paul Gauguin, Nafea Faa Ipoipo ("When Will You Marry?"), becomes the world's most expensive work of art after being sold for a reported $300m (£200m). The sale, by the family of a Swiss collector to a buyer thought to be the Qatar Museums, took place privately. The work was painted in 1892 and had been owned by the Staehelin family for nearly a century, although for much of that time it was shown at the Kunstmuseum in Basel, Switzerland. It is not due to be handed over to the new owner before January 2016 and, in the meantime, will be exhibited in locations including Madrid and Washington.
8

February

HSBC tax evasion scandal
Files leaked by HSBC whistleblower Hervé Falciani in 2007 finally find their way into the public eye. Media organisations including Le Monde and CBS publish details of files showing how HSBC's Swiss banking arm advised clients on how to get round tax regulations, and let some conceal their wealth in undeclared "black accounts". Later in the month, the bank's Geneva premises are raided by Swiss prosecutors over money-laundering allegations.
12 February

'Ceasefire' agreed in Minsk
An agreement between the leaders of France, Germany, Russia and Ukraine supposedly guarantees a ceasefire in the long-running conflict in eastern Ukraine, to take effect from midnight on 14 February. Heavy weapons are to be withdrawn by both sides. In fact, the ceasefire will be breached at least 139 times in its first 24 hours, and Ukraine remains anything but peaceful.
14 February

Fake spices scandal exposed
Claims that peanuts and almonds are being used as a substitute for cumin seeds to bulk up common products provoke fears of a food scandal that is described by one expert as "much, much more serious" than the horsemeat crisis. Cumin is widely used to flavour soups, stews and processed meals, as well as in curry and chilli powder. Its adulteration with nut-based products poses a potentially lethal threat to those who have nut allergies.
17 February

DSK walks free
In Lille, the lurid trial of Dominique Strauss-Kahn grinds to an unexpected halt when the state prosecutor calls for his "pure and simple" acquittal. The former head of the IMF had been charged with "aggravated pimping" for allegedly organising sex parties with prostitutes in France, Belgium and the United States between 2008 and 2011, and his conduct at these parties had been examined in court in minute detail. The prosecutor's conclusion that "neither the investigation nor the trial justified the charges against Mr Strauss-Kahn" brings the proceedings to an abrupt and unexpected end.
17 February

'Racist' Chelsea fans terrorise Metro
A passer-by films Chelsea fans travelling to a match against Paris Saint-Germain as they prevent a black passenger from boarding the Metro at Richelieu-Drouot station. Chants of "We're racist – that's the way we like it" are heard as the man is twice pushed from the train. Four fans are later banned from attending football matches for five years.
22

February

Oscar triumph for Redmayne
Eddie Redmayne wins the Best Actor Oscar at the 87th Academy awards for his portrayal of Stephen Hawking in The Theory of Everything. Julianne Moore wins Best Actress for her role in Still Alice. Birdman, directed by Alejandro G Inarritu and starring Michael Keaton, wins the Best Picture award.
27 February

'Jihadi John' unmasked
Mohammed Emwazi, the 26-year-old son of a London minicab driver, is identified as the world's most notorious multiple-murderer – the sadistic Isis "executioner" known as Jihadi John. A British computer programmer, Emwazi (who had changed his name to Mohammed al-Ayan three years previously) is reported to have been known to MI5 and police for at least four years before slipping away into Syria. He will spend another nine months at large, before being killed in a drone attack.
MARCH
1 March: Supernova proves Einstein right
A picture taken by the Hubble Space Telescope captures the first images of light from an exploding star being distorted by a cluster of galaxies. The pictures offer stunning visual confirmation of Albert Einstein's general theory of relativity. The photograph shows the tell-tale signature of four points of light, originating from a single supernova explosion, arranged in an "Einstein cross" around a distant galaxy cluster. The four spots are the result of a hidden mass of dark matter inside the galaxy bending the light from the supernova which is many light years away but falls directly behind it when viewed from Hubble.
10 March: Jeremy Clarkson suspended from BBC
Jeremy Clarkson, controversial presenter of Top Gear, is suspended by the BBC over a "fracas" with a producer; two weeks later, despite a million-signature digital petition supporting Clarkson, the BBC announces that it will not be renewing his contract. Some say the incident could be "career-ending". Instead, Clarkson signs a contract with Amazon Prime for a new show, said to be worth £160m over three seasons. The BBC plans a new Top Gear series for May 2016; in October, Chris Evans is confirmed as a host.
18 March: Massacre at Tunis museum
In an atrocity that will be cruelly overshadowed as the year unfolds, 21 people, most of them European tourists, are shot dead by terrorists at the Bardo Museum in Tunis; around 50 others are wounded. Isis claims responsibility. Tunisia's president, Beji Caid Essebsi, says the slaughter would have been far worse had the police not shot the killers before they could detonate their explosive belts. Donald Tusk, president of the European Council, pledges Europe "will offer everything we can to stabilise the situation".
24 March: Horror in the Alps
A Germanwings airliner flying from Barcelona to Dusseldorf crashes in the French Alps 60 miles north-west of Nice, killing all 150 people on board. Over the next few days it emerges that the plane was crashed deliberately by the pilot, Andreas Lubitz, who had a history of mental illness. He appears to have put the Airbus A320 into a gentle 11-minute dive into the mountains after locking his captain out of the cockpit. The victims include three Britons, 72 Germans, 35 Spaniards and people from 15 other nations.
26 March: Richard III buried in Leicester
In a star-studded ceremony, the remains of King Richard III – famously found in a carpark in Leicester in 2012 – are reinterred at the city's cathedral, 530 years after his death at the Battle of Bosworth. Three days earlier, thousands of people turned out to see the royal remains carried on a ceremonial procession from Leicester to Bosworth and back again. The reinterment ceremony is presided over by the Archbishop of Canterbury, while actor Benedict Cumberbatch reads a poem written for the occasion by the Poet Laureate, Carol Ann Duffy. Other guests include broadcaster John Sergeant and Downton Abbey writer Julian Fellowes.
APRIL
2 April: Hatton Garden gem heist raid
In one of the biggest burglaries in British history, thieves use an industrial power drill to break through the walls of a vault beneath the premises of the Hatton Garden Safe Deposit Ltd, in central London. The break-in, nearly three years in the planning, is not discovered until 7 April, when a huge hole is spotted and more than 70 security boxes are found to have been broken into. Reports that the haul is worth £200m are not confirmed, but around £14m has certainly been taken. Eight men will later be charged with the crime. Four plead guilty, four days before Christmas; the trial of the others is still in progress.
2

April:

The great general election debate
After months of fraught negotiations, the British electorate is treated to a new kind of televised election debate. For two hours, the leaders of the main political parties line up side-by-side for a live seven-way discussion, chaired by Julie Etchingham, of big political issues. Natalie Bennett, Nick Clegg, Ed Miliband, Leanne Wood, Nicola Sturgeon and David Cameron draw lots to decide who will stand where. Leanne Wood and Natalie Bennett are generally felt to have come out best.
12 April:

Rough justice for Freddie Gray lights flames of anger in Baltimore
Gray, a young black man, is taken into custody in Baltimore, Maryland, for carrying an illegal switchblade. One week later, the 25-year-old is dead – from injuries to his spinal cord sustained while being transported in a police van. Six police officers are suspended and on 1 May the death is declared a homicide. His funeral, on 27 April, is marked by riots, arson and looting, resulting in a state of emergency being declared in Baltimore that lasts until 3 May. The Gray family is subsequently awarded a $6.4m settlement.
12 April:

Hillary makes her White House move
US After months of speculation, Hillary Clinton announces her bid to crack what she has called "the highest and hardest glass ceiling" by running to be US President in 2016. "Everyday Americans need a champion," she says. "I want to be that champion." It is Clinton's second bid for the White House. In 2008, she lost out on the Democratic nomination to Barack Obama. This time, she immediately becomes the overwhelming favourite for the nomination, with a poll lead of between 40 and 50 points.
14

April:

Cameron's 'right-to-buy' gamble
Launching the Conservative manifesto, the Prime Minister says that, should the Tories win, 1.3 million families in social housing will be able to buy their own homes, in an echo of Margaret Thatcher's right-to-buy revolution. The giveaway would be funded by forcing local authorities to sell off their most expensive housing when it becomes vacant, to raise £4.5bn a year. Experts fear a disastrous effect on the social housing stock, but the Tories insist they would ensure "one-for-one replacement".
15

April:

Alzheimer's hope for millions
Scientists seeking a cure for Alzheimer's disease say that they have identified a potential cause of the disease, which could be targeted with drug treatments. Researchers at Duke University, North Carolina, United States, have observed that with Alzheimer's disease, immune cells that normally protect the brain instead begin to consume a vital nutrient called arginine. They say that the discovery could "open new doors" in the search for an effective therapy for dementia.
16

April:

Greville Janner 'unfit to stand trial'
The Director of Public Prosecutions says that Greville Janner, the Labour peer, will not face prosecution for alleged paedophile abuse, because of the severity of his dementia. Alison Saunders, the DPP, says sufficient evidence has been found to bring 22 charges dating back to the late 1960s, but it is not in the public interest to pursue Lord Janner. After an outcry, the DPP's decision is overturned on 29 June. On 7 December, Janner is ruled unfit to take part in his own trial; his death, on 19 December, means that he will never answer the charges in court.
25

April:

Earthquake in Kathmandu
More than 9.000 people are killed, and at least 23,000 injured, when the worst earthquake to hit Nepal for 80 years reduces much of Kathmandu to rubble. The aftershocks continue for many days, with the biggest on 12 May. More distant effects include an avalanche on Mount Everest. The difficulty of getting aid to the remote region exacerbates the effects. Around 450,000 people are displaced by the catastrophe.
MAY
1 May: Warning of mass extinction risk
A report in the journal Science suggests that one species in six could face extinction by the end of the century as a direct result of increasing global temperatures. The endemic plants and animals of South America, Australia and New Zealand are particularly at risk. The report's author, Mark Urban of the University of Connecticut, says that the global extinction risk will still increase, from 2.8 per cent to 5.2 per cent, even if global average temperatures are kept within the "safe" 2C threshold.#
5 May: Writing on the wall for Ed Miliband
In a car park in the Hastings and Rye constituency, Ed Miliband unveils a 2.6-metre stone tablet, rumoured to have cost £30,000, on which six key Labour pledges are literally carved in stone. The airy nature of the pledges helps make the "EdStone" a laughing stock. Labour's vice-chairman, Lucy Powell, says that the fact that the pledges were set in stone did not imply that "he's absolutely not going to break them or anything like that".
7 May: Britain goes to the polls
After more than a month of impassioned and occasionally intemperate campaigning, the politicians hold their peace and the public go to the polls for what most pundits say is the closest-run UK general election in living memory. A hung parliament is considered a foregone conclusion. Then, at 10pm, exit polls are published suggesting that the Tories will win 316 seats. Lord Ashdown vows to eat his hat if these polls are correct; Alastair Campbell says he will eat his kilt...
8 May: Conservatives secure majority
Official results show that the Conservatives have won 330 seats, giving them an absolute majority. The Scottish National Party wins 56 out of 59 seats in Scotland, effectively wiping out Labour north of the border. The Liberal Democrats take only eight seats. Ed Miliband, Nick Clegg and Nigel Farage resign as leaders of their parties, although Farage's resignation lasts only three days. The British Polling Council announces an inquiry into its member companies' failure to predict the result.
14 May: Prince's 'spider memos' published
Following a legal battle stretching back the best part of a decade, the Supreme Court rules that letters written by the Prince of Wales to government ministers can be published. Known collectively as "the black spider memos", the correspondence shows Prince Charles lobbying ministers on subjects ranging from homeopathy and the adequacy of the UK's military equipment to badgers, the beef industry and the well-being of the Patagonian toothfish.
21 May: Isis seizes Palmyra
After months of reports of looting and collateral damage, Isis forces finally overrun the ancient site of Palmyra on 21 May. Syrian curators are reported to have escaped with two truckloads of antiquities earlier that day. Isis's approach to the World Heritage site appears to combine looting with wanton destruction. The group also begins to use the city's ancient theatre (left) as a place of public executions: one video shows 20 prisoners being killed by teenage executioners. Later in the summer, it will emerge that Khaled al-Asaad, the city's 81-year-old retired head of antiquities, has been first tortured by Isis and then, on 18 August, beheaded. The fanatical group is thought to have been seeking information about Palmyra's treasures – potentially a lucrative source of income for the self-styled caliphate. Six days later, it is revealed that Isis has blown up the Baalshamin Temple, and damaged some of Palmyra's famous columns.
22 May: The Irish vote Yes in same-sex marriage referendum
By a margin of 62 per cent Yes to 38 per cent No, the people of Ireland vote to amend their country's constitution to allow an equal right of marriage to all everyone, irrespective of the gender of those marrying. The overwhelming margin, on a 61 per cent turnout, comes as something of a surprise given Ireland's reputation for religious conservatism. The amendment will be signed into law by the president at the end of August.
23 May: Cameron begins EU reform drive
At an EU summit in Riga, the Prime Minister tries to capitalise on his new electoral mandate by launching his bid to renegotiate Britain's place in the European Union. His "wish list" of reforms is reported to include bringing back some powers from Brussels to London, opting out of "ever closer union", a promise of unrestricted access to eurozone markets for non-euro member states, and a four-year wait for EU nationals seeking to claim benefits of tax credits in the UK. He later admits that he hasn't encountered a "wall of love" at the summit.
27 May: Fifa scandal rocks the football world
Seven officials of the Fédération Internationale de Football Association are arrested in Switzerland, on the eve of Fifa's 65th Congress, in connection with an investigation by the FBI and the US Internal Revenue Service. Altogether, 14 people are indicted. By December 2015, 17 people will have been accused of offences including receiving bribes, with four others having pleaded guilty. Criminal proceedings will be in motion against Sepp Blatter (above), Fifa's president; and Blatter and Michel Platini, head of Uefa and Blatter's would be successor, will have been banned from football for eight years.
JUNE
1 June: Yangtze cruise ship capsizes
A cruise ship on the Yangtze River overturns after being hit by a cyclone. Despite a rescue effort involving more than 50 boats and over 3,000 people, there are 442 deaths, with only 12 people rescued. It is the worst maritime disaster in China's history. The fact that the captain and chief engineer of the ship escaped unscathed fuels public anger about the tragedy, and attempts are made to restrict the media's access to the scene.
1 June: Caitlyn Jenner transgender debut
Caitlyn Jenner, the Olympic athlete turned reality TV star, formerly known as Bruce and best-known in recent years as step-parent of Kim Kardashian, strikes a resounding blow for transgender tolerance by appearing on the cover of Vanity Fair to reveal her new identity. "I'm so happy after such a long struggle to be living my true self," tweets Jenner. She receives a flood of support from around the world.
2 June: Alton Towers rollercoaster crash
A rollercoaster ride at Alton Towers goes badly wrong. Two carriages on the 50mph "Smiler" ride collide in mid-air. Onlookers report "blood everywhere". Four teenagers are seriously injured; two require a leg amputation. Twelve other people are treated for minor injuries. The amusement park is temporarily closed; the owner, Merlin Entertainments, sees £65m wiped off its stock in four days.
14 June: Flash floods cause devastation and danger in Tbilisi
Torrential rain causes the Vere river to burst its banks. The resulting flash floods kill 19 people and injure 457. Cars and buildings are swept away, and damage to the zoo allows lions, bears, tigers and wolves to escape. The city's 1.1 million residents are urged to stay indoors until the remaining animals are secured. Most drown, some are shot and a few are returned to captivity.
15 June: UK marks 800 years of Magna Carta
At a ceremony in Surrey, David Cameron praises the legacy of the Magna Carta on the 800th anniversary of its signing by King John in Runnymede. Reminding his audience that the legal document permanently altered "the balance of power between the governed and the government", the Prime Minister alludes to the modern British government's plans to replace the Human Rights Act with a bill of rights. The controversial proposal will continue to be debated as the year progresses.
16 June: Trump launches his White House bid
Jeb Bush's announcement (on 15 June) that he will seek the 2016 Republican presidential nomination is overshadowed the next day by news that Donald Trump will do likewise. "We need somebody that literally will take this country and make it great again," the mogul tells a cheering crowd outside Trump Tower in New York. Despite a widespread assumption that the controversial reality TV star cannot be a serious candidate, he quickly becomes a frontrunner – and has shown little sign of losing his momentum.
17 June: Charleston church shooting
Nine worshippers are massacred in a church in Charleston, South Carolina, apparently for reasons of racial hatred. The suspected killer, Dylann Roof, had been given a gun by his parents for his 21st birthday. He had bragged a week earlier of his plan to shoot people, and had then headed for Charleston. President Obama said: "This sort of violence doesn't happen in other places." But little changes. By early December, the number of mass shootings (ie, with four victims of more) in the US in 2015 will have reached 355.
26 June: Massacre on the beach
A gunman opens fire and kills 38 tourists at a resort in Port El Kantaoui, 10 kilometres north of the city of Sousse. The perpetrator, an Islamist extremist called Seifiddine Rezgui Yacoub, disguises himself as a tourist and hides an assault rifle in a beach umbrella. He mows down his victims on the beach and inside the five-star Hotel Rui Imperial Marhaba, where he also throws a grenade into the staff corridor. Eventually, he is killed by security in an exchange of gunfire. The massacre is the deadliest non-state attack in modern Tunisia's history; 30 of the victims are British.
29 June: Setback for fracking in Lancashire
An application by the energy firm Cuadrilla to extract shale gas at Little Plumpton is rejected by Lancashire County Council. The ruling is seen as a crucial victory for opponents of hydraulic fracturing. In fact, it may be only a temporary discouragement for the would-be frackers. Over the next six months, companies will be granted licences to extract shale gas at 124 sites, all in the north, as the government tries to kick-start a domestic fracking industry. An appeal against the Little Plumpton ruling will be heard next year.
29 June: US same-sex marriage landmark
A supreme court ruling makes same-sex marriage a legal right for all Americans, effectively overruling bans in 14 states. President Obama declares the ruling a "victory for America". A joyful sea of rainbow flags ripples and sways outside the Supreme Court, to cheers of "USA! USA! USA!" However, officials in states with anti-equality rhetoric, such as Louisiana and Mississippi, say that they will stall recognition of the new law until a number of procedural issues related to marriage licences have been addressed.
JULY
1 July: Cecil the lion killed
International outrage greets the news that a lion called Cecil has been killed by a hunter in Zimbabwe's Hwange National Park. Cecil, a 13-year-old Southwest African male, is one of the country's best-loved tourist attractions. It emerges that his killer is Walter James Palmer, a dentist from Minnesota. Palmer reportedly paid a professional guide, Theo Bronkhorst, £35,000 to help him hunt the lion, luring Cecil from his home in the national park before shooting and killing him with a bow and arrow. Afterwards, he skinned the lion and removed its head. On returning to the US, Palmer finds himself spectacularly shamed on social media. He is not charged with a crime, though, and the two Zimbabweans who assisted him insist they took out a permit for killing. They are arrested none the less. But Palmer is free to return to Zimbabwe – as a tourist, not a hunter.
5 July: USA win Women's World Cup
In Vancouver, Canada, the footballers of the United States beat Japan in the final of the Women's World Cup. It is the third time the US has won the trophy. Carli Lloyd scores a hat-trick in the 5-2 win, which makes her joint top scorer for the tournament, along with Germany's Celia Sasic. England come third, after losing to Japan in a close semi-final.
14 July: 'Go Set a Watchman' published
Fifty-five years after the publication of To Kill a Mockingbird, Harper Lee (above) allows HarperCollins to publish its forerunner. Set at a later point in the protagonists' lives, Go Set a Watchman was written before Lee's much-loved classic. Since Lee has published nothing since, the resurrected novel provokes huge interest. More than a million copies are sold in the first week, and it is the most pre-ordered book in HarperCollins's history.
14 July: 'New Horizons' takes close-up pictures of Pluto
After a journey of nearly 10 years and 3 billion miles, Nasa's spacecraft New Horizons makes a "fly-by" close to the surface of Pluto and captures close-up photos of its surface (from just 476,000 miles) for the first time. Five months later, New Horizons will transmit data from its voyage that will be the most high-resolution footage of Pluto to date. The images are so clear that, if they depicted Earth, city parks would be discernible. According to Nasa, images of this quality were not available for Venus or Mars until decades after their first fly-bys; the mission is thus considered an unparalleled success.
16 July: Farron named Lib Dem leader
After a quick campaign – Nick Clegg threw in the towel barely two months earlier – members of the Liberal Democrats elect a new leader. Tim Farron is a convincing winner, with 56.5 per cent of the vote – compared with 43.5 per cent for Norman Lamb, MP for North Norfolk. "This is a liberal country," tweets Farron, moment after the result. "Our job now is to turn millions of liberals throughout the UK into Liberal Democrats." But with only eight Liberal Democrat MPs remaining in the new House of Commons – compared with 56 in the previous Parliament – Farron, who is MP for Westmorland and Lonsdale, faces a steep and potentially rocky uphill task.
20 July: US-cuba rapproachement
After 54 years of estrangement, the US and Cuba agree to re-establish diplomatic ties. The historic deal, announced on 1 July, comes into effect on the 20th, when the two nations' embassies formally re-opened in Havana and Washington. The US embassy building had previously operated as the United States Interests Section of the Swiss Embassy. The stars-and-stripes will be raised outside it when Secretary of State John Kerry visits in August; the Cuban flag is raised in Washington straight away. The thaw follows a meeting between Presidents Obama and Castro in Panama in April.
26 July: Froome wins the tour
Chris Froome, the Kenyan-born British cyclist, wins his second Tour de France title in convincing style. It is a huge milestone both for Froome and for UCI ProTeam Team Sky, for whom he rides. Team Sky have now won three Tours in their first six seasons. For Froome, the gruelling effects of the three-week ride have been exacerbated by the unrelenting hostility of the French public, who seem convinced – without producing any evidence to back their view – that Froome must be a drug cheat. At one point, Froome has a cup of urine thrown over him. Later in the year, Froome releases much, but not all, of his physiological test data, in an attempt to dispel the whisperings. Dr Jeroen Swart, the exercise physiologist who conducted the tests, tells the Cyclingnews website that more data will be published in a peer-reviewed journal next year.
26 Juy: Lord Sewel drug video
A senior Labour peer – a minister under Tony Blair – quits as deputy speaker of the House of Lords after being filmed with two prostitutes in his flat in Dolphin Square, central London. The covertly obtained video shows Lord Sewel wearing an orange bra and, among other things, appearing to snort cocaine from the body of one of the prostitutes. Earlier in the month, Lord Sewel published an article calling for "new, stronger sanctions" to suspend and expel peers who "damage our reputation". Lord Sewel now announces that he will take "leave of absence" from the Lords; later still, he formally resigns.
AUGUST
5 August: End of the road for Kids Company
Following months of speculation, Kids Company, the fashionable charity set up in 1996 by Camila Batmanghelidjh, ceases operations and announces that it will put itself into liquidation. It is claimed that the charity has been lax in its financial procedures, and doubts are expressed about its claim to be supporting 36,000 children a year. Later in the year, Alan Yentob, chairman of the company's trustees, will resign as BBC creative director because of the scandal.
8

August: Airport VAT rip-off exposed
The Independent reveals that airport stores are making millions of pounds by keeping duty‑free discounts for themselves when passengers present their boarding passes when making purchases. Within days, a revolt has spread across the UK, with thousands of passengers refusing to present their boarding passes, while the Treasury tells retailers to pass on the discounts to customers. Claims that it would be too difficult to introduce a system of "dual pricing" are rapidly shown to be untrue.
17 August: Bangkok shrine bombed
Twenty people are killed, and 125 injured, when a terrorist, apparently acting alone, leaves a bomb which explodes in the Erawan Shrine in Bangkok's Pathum Wan District. (The area was the scene of protests by supporters of the ousted former premier, Thaksin Shinawatra.) The monument houses a statue of Phra Phrom, the Thai representation of the Hindu God of Creation, Lord Brahma. The bomb appears to have been left there in a backpack. Unusually, the atrocity remains largely unexplained: no convincing claim of responsibility has been made, and the motives are still unclear. Nonetheless, two suspects are arrested in November. Bilal Mohammad and Mieraili Yusufu are each indicted on 10 counts. Arrest warrants have also been issued for several other possible perpetrators.
18 August: Ashley Madison users' detailed leaked
Adulterers around the world are sent into panic when a group of hackers calling itself the Impact Team fulfils its threat (first issued on 15 July) to release the personal data of around 10 million users of the website of Ashley Madison, a business that facilitates extramarital affairs (slogan: "Life is short. Have an affair"). At least 25 gigabytes of data are eventually made available, including the emails of Noel Biderman, CEO of the site's parent company, Avid Life Media. Several suicides are subsequently linked to the breach.
21 August: Terror attack foiled on French train
Heroic resistance by passengers foils a gunman with a knife and a Kalashnikov rifle in his attempt to massacre passengers on a high-speed train travelling from Amsterdam to Paris. The attacker, reportedly a young Moroccan called Ayoub El Khazzan, begins his attempted attack near Oignies in northern France. Four people are injured when he opens fire in a carriage. However, he is quickly overpowered by passengers, notably three young Americans, Spencer Stone, Alek Skarlatos (both off-duty soldiers) and Anthony Sadler (a student), together with a British IT consultant, Chris Norman. All four are subsequently awarded the Légion d'honneur; President Hollande says that they "gave us a lesson in courage, in will, and therefore in hope".
21 August: Banksy's dismal success story
In Roanoke, Virginia, two employees of the WDBJ channel are murdered while conducting a live television interview. Alison Parker, a reporter, and Adam Ward, a photojournalist, are shot by a disgruntled former WDBJ reporter, Vester Lee Flanagan, who was sacked two years earlier. Flanagan later shoots himself while being pursued by police. Footage of the murders quickly goes viral, in some cases being shown on autoplay to unwitting users of Facebook and Twitter. Print media are mostly more restrained.
22 August: Shoreham disaster
Hawker Hunter T7 jet crashes at the Shoreham air show, landing on the A27. Eleven people are killed and 16 others injured. The pilot, Andy Hill, survives: he is placed in a medically induced coma and is able to leave hospital in September. It is the UK's worst air show accident since 1952.
26 August: Journalists shot dead on live television
An art-project-cum-tourist-destination, Dismaland, is opened by Banksy, the street artist, in Weston-super-Mare. Described by its creator as a "family theme park unsuitable for children" and "Britain's most disappointing new visitor attraction" the pop-up show is an instant sell-out. Some £5 tickets are later advertised for up to £1,500. By the time the "bemusement park" closes, on 27 September, it will have been visited by 150,000 people from around the world, allegedly boosting the local economy by £20m.
SEPTEMBER
2 September: The child on the beach
Horrifying pictures of a dead Syrian boy on a Turkish beach jolt the world into belatedly facing up to the increasingly desperate refugee crisis on Europe's borders. Three-year-old Alan Kurdi drowned in his family's attempt to reach the Greek island of Kos from Bodrum. Publication of photographs of Kurdi's corpse caused widespread distress, putting Europe's leaders under pressure to come up with a more constructive response to the crisis. But German Chancellor Angela Merkel's "all welcome" approach quickly backfires; David Cameron's response is less impulsive – he pledges to find room for 20,000 Syrian refugees by 2020 – but is criticised as ungenerous. By mid-December, 985,312 migrants, including refugees, will have arrived in Europe since January, with at least 3,371 drowned or missing at sea.
8 September: Rooney breaks Charlton's record
Two months before his 30th birthday, Wayne Rooney scores his second international penalty in four days to become England's all-time leading goal-scorer. His 84th-minute goal, in an Euro 2016 qualifier against Switzerland at Wembley, takes his career total to 50 goals, overtaking the record set in 1970 by Bobby Charlton. "I obviously cannot deny that I am disappointed that I now don't hold this record," Sir Bobby told the media. "However, I am absolutely delighted that it is Wayne, as captain of my beloved club and country, who now holds this record."
9 September: Queen breaks record for longest reign
After 63 years and 216 days on the throne, the Queen overtakes Queen Victoria as the longest-reigning monarch in British history. In the Commons, MPs pay her effusive tributes.
9 September: Alzheimer's 'may be transmissible'
A scientific study of victims of brain disease suggests that the "seeds" of Alzheimer's disease may be transmitted from one person to another during certain medical procedures. The shock findings raise questions about the safety of procedures that may involve the transfer of contaminated tissues or surgical equipment, possibly including blood transfusions and invasive dental treatment. It is later reported that the Chief Medical Officer, Sally Davies, tried to discredit the study before it was published.
12 September: Corbyn wins Labour leadership
After a three-month contest which he started as 200-1 outsider, Jeremy Corbyn is elected leader of the Labour Party. Of more than 400,000 votes cast, the veteran socialist and pacifist wins nearly 60 per cent. He promises to use his mandate to lead a Labour fightback. It remains to be seen, however, if his opponents will accept defeat gracefully...
18 September: UK to modify embryos genetically
The genetic manipulation of human IVF embryos seems set to start in the UK, following an application to the Human Fertilisation and Embryology Authority by scientists who want to understand why some women suffer miscarriages. The research would manipulate chromosomes using a revolutionary gene-editing technique called Crispr/Cas9. "We want to understand the genes human embryos need to develop successfully," says Kathy Niakan of the Francis Crick Institute.
18 September: Volkswagen emissions scandal
VW is ordered to recall 482,000 of its cars in the US after the Environmental Protection Agency finds that it has used special software to cheat emissions tests. VW soon admits that 11 million cars worldwide are fitted with the "defeat device". Shares in the group plummet, Martin Winterkorn quits as CEO, and it is confirmed that 8.5 million vehicles in Europe, including 1.2 million in the UK, may need to be recalled. By December, VW has been forced to take out a €20bn loan just to survive.
24 September: Hajj stampede
At least 1,650 people are killed, with hundreds more injured or missing, when a stampede breaks out near Mecca during the Hajj pilgrimage. Some later reports put the death toll at over 2,000. Many victims are Iranian, and Tehran is quick to denounce Riyadh's "inexcusable" negligence.
24

September: 'Tatler Tory' expelled from party
Mark Clarke, ex-parliamentary candidate and founder of the RoadTrip campaigning group, is suspended from the Conservative party in connection with allegations involving bullying, blackmail and sex. He has been cited as a factor in the death of another young activist, Elliott Johnson, who took his own life earlier in the month. Party chairman Grant Shapps will eventually resign because of the scandal, while Clarke, who was also chairman of Conservative Future and director of the Young Britons Foundation, will have his suspension from the party converted into a lifetime ban in November.
24

September: Pope Francis addresses Congress
In an unprecedented address to a joint session of Congress, Pope Francis urges American politicians to focus on people rather than issues and to work together for the common good. "We, the people of this continent, are not fearful of foreigners," he tells representatives, "because most of us once were foreigners." His 50-minute speech receives a standing ovation, and achieves the rare feat of uniting Republicans and Democrats. John Boehner, the Speaker, is reported to have been moved to tears.
28

September: Nasa finds water on Mars
Images from a spectroscopic instrument on the Reconnaissance Orbiter flying around Mars confirm the presence of briny water in the dark formations running periodically down the Martian slopes. Streaks of salty, liquid water flow down the planet's mountains and canyons in summer seasons, says Nasa, raising the chance that life may one day be found there. Liquid water is considered an essential for life.
OCTOBER
1 October: Gunman attacks Oregon college
Nine people are killed and seven injured in an incident at Umpqua Community College in Roseburg, Oregon. The gunman is a 26-year-old writing student and army drop-out called Christopher Harper-Mercer, who subsequently kills himself. Barack Obama demands tougher gun laws, and says that "prayers are no longer enough". At the time of going to press, there had been 23 separate shootings on US college campuses in 2015.
6 October: May talks tough on immigrants
At the Conservative conference in Manchester, Theresa May, the Home Secretary, attracts fierce criticism for a speech in which she promises to crack down on asylum seekers and says that immigration is making it "impossible to build a cohesive society". Critics include the Institute of Directors, which accuses her of "irresponsible rhetoric" and says that she is "putting internal party politics ahead of the country". Others suggest that she wants to return the Tories to their role as "the nasty party".
10 October: Suicide bomb kils at least 100 people at a peace rally in Ankara
More than 100 people are killed and up to 400 injured when two suicide bombs explode outside the main railway station in Ankara, the Turkish capital. The largely Kurdish victims were taking part in a peace rally. Ahmet Davutoglu, the prime minister, says that Isis are responsible, but others blame the Kurds or even the government, which is accused of failing to give adequate protection to a the peaceful demonstrators, who were calling for an end to violence between the PKK – the militant Kurdish Workers' Party – and the Turkish government. PKK leaders insist: "We are obliged to maintain this halt to hostilities, without succumbing to doubt." No one claims responsibility for the attack.
12 October: Playboy annouces plan to drop nudes
The New York Times reveals that Playboy has decided, after 62 years, to stop publishing pictures of nude women. The decision was approved by Hugh Hefner, the 89-year-old editor-in-chief, the previous month. The rationale, according to the company's chief executive, Scott Flanders, is that nude images are now universally available, for free, on the internet: "You're now one click away from every sex act imaginable for free," he explains, tastefully.
12 October: Redcar steelworks close
After months of uncertainty, it is confirmed that the SSI Redcar steelworks are to close. The coke ovens and blast furnace are switched off. Around 2,200 people lose their jobs, and 170 years of steelmaking in the town are brought to an end. The company has been in receivership since the site's owners, Sahaviriya Steel Industries UK (SSI), were wound up on 2 October. The official receiver says that there was "no realistic prospect" of a sale. Cheap foreign imports are blamed for difficulties of the company – and of the industry. By the end of the month, another 1,170 job losses will have been announced by Tata Steel, in Scunthorpe and Lanarkshire.
13 October: Marlon James wins Booker Prize
Marlon James becomes the first Jamaican to win the Man Booker Prize. His novel, A Brief History of Seven Killings, is a violent thriller partly written in patois about the assassination attempt on Bob Marley in 1976. The chairman of the judges calls it "extraordinary" and "full of surprises". Also on the shortlist were the American Hanya Yanagihara, the favourite, and British authors Sunjeev Sahota and Tom McCarthy. James receives a cheque for £50,000.
21 October: TalkTalk customers hacked
A "significant and sustained" cyber-attack on the website of TalkTalk leads to fears that as many as four million customers may have had their personal data hacked. Chief executive, Dido Harding, is forced to admit she does not know whether or not the data is encrypted. Within a fortnight, the company's shares have lost around a third of their value. The breach will eventually turn out to have been less extensive than at first feared. Nonetheless, 15,656 customers had their bank details improperly accessed.
25 October: Lewis Hamliton wins third F1 Championship
A thrilling victory in the US Grand Prix at the Circuit of the Americas in Austin, Texas, wins Lewis Hamilton a third F1 championship, putting him in the company of such legends as Ayrton Senna and Sir Jackie Stewart. Only four men – Schumacher, Fangio, Prost and Brabham – have won more titles, while Hamilton's career total of 43 victories puts him third on the all-time list. Hamilton, who races for Mercedes AMG Petronas, attributes his success to "that kind of not giving up idea that my dad instilled in me."
30 October: Guantanamo detainee released
After 13 years detained without charge, Shaker Aamer is released from US military prison at Guantanamo Bay. A Saudi citizen with right of residence in the UK, he was detained by bounty-hunters in Afghanistan in 2001. Sold to US agents, he was held at Bagram, where he claims to have been tortured, and was moved to Guantanamo in 2002. Arriving back on British soil, Aamer, 46, says he is more interested in an apology than in the £1m compensation for which he is said to be in line.
31 October: New Zealand win the Rugby World Cup
In a free-scoring final at Twickenham, New Zealand's All Blacks beat Australia 34-17, and become the first team to retain their title as world champions. All Black fly-half Dan Carter plays a crucial role, kicking 19 points; captain Richie McCaw is monumental in his final game in an All Black shirt; and substitute Sonny Bill Williams adds to the feel-good factor by giving his winner's medal to a 14-year-0ld fan who had been knocked over by a security guard.
31 October: Russian airliner crashes in desert
A Russian A321 Metrojet airliner, Flight 9268, crashes in North Sinai, en route to St Petersburg from Sharm el Sheik. All 221 people on board are killed. The UK blames terrorism and halts flights from Sharm el-Sheikh for several days, stranding thousands of tourists. Russia disagrees, then changes its mind. Black box data appears to confirm the bomb theory. Isis claims responsibility. Six weeks later, Egypyian investigators will say they have found no evidence of foul play.
NOVEMBER
1 November: Hottest UK November day on record
Despite thick fog in many places, causing hundreds of flights to be grounded, the UK experiences its hottest November day on record. In some parts of the country, temperatures are higher than in southern Portugal. The hottest place is Trawsgoed, Wales, where it reaches 22.3C, hotter than the Algarve. The previous November record, 21.7C, was set in 1946, also in Wales.
8 November: Burma votes for democracy
General elections for the Burmese parliament produce a clear victory for the National League for Democracy (NLD) in the House of Representatives and the House of Nationalities (respectively the lower and upper chambers). The NLD wins 86 per cent of the votes. Aung San Suu Kyi, NLD leader, is constitutionally barred from becoming president, because her son, like her late husband, is a foreigner. But she has made it clear that she will be the power behind an NLD-led government.
9 November: Athletics doping scandal
A devastating report by an independent commission of the World Anti-Doping Agency (WADA) exposes orchestrated doping by mainly Russian athletes, some of whom won medals at London 2012. The IAAF and the Russian athletics federation, anti-doping agency and secret service are all accused of complicity in the abuses, including the destruction of more than 1,400 samples. The commission calls for Russia to be banned from athletic competition.
10 November: Ebola nurse makes 'full recovery'
The Royal Free Hospital announces that Pauline Cafferkey, a nurse from Glasgow who contracted Ebola fever while working in Sierra Leone in 2014, is clear of the disease – for the second time. Cafferkey, who noticed symptoms on returning to the UK at the end of last year was initially reported to have recovered in January. In October, however, she suffered an unprecedented and life-threatening relapse: traces of the virus had survived in her body, and now re-emerged, causing severe meningitis. Her condition was critical for several days, then stabilised. Now, says the hospital, she has made a "full recovery" and is no longer infectious.
11 November: Maoist cult leader on trial for slavery
In Southwark Crown Court, the trial of Aravindan Balakrishnan begins. The Maoist cult leader, aged 75 and known as "Comrade Bala", is accused of keeping slaves in south London over a period of 30 years, raping female followers, imprisoning his own daughter and brainwashing cult members into believing that he was an all-powerful, all-seeing leader. After several weeks of often harrowing testimony, Balakrishnan will be convicted on 4 December of indecent assault, rape, cruelty to a child under the age of 16, two counts of actual bodily harm and false imprisonment. He is due to be sentenced in January.
13 November: Paris massacres kill 130 people
In an atrocity without parallel for its savagery in post-war Europe, a series of co-ordinated attacks by terrorists linked to Isis kill 130 people in Paris. Eighty-nine of the victims are slaughtered at the Bataclan theatre, with a further 350 injured. Other venues include cafés, restaurants and the Stade de France, where an attempted multiple suicide bombing is largely botched. At least 11 terrorists also die, from bullets or their own suicide vests. Three more are killed in a police raid in Saint Denis five days later. Meanwhile, France has declared a state of emergency, new military strikes have been launched in Syria, and nations across the world have expressed emphatic solidarity with tricoleurs and renditions of "The Marseillaise".
17 November: Charlie Sheen reveals his HIV positive status, fours years after diagnosis
Charlie Sheen, the controversial actor known for his colourful lifestyle, reveals that he is HIV positive. He has known of the diagnosis for around four years, has been taking a triple cocktail of anti-retroviral drugs, and has paid millions to blackmailers to prevent the diagnosis from becoming public. The public's reaction is mixed: some see the news as an excuse to attack the 50-year-old Sheen for his lifestyle; most insist that sympathy is the only appropriate response. A number of recent sexual partners subsequently claim that Sheen did not disclose his status, and a former fiancée, Scottine Ross, launches a lawsuit.
20 November: New Islamist terror attack hits hotel in Bamako
Gunmen thought to be members of the Al-Mourabitoun terror group take 170 people hostage at the Radisson Blu hotel in Bamako, Mali's capital. Special forces retake the hotel and free most of the hostages, but 20 people are killed. The two gunmen are killed in the rescue; two suspected accomplices will be arrested on the outskirts of Bamako a week later.
24 November: Turks down Russian warplane
Nato is plunged into crisis after Turkey shoots down a Russian Su-24 fighter jet accused of violating its air space during an operation in northern Syria. Vladmir Putin accuses Turkey of being "accomplices of terrorists" and warns of "serious consequences". Barack Obama urges both sides to be cool-headed. The incident is a setback for what briefly seemed like a united global response to the Isis threat. Four days earlier, the UN security council voted unanimously for members to use "all necessary means" to defeat the terror group.
28 November: Tyson Fury wins world title
Tyson Fury becomes world heavyweight boxing champion after defeating Wladimir Klitschko for the IBF, WBO, WBA (Super), IBO and The Ring titles in a 12-round bout in Dusseldorf. Fury wins by a unanimous points decision. Within 10 days, he will have been stripped of the IBF title, because he has signed up for a Klitschko rematch instead of facing the mandatory IBF challenger. He is also shortlisted for the BBC's Sports Personality of the Year award – an honour quickly tainted by a toxic controversy over some of Fury's sexist and homophobic remarks.
DECEMBER
2 December: Commons votes for air strikes on Syria
After an all-day debate, 397 MPs vote to extend air strikes against Isis into Syria, with 223 voting against – a majority of 174. The first symbolic strikes by RAF Tornados take place within hours. The debate is notable for a rousing speech by Hilary Benn, shadow Foreign Secretary, explaining why "we must fight fascists", which wins a standing ovation from both sides of the house. But the 67 Labour MPs who (in contrast to their leader) voted to back military action are subsequently fiercely criticised by Corbyn supporters.
3 December: By-election joy for Corbyn
Despite predictions by most commentators that Labour will be punished for its new leader's radical tendencies at the Oldham West and Royton by-election, the party holds the seat. Jim McMahon, the 35-year-old leader of Oldham council, wins a majority of 10,722. This is less than the 14,783 recorded by the late Michael Meacher at the general election but, because of low turnout, represents an increased share of the vote. Jeremy Corbyn calls the result "a vote of confidence in our party".
4 December: 'Tax on justice' to be scrapped
After three months of campaigning, spearheaded by The Independent, the Government announces that it is to abolish the court charge that has forced defendants to pay towards the cost of their own trials; the charge has been widely denounced as a "tax on justice". Chantal-Aimée Doerries QC, chairman-elect of the Bar Council (which represents barristers) says the charge created a "perverse incentive to plead guilty".
5 December: Storm Desmond floods Cumbria
The arrival of Storm Desmond, with an "atmospheric river" in its wake, causes havoc in the North and West on the night of 5-6 December. Record rainfall leaves much of Cumbria underwater. Southern Scotland, north Wales and Northern Ireland are also hit, but it is Cumbria that bears the brunt. At Thirlmere, 405mm of rain falls in 38 hours; at Honister Pass, an unprecedented 341.4mm falls in 24 hours. Rivers burst their banks, bridges are swept away, and at least 5,000 homes are flooded; Carlisle, Keswick and Appleby are among the worst-hit towns. The village of Glenridding is flooded again by a fresh deluge four days later. Around 60,000 homes spend days without power. The £38m spent on upgrading flood defences following similar disasters in 2005 and 2009 appears to have made little difference.
8 December: Donald Trump outrages Britain
Donald Trump, trying to justify his earlier proposal that there should be a "complete shutdown" on Muslims entering the US, says "some parts of London are too radicalised for police to patrol them". David Cameron leads a chorus of condemnation. Labour leader Jeremy Corbyn calls the inflammatory remarks "an affront to common humanity". There are calls, soon backed by an online petition with hundreds of thousands of digital signatures, for Mr Trump to be banned from visiting the UK.
11 December: A line under the phone-hacking saga?
The Director of Public Prosecutions says no further charges will be brought in connection with alleged phone-hacking at newspapers owned by Trinity Mirror, which has admitted that more than 40 of its journalists illegally accessed voicemails. The Crown Prosecution Service adds that no corporate charges will be brought against Rupert Murdoch's company, News UK. It is also reported, but not confirmed, that the second part of the Leveson Inquiry has been quietly dropped.
13 December: Election setback for Front National
The far right Front National (FR) party receives a firm rebuff in French regional elections. The FR seemed unstoppable in the first round of voting, coming top in six of mainland France's 12 regions. But in the second round a combination of tactical voting and high turn-out leaves Marine Le Pen's party without a single regional triumph to show for its seven million votes. The prime minister, Manuel Valls, hails the result as a "victory for the Republic".
15 December: Major Tim Peake in space
Major Tim Peake (centre) arrives at the International Space Station, the first British astronaut chosen to do so officially, on behalf of the European Space Agency. Major Peake is in fact the seventh Briton in space, although of the others all but one (Helen Sharman) had foreign citizenship. The only hitch in the six-hour journey is in the final docking with the ISS, which has to be completed manually. Major Peake will remain on the station for six months.
15 December: Conclusion of Paris climate summit
After two weeks of talks between representatives of 195 nations, including 147 leaders and about 40,000 delegates, the United Nations Climate Change Conference (COP 21) in Paris releases a "historic" agreement. All participating nations sign up to the aim of keeping global warming "well below 2C" and reducing their carbon output "as soon as possible". Such unanimity is unprecedented – but there is no mechanism for enforcement, and the major greenhouse gas-producing nations now need to ratify it.
16 December: Fed raises interest rates
The Federal Reserve raises interest rates by a quarter of a point, to a range of 0.25-0.5 per cent. It is the first time it has raised rates since June 2006, and the first time it has done anything to them since 2009. Shares surged in response to the news, which was seen by some as signalling the final conclusion to the financial crisis that began when Lehman Brothers went bust in 2008. Mark Carney, governor of the Bank of England, insists that economic conditions are not yet suitable for the UK to follow suit.
17 December: From Special One to Sacked One
After weeks of speculation, Jose Mourinho loses his job ("by mutual consent") as manager of Chelsea. The defending Premier League champions have won just four of their 16 matches this season. It is the second time the club have dismissed Mourinho: he was also sacked in 2007. The dismissal rounds off a difficult year for the 52-year-old "special one", who has been embroiled in a highly publicised dispute with Chelsea's team doctor, Eva Carneiro, and was fined £40,000 in October after storming into a referee's dressing-room. However, a pay-off of up to £10m may ease the pain a little.
Join our new commenting forum
Join thought-provoking conversations, follow other Independent readers and see their replies