Russia Today news anchor Liz Wahl resigns live on air in response to 'whitewashed' Ukraine coverage
The network dismissed  the resignation as a "stunt"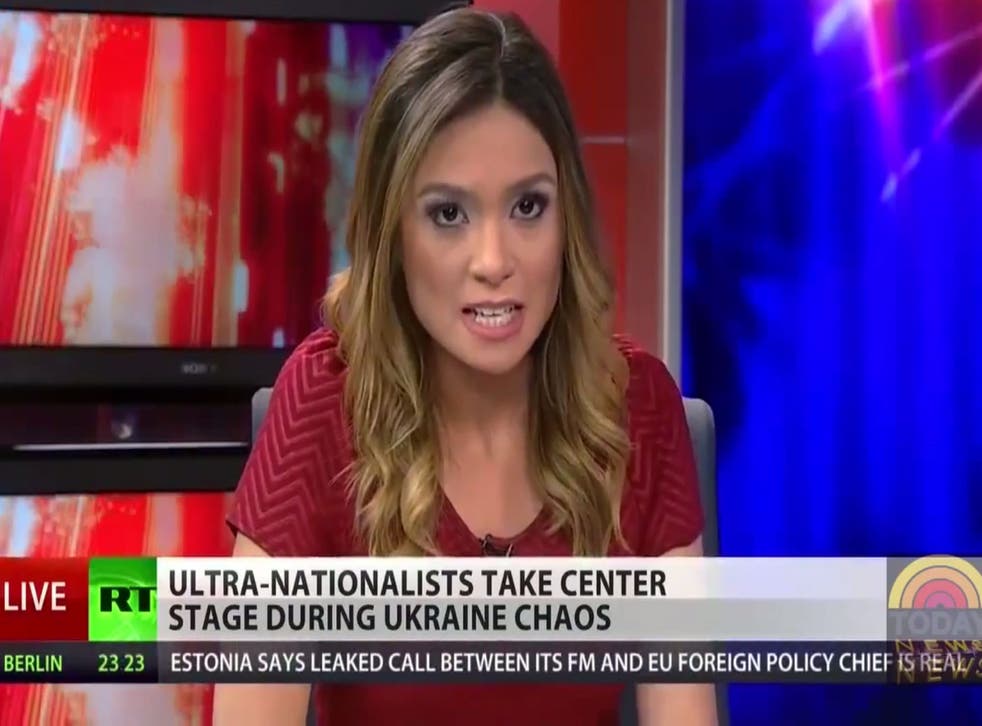 An American news anchor for the Russian state-owned TV network Russia Today has resigned live on air in response to the station's "whitewashed" coverage of events in Ukraine.
Liz Wahl said that as a reporter for RT she faced "many ethical and moral challenges", invoking her family's background as refugees escaping Soviet troops during the 1956 Hungarian revolution.
"I'm very lucky to have grown up here in the United States," said Wahl. "I'm the daughter of a veteran; my partner is a physician at a military base where he sees every day the first-hand accounts of the ultimate prices that people pay for this country.
"And that is why personally I cannot be part of a network funded by the Russian government that whitewashes the actions of Putin. I'm proud to be an American and believe in disseminating the truth, and that is why, after this newscast, I'm resigning."
In pictures: The crisis in Ukraine

Show all 15
Wahl later told The Daily Beast that she had been planning the move for some time, saying that her editorial independence had been repeatedly compromised by her superiors and that employees at RT who deviated from the Russian government's 'narrative' were punished.
"In order to succeed there you don't question," said Wahl.
Russia Today issued a statement, condemning Wahl's action as "nothing more than a self-promotional stunt" and that the "usual course of action" was for journalist to speak to their editors or "quit like a professional".
On Tuesday another journalist working for the network made headlines when she went off script to denounce Russia's military presence in Crimea.
Abby Martin said that "Russia was wrong" and although she was unaware of some of the complexities of the situation it was clear to her that "military intervention is never the answer".
Russia Today later told the Huffington Post that "contrary to the popular opinion, RT doesn't beat its journalists into submission, and they are free to express their own opinions, not just in private but on the air. This is the case with Abby's commentary on the Ukraine.
"We respect her views, and the views of all our journalists, presenters and program hosts, and there will be absolutely no reprimands made against Ms. Martin.
"In her comment Ms. Martin also noted that she does not possess a deep knowledge of reality of the situation in Crimea. As such we'll be sending her to Crimea to give her an opportunity to make up her own mind from the epicentre of the story."
Martin has since said that she will not be visiting the region.
Join our new commenting forum
Join thought-provoking conversations, follow other Independent readers and see their replies