Saudi Arabia's billionaire king is on a lavish Asian adventure — here's what he's spending his money on
His essentials include plenty of limousines and far too many golden escalators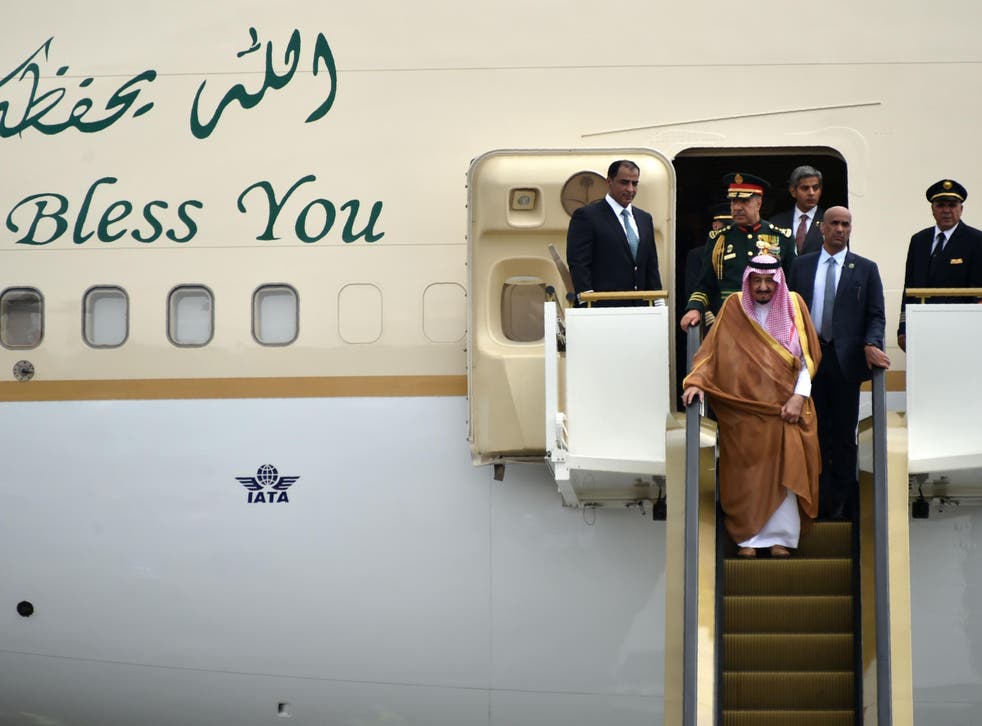 Saudi Arabia's King Salman bin Abdulaziz al Saud, who has an estimated net worth of over $17 billion (£13.8 billion), is not one for subtlety.
He's currently on a lavish tour of Asia, and has arrived in every country on his itinerary — most recently China — on a golden escalator from his personal plane.
He also isn't travelling alone — when he landed in Indonesia, he was joined by an entourage of 620 staff and a further 800 delegates.
The pomp and pageantry on display during the tour has caught the world media's attention — and not for the first time.
In 2015, he and his 1,000-person entourage caused the closure of a French Riviera beach for three days. Salman's group poured concrete on the beach to install an elevator directly on the sand.
The King's most recent trip has lived up to his reputation.
Scroll down to see the various extravagant things he's spent his money on while on his Asian adventure.
500 limousines
King Salman flew two Mercedes-Benz S600 limousines with him on his trip. You may be thinking: "But what limousines will his entourage travel in?" Don't worry, the Saudi King had 500 limousines ordered into Tokyo to ferry him and his crew around the capital.
1,200 hotel rooms
Bad news for luxury travellers in Tokyo at the time of King Salman's visit — they may have struggled to find a spare room. The King booked a reported 1,200 hotel rooms at Tokyo's top hotels to accommodate his staff and delegates.
Two golden escalators
Because one is never enough.
A Lockheed C-130 Hercules
How do you transport a pair of golden escalators? You take your military transport aircraft, of course. The Hercules is designed to haul tanks, artillery, and paratroopers over long distances — it can even fly with one engine. In the Saudi King's arsenal, though, it is reportedly used to carry his nearly 500 tonnes of luggage — limousines and escalators included.
100 bodyguards
King Salman's 1,500-strong squad includes 25 princes, 10 ministers, and over 100 security personnel. The retinue have a combined net worth in the multi-billions.
Six Boeing passenger jets
In order to transport the King's entourage of 1,500 people, six Boeing passenger jets were chartered for the trip — including his personal 747, painted in gold.
459 tonnes of luggage
The airfreight firm charged with the colossal task of handling the King's luggage said that 63 tonnes of his cargo were unloaded at Jakarta, and the rest were taken with him to his holiday destination in Bali.
It's unclear what luxury items are included in King Salman's luggage — besides the escalators and limousines— but there's only so many Fabergé eggs you can fit in a suitcase.
• Here are the ages you peak at everything throughout life
• The 10 best airports in the world
• 34 movies to watch in your 20s
Read the original article on Business Insider UK. © 2016. Follow Business Insider UK on Twitter.
Register for free to continue reading
Registration is a free and easy way to support our truly independent journalism
By registering, you will also enjoy limited access to Premium articles, exclusive newsletters, commenting, and virtual events with our leading journalists
Already have an account? sign in
Register for free to continue reading
Registration is a free and easy way to support our truly independent journalism
By registering, you will also enjoy limited access to Premium articles, exclusive newsletters, commenting, and virtual events with our leading journalists
Already have an account? sign in
Join our new commenting forum
Join thought-provoking conversations, follow other Independent readers and see their replies