Sir Elton's charity brings hope in the fight against Aids
As an international Aids conference meets in Durban to discuss the fight against HIV, the singer and Independent proprietor Evgeny Lebedev explain how a pioneering clinic is combating the stigma and spread of the virus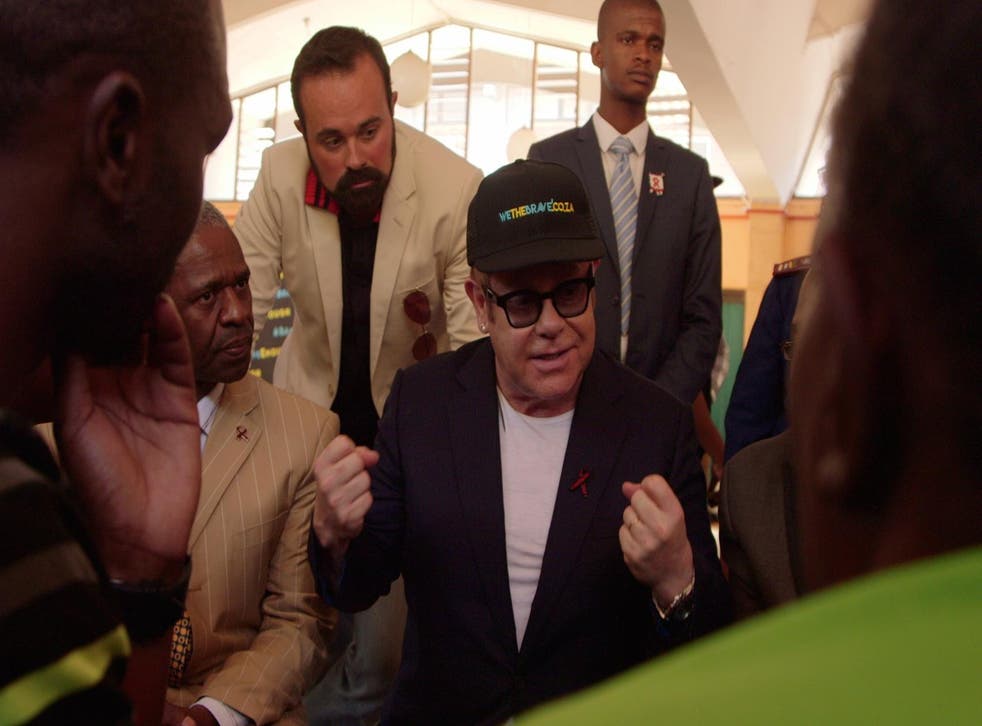 Away from the crowds of chattering delegates, access badges swinging from their necks, the real work being done to combat the spread of HIV in South Africa could be seen during the 2016 International Aids Conference.
It was in places like the Durban suburb of Umlazi where, miles from the 20,000 or so people gathered at this port city's glass-sided convention centre,the brown-bricked Gateway clinic deals with the reality of that fight every day. Here, those unwilling to talk about the disease with their parents or friends — in most cases because they do not want to publicly admit their homosexuality — can get tested, receive medicines and find a supportive voice to discuss how to protect themselves from the epidemic. "When people come, we say, 'Look, we can help you,'" senior medical advisor Oscar Radebe explained.
"Often, the people have never talked publicly about their sexuality. The wonderful thing is to see them come back and thank you for talking with them in a non-judgmental manner."
Aids is no longer the killer it was in South Africa. At the height of the crisis at the turn of the century some 1,000 people here dying each day. But there are still about seven million people — one in seven of the population — living with the disease. Those who now bear the brunt of infection are the very people that many societies — especially traditional societies, which South Africa, despite its trappings of 21st-century modernity, very much remains — least like to acknowledge: gay people, drug addicts and prostitutes.
That is why places like the Gateway clinic are so crucial to combating HIV in 2016. Too often, nurses and doctors in South Africa still express revulsion at learning a patient is homosexual, meaning patients often lie about their symptoms or sexual practices.
At Gateway visitors are accepted — whoever they are — and therefore it is a place where Aids experts can talk honestly with those most at risk from HIV, and thereby impart the knowledge and services needed if the spread of the virus is to stop.
"Most of us here are still in the closet," explained 20-year-old Akeeleh Gwala, one of those using the clinic for safe sex advice. "It is hard growing up gay here. Very hard. At school, parents would tell their children not to play with you as if you were some sort of demon. People don't think you have a heart. It is painful. Here, though, we are secure."
The training of the staff at the clinic is part-funded by the Elton John Aids Foundation, the charity set up by the singer in 1992. Gateway is one of 200 such clinics the foundation supports across South Africa, in the first national project of its kind in the country. Since it was set up, the charity has distributed more than £99 million of funding and in the last year alone reached over 540,000 people through its programmes. That makes it the most important private foundation dedicated to combating HIV.
The charity's most recently appointed trustee is Independent owner Evgeny Lebedev, who was in Durban to support it and witness the projects it runs. He visited Gateway with Sir Elton and the singer's husband David Furnish to talk to the patients and see for himself the work being undertaken. He admitted it was impossible not to be affected by the stories of alienation and bigotry that he heard.
"We sadly still live in a time when criminalisation, stigma and violence all mean that access to and the uptake of HIV testing and treatment among men who have sex with men remains low in many countries," he said. "We can never stop this disease while that continues, and that means more people will continue to die." After the visit, Sir Elton told the Evening Standard he was hopeful the disease could be eradicated, but agreed this could only happen if at-risk groups were not marginalised.
"We have come a long way since the last international Aids conference was held here in 2000," said the singer. "I can remember going to a restaurant and LGBT people there would not even have their photograph taken with me as they were scared people would therefore know they were homosexual. Now we have the first Gay Pride being held in the city this weekend.
"But there is still work to do. We cannot take our foot off the accelerator. We must get rid of the stigma — the stigma against LGBT people, the drug users, the sex workers. They are the ones at risk of being left behind. That is why my foundation is focusing on them."
The overall situation has certainly improved since 2000. Deaths have fallen by 45 per cent from when they peaked in 2005. Antiretroviral drugs are now available to 17 million people. The annual cost of treatment has fallen from $10,000 per person to less than $100. Infections are down six per cent since 2010. A cure is no longer unimaginable.
At the conference there is talk of hope. Bill Gates, Prince Harry and South African actress Charlize Theron were among those who attended and announced new funding and support for projects combating the disease. Many delegates highlighted the latest medical advances, such as the new pre-exposure prophylaxis which, in a daily pill, can help those most at risk of infection.
However, there was also recognition that it was through work on the ground that the next crucial steps must be taken. In an emotional speech to delegates, Prince Harry spoke of his mother Princess Diana's support for the fight against Aids.
Harry, who took a HIV test in a Facebook Live video earlier this month to raise awareness, said: "When my mother held the hand of a man dying of Aids in an east London hospital, no one would have imagined that, just over a quarter of a century later, treatment would exist that could see HIV-positive people live full, healthy, loving lives. But we now face a new risk — the risk of complacency.
As people with HIV live longer, Aids is a topic that's drifted from the headlines. And with that drift of attention, we risk a real drift of funding and of action to treat the virus. We cannot lose a sense of urgency, because despite all the progress we have made, HIV remains among the most pressing and urgent of global challenges — 1.1 million people died of Aids and 2.1 million were infected last year alone."
The conference heard that more testing, counselling and education were needed if the target set last month by the UN — eradicating the disease by 2030 — is to be met. These need to focus on those most at risk, which means those helped by places like Gateway.It also means getting the message out to young, in most cases adolescent, women — for whom globally Aids remains the second largest killer — about the need not to be bullied by their partner into unsafe sexual practices. And it means cash. The estimated cost of reaching the UN's target is $26.2 billion. At the conference, Sir Elton's foundation committed a further $10 million towards that in partnership with PEPFAR, the US President's Emergency Plan For Aids Relief. However, the foundation's executive director Anne Aslett stressed that money alone could never be the answer. "Private foundations like ours are important as they can pioneer new ways of doing things and are willing to take risks and try things that governments won't or can't," she said.
"We can also be an important source of funding, but the most important message to spread is tolerance. Whatever your religion, sexuality or colour of your skin, we have to care for each other. I know that can sound Pollyannaish — but in the prevention of HIV infection it is also the clever thing to do."
Join our new commenting forum
Join thought-provoking conversations, follow other Independent readers and see their replies