Thailand prepares for its new ruler, as the country still reels from the loss of its king
Thailand's parliament has formally invited Crown Prince Maha Vajiralongkorn to become its next king. But across the country, there are mixed feelings on whether or not he is fit to be the country's next ruler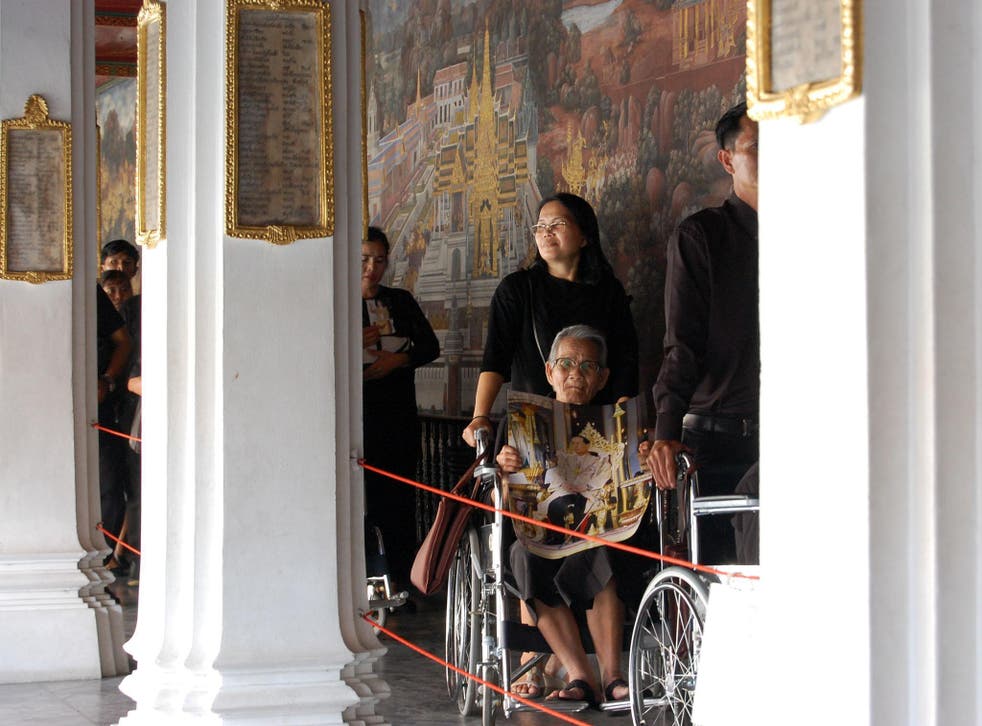 The first thing you notice when you step off the plane in Bangkok is the large screens playing out scenes from the country's past – a happier time when its late king, Bhumibol Adulyadej, reigned.
The few tourists who didn't get the memo that this is a country plunged into a deep period of mourning stick out like sore thumbs amidst a sea of black. Most, Thai locals and tourists alike, are dressed in dark clothing – a symbol of respect for the dead king and those still reeling from his loss.
It has been 50 days since the king died on 13 October – but whereas some world leaders are mourned over a period of days or weeks, Thailand's mourning period will last an entire year. Nowhere is the country's loss more deeply felt than outside the Grand Palace, where thousands of mourners line up outside the gates, many holding up posters of their beloved king, waiting for the chance to pay their respects and offer their prayers outside the building where his remains lay.
"They come in the morning and they wait for 10 hours," tour guide Chuthathip Chairungruksa tells me. "Everyone is very sad. We love the king. He helped the people ... He donated so much money to the people."
The adulation the Thai people have for their late king, the world's longest reigning monarch, is sincere – a reverence born out of true admiration, rather than civic duty alone. King Bhumibol was viewed by many in the majority Buddhist nation as a "bodhisattva", or a holy being who delays reaching nirvana in order to come to the aid of the human race.
In his 70 years in power, Adulyadej steered the South-east Asian country through violent upheavals at home and communist insurgencies in neighbouring countries, while working to upend the country's corrupt military elite in his bid to defend democracy.
When I approach one woman standing outside the Grand Palace with her family and ask her if she would be willing to talk about the king, her eyes light up.
"I love the king," Kanyarat Butbrom says. "He really worked for the people of Thailand."
But when I question her on her feelings toward the incoming king, Adulayadej's son, Crown Prince Maha Vajiralongkorn, her face darkens.
"He is the only one son of the king ... so I hope he will be as good."
Dot Suppakijjanusorn, a young man who has also come to the Grand Palace to pay his respects, seems equally troubled when I ask him about the Crown Prince.
"I think that's in the future..." he says, waving his hand. " I don't know."
Thailand's parliament formally invited the 64-year-old Crown Prince on Tuesday to become the next king. He has been named the successor to his father's throne for more than four decades. But whether or not Vajiralongkorn will be able to inspire the same level of adoration that the people of Thailand seem to genuinely feel for his father remains to be seen.
A certified pilot, Vajiralongkorn has spent much of his time outside the kingdom he has been destined to rule for decades, living in southern Germany where he owns property. A military source told AFP the prince was still in Germany on Tuesday, when he received his invitation to the throne.
Those I ask about the future king seem wary – and rightfully so. In Thailand, royalty is protected by strict defamation rules known as lèse-majesté (injured majesty) under which anyone convicted of insulting the king, queen, heir or regent can face up to 15 years in prison on each count. And since generals seized power in 2014, convictions for defamation have skyrocketed.
Despite the potential consequences, one Thai tour guide does not hold back. She slides two fingers across her throat, when I bring up the royal heir.
"No, we don't like him." Rumours of his private life and the fact that he has had three high-profile divorces have made many question whether he is fit to be king.
The crown prince is widely seen as lacking the kind of public popularity his father inspired, which has raised fears of a power struggle in the country. In fact, some would prefer to see the Crown Prince's younger sister, Princess Maha Cahkri Sirindhorn take the throne in his place, but Thai law forbids the possibility of a female monarch.
As he inherits one of the world's richest monarchies, the world will be watching to see just what kind of leader Vajiralongkorn will be. And the answer to that question, undoubtedly on every Thai citizen's mind, could prove critical.
Over the last decade, Thailand has seen widespread political protests, with concerns over the country's future growing as the king's health continued to deteriorate, forcing him to make fewer public appearances.
It will be up to Vajiralongkorn to assuage the anxieties of a nation that is still finding its feet after a devastating loss and prove that he is up to the task.
Join our new commenting forum
Join thought-provoking conversations, follow other Independent readers and see their replies