A History of the First World War in 100 Moments: Dulce et decorum est - a life cut short for a poet whose work achieved immortality
Wilfred Owen's death, like his poems, captured the pity of war. John Walsh charts his journey from innocence to iconic status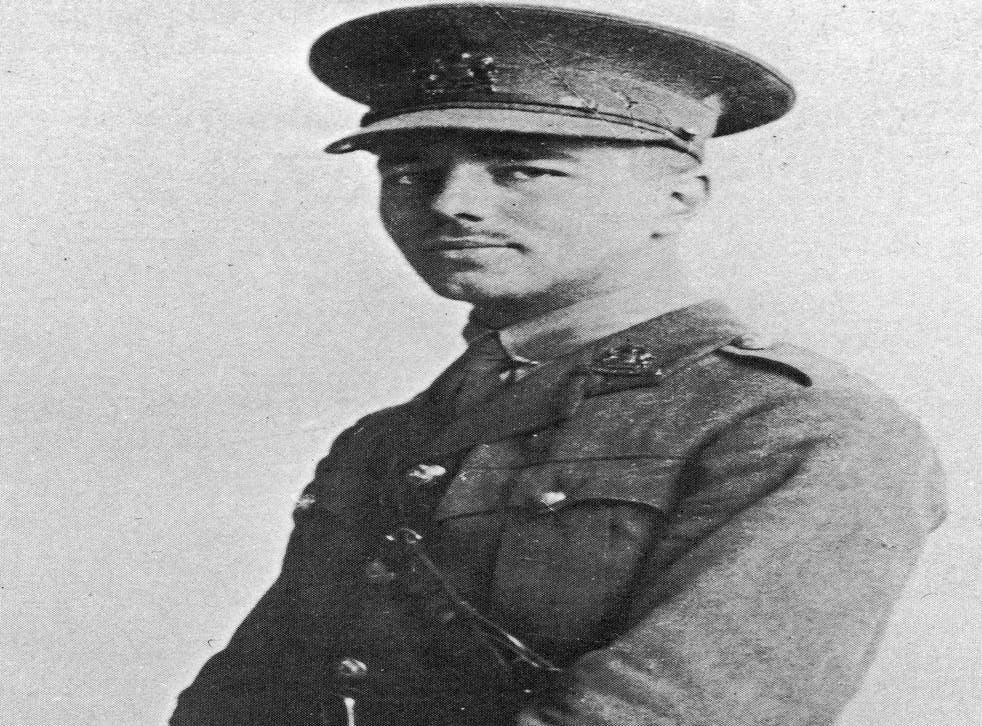 It was a hell of a learning curve. In 1914, just after the outbreak of war, Wilfred Owen wrote a poem called "The Ballad of Purchase-Money", which began:
"O meet it is and passing sweet
To live in peace with others,
But sweeter still and far more meet
To die in war for brothers."
Three years later, that naive "meet and sweet" sentiment appeared, this time in its original Latin form – "Dulce et decorum est pro patria mori" – as the title of a very different poem, which began:
"Bent double, like old beggars under sacks,
Knock-kneed, coughing like hags, we cursed through sludge,
Till on the haunting flares we turned our backs
And towards our distant rest began to trudge.
Men marched asleep. Manyhad lost their boots
But limped on, blood-shod. All went lame; all blind..."
It ended with a passionate rejection of the sentiment (from the Latin poet Horace) that there is anything meet, sweet or honourable about dying for your country. Owen's dark journey from naivety to disgust produced the war's most famous literary effusion. And, by a terrible irony, its author died just as the conflict ended.
Owen was the son of an Oswestry railway superintendent. He was schooled at Birkenhead and Shrewsbury and, from an early age, was nuts about poetry. He revered Keats, visited the houses in which the venerated poet used to live, modelled his verse on his lush and clotted sensuality, and shared his fascination with death. Like Keats, he was to die aged 25.
In pictures: A history of the First World War in 100 moments

Show all 149
Owen was in France when war broke out, teaching English. According to his biographer, Jon Stallworthy: "His letters of this period show no great interest in the progress, or lack of progress, in the War, except insofar as it affected the crossing of the Channel." But gradually a yearning to take arms settled upon him. "I don't want to wear khaki," he wrote to his mother, "nor yet to save my honour before inquisitive grandchildren 50 years hence. But I now do most intensely want to fight." On 21 October 1915, Owen was sworn into the Artists' Rifles and in May 1916 he became 2nd Lieutenant in the 5th Battalion of the Manchester Regiment. He left Dover on 29 December. In January he found himself in the stinking quagmire of the Somme, half-drowning in mud, deafened by artillery, crippled by dysentery, freezing, starving, blitzed and haunted. "We were marooned on a frozen desert," he wrote. "There is not a sign of life on the horizon and a thousand signs of death."
Owen was hospitalised after falling down a well. When he rejoined his battalion in May, his CO noticed he was shaky, tremulous, confused in memory and unable to command. Owen told his sister it wasn't a breakdown: "You know, it was not the Bosche that worked me up, nor the explosives, but it was living so long by poor old Cock Robin (as we used to call 2nd Lieutenant Gaukroger) who lay not only near by, but in various places around and about, if you understand…"
Traumatised by exploded limbs, he was sent home to Southampton and thence to Craiglockhart War Hospital in Edinburgh, a forbidding and gloomy keep, for "special observation and treatment". Nobody could have predicted what followed: a four-month period of calm and fulfilment.
At Craiglockhart, despite the nightly screaming of shell-shocked men remembering the killing fields of Beaumont-Hamel and St Quentin, Owen came into his own. He met Siegfried Sassoon, the most important friendship of his life, and Robert Graves, who proved to be a useful irritant. Owen's poetry acquired a newly direct, scornful, challenging voice.
Helped by his new friends, he was published in national magazines. He drank in Edinburgh pubs. He met Arnold Bennett and HG Wells in literary London. He felt his life was happily under way. "I am a poet's poet," he told his mother. "I am started. The tugs have left me; I feel the great swelling of the open sea taking my galleon."
It wasn't, however, enough. A stronger impulse nagged at his conscience. He had to go back to the war, and be with the men to whom he could give a voice. "I know I shall be killed," he told his brother Harold. "But it's the only place I can make my protest from."
On 1 September 1918, he landed at Etaples, just as Ludendorff's army ceased their advance on Paris and fell back across the Marne. Owen's last letters to his mother show him in high spirits as he describes his comrades-in-arms and the local French girls' gratitude for "La Deliverance". He modestly records that his bravery in capturing an enemy machine-gun may have won him a Military Cross (which he was duly awarded). A curious elation that's well beyond sympathy with doomed soldiers can be heard in his final pronouncements: "My nerves are in perfect order. I came out in order to help these boys – directly by leading them as well as an officer can; indirectly, by watching their sufferings that I may speak of them as well as a leader can. I have done the first..."
The end came soon. On the night of 3 November, the 2nd Manchesters were part of a vital attack over the Sambre-Oise canal. At 5.45am, an artillery barrage crashed down, and when it ended Owen led his platoon to the tow-path. They found the far bank stuttering with German tracer fire. As the Royal Engineers struggled to construct a makeshift bridge, Owen steadied his men with words of encouragement. Minutes later, he was killed by a German bullet in the thick of battle.
The 2nd Manchesters and the 96th Brigade finally crossed the bridge. A week later, the war was over. All was finally quiet on the Western Front. And Wilfred Owen, the poet who most effectively voiced the true savagery of the First World War had become one of its final casualties.
As his parents answered the door to a telegram from the British Army, the Armistice bells were ringing their cheerful chime of peace.
Tomorrow: Germans demand peace
The '100 Moments' already published can be seen at: independent.co.uk/greatwar
Join our new commenting forum
Join thought-provoking conversations, follow other Independent readers and see their replies