A History of the First World War in 100 Moments: Life - and death - in a trench under artillery bombardment
Soldiers buried alive; others maddened by fear; corpses for company... The author and officer Arthur Graeme West provides a powerful description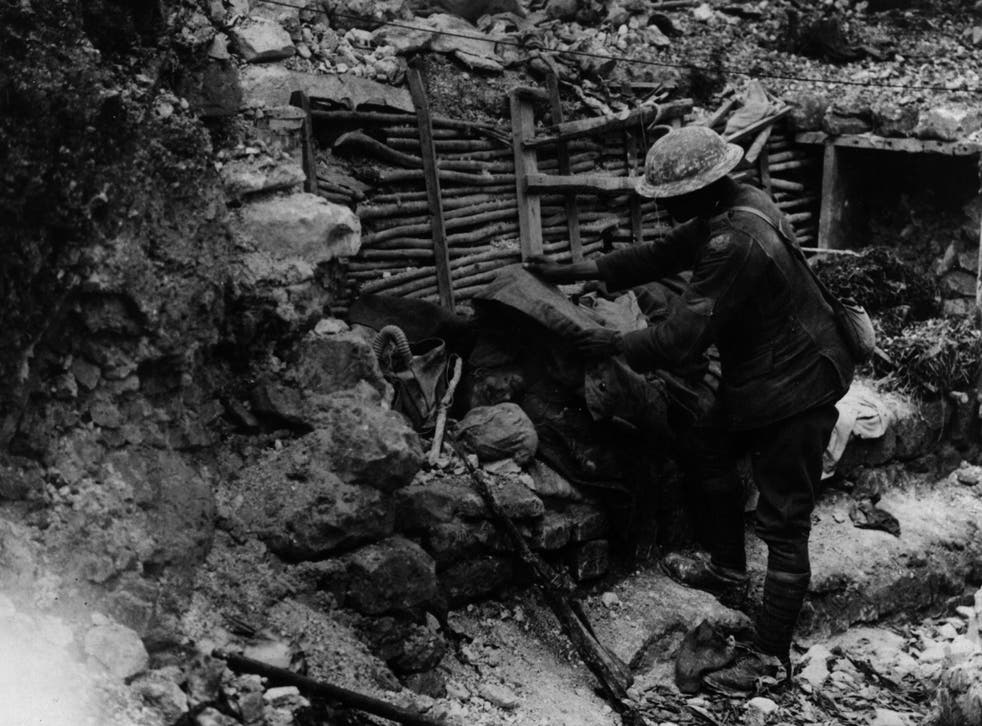 Sunday 17 September 1916:
… We got up here about 2.20am Sunday morning – a terribly long relief, for we started out for this line from G–Ridge at 8.30pm Saturday night.
The men were dog-tired when they got here, and though ordered to dig, complied very unwillingly, and were allowed to sit about or lean on their spades, or even to stand up and fall asleep against the side of the trench. It was a smelly trench. A dead German – a big man – lay on his stomach as if he were crawling over the parades down into the trench; he had lain there some days, and that corner of the trench reeked even when someone took him by the legs and pulled him away out of sight, though not out of smell, into a shell-hole. We sat down and fell into a comatose state, so tired we were. On our right lay a large man covered with a waterproof, his face hidden by a sand-bag, whom we took to be a dead Prussian Guardsman, but the light of dawn showed him to be an Englishman by his uniform. From where I sit I can I see his doubled-up knees.
The men lay about torpidly until 4.30am, when B– ordered a stand-to. We tried to keep awake merely for form's sake while the light very slowly grew. Stand-down went at 5.30am and B– made us tea, and added rum for the others; the very smell of rum makes me sick, because it is connected with the trenches last winter…
We joke over the tea and biscuits, go into the next bay and talk to the men about the German things they have found and are determined to get home somehow – a rifle, a belt-buckle with "Gott mit uns" on it, a bayonet, and so on.
We try and make out where we are on the map, and find we are at least 1,000 yards away. Then we resolve that as we had practically no sleep last night nor the night before, and I had little even the night before that, we will try and get some. We lie…
In pictures: A history of the First World War in 100 moments

Show all 149
Wednesday 20 September:
So far I had written when it became evident that our quiet Sunday was to be of the usual kind and we were to be bombarded. HE [high explosive] shells, about 6in ones, came over with a tremendous black smoke, making an explosion and sending up a column of earth about 30ft high. The first intimation I had was when I went round the corner to the next bay to see where one had fallen, and found a man with a little ferrety nose and inadequate yellow moustache, in a very long great-coat, sitting muttering away on the firing-step like a nervous rabbit and making vague gestures with his hands and head. He would return no answer to questions, and I was told two men had just been buried in a dug-out nearby. I went round and found two more pale men, rather earthy. I talked to them and did my best to comfort them. A few more shells came over, unpleasantly near, but it was not yet certain whether they were definitely after us.
Soon this was clear. They worked down a winding trench, and blew in the walls; we lost six men by burying and 10 others wounded or suffering from shell-shock. It was horrible. A whistle would be heard, nearer and nearer, ceasing for a mere fraction of a second when the shell was falling and about to explode. Where was it coming?
Men cowered and trembled. It exploded, and a cloud of black reek went up in the communication trench again.
You went down it; two men were buried, perhaps more you were told, certainly two. The trench was a mere undulation of newly turned earth, under it somewhere lay two men or more. You dug furiously. No sign. Perhaps you were standing on a couple of men now, pressing the life out of them, on their faces or chests. A boot, a steel helmet – and you dig and scratch and uncover a grey, dirty face, pitifully drab and ugly, the eyes closed, the whole thing, limp and mean-looking: this is the devil of it, that a man is not only killed, but made to look so vile and filthy in death, so futile and meaningless that you hate the sight of him.
Perhaps the man is alive and kicks feebly or frantically as you unbury him: anyhow, here is the first, and God knows how many are not beneath him. At last you get them out, three dead, grey, muddy masses, and one more jibbering live one.
Then another shell falls and more are buried.
We tried to make them stand up.
It is noticeable that only one man was wounded; six were buried alive.
I shall always remember sitting at the head of this little narrow trench, smoking a cigarette and trying to soothe the men simply by being quiet. Five or six little funk-holes dug into the side of the trench served to take the body of a man in a very huddled and uncomfortable position, with no room to move, simply to cower into the little hole. There they sit like animals for market, like hens in cages, one facing one way, one another. One simply looks at his hands clasped on his knees, dully and lifelessly, shivering a little as a shell draws near; another taps the side of his hole with his finger-nails, rhythmically; another hides himself in his great-coat and passes into a kind of torpor. Of course, when a shell falls on to the parapet and bores down into the earth and explodes, they are covered over like so many potatoes. It is with the greatest difficulty that we can shift the men into another bit of trench and make them stand up.
I found myself cool and useful enough, though after we had been shelled for about two-and-a-half hours on end my nerves were shaky and I could have cried for fright as each shell drew near and longed for nothing so much as to rush down a deep cellar. I did not betray any kind of weak feeling.
It was merely consideration of the simple fact that a shell, if it did hit me, would either wound me or kill me, both of which were good inasmuch as they would put a pause to this existence – that kept me up to my standard of unconcern. And the more I experience it, the more fear seems a thing quite apart from possible consequences, which may occur in a person even when he assents fully to the proposition I have noted above.
I feel afraid at the moment. I write in a trench that was once German, and shells keep dropping near the dug-out.
There is a shivery fear that one may fall into it or blow it in.
Yet what do I fear? I mind being killed because I am fond of the other life, but I know I should not miss it in annihilation. It is not that I fear.
I don't definitely feel able to say I fear the infliction of pain or wound. I cannot bind the fear down to anything definite. I think it resolves itself simply into the realisation of the fact that being hit by a shell will produce a new set of circumstances so strange that one does not know how one will find oneself in them. It is the knowledge that something may happen with which one will not be able to cope, or that one's old resolutions of courage &c [etc], will fail one in this new set of experiences. Something unknown there is. How will one act when it happens? One may be called upon to bear or perform something to which one will find oneself inadequate.
The shelling went on – on this Sunday, I mean – for about five hours, and we had a few biscuits and a tot of whisky about 1 o'clock… We stood, B–, G–, Bl– and I, in the only undamaged bay, eating and drinking, and watching the huge columns of earth and smoke as the work of destruction went on. They had worked rather off this particular trench, and the men still stood all about it, but I believed for certain that they would return towards the end and smash in the only bay to which they would naturally have hoped to have driven us. I had had enough whisky to enable me to view this prospect with nothing but interested excitement, and really did not flinch as the shells fell, seemingly groping their way towards their mark.
Just as they drew near, a runner from the X–s came down to say the Germans had broken through on their left and were attacking, would we look after the third line and the flank. This news woke us all up from this rather unreal alertness of impending destruction and we rushed off with rifles, bayonets, and all manner of weapons to man the trench. No foe appeared, but it cheered us, and they did not shell very much more that night…
First published in 'The Diary of a Dead Officer', by Arthur Graeme West (George Allen & Unwin, 1919). West, a captain of the 6th Battalion of the Oxford & Buckinghamshire Light Infantry, was killed by a sniper's bullet near Bapaume on 3 April 1917
'Moments' that have already been published can be seen at independent.co.uk/greatwar
Join our new commenting forum
Join thought-provoking conversations, follow other Independent readers and see their replies