Garden theft: Pots of gold
The theft of the world's smallest water lily from Kew Gardens last week might seem like a tiny matter but, says Tom Bawden, the market in stolen plants is growing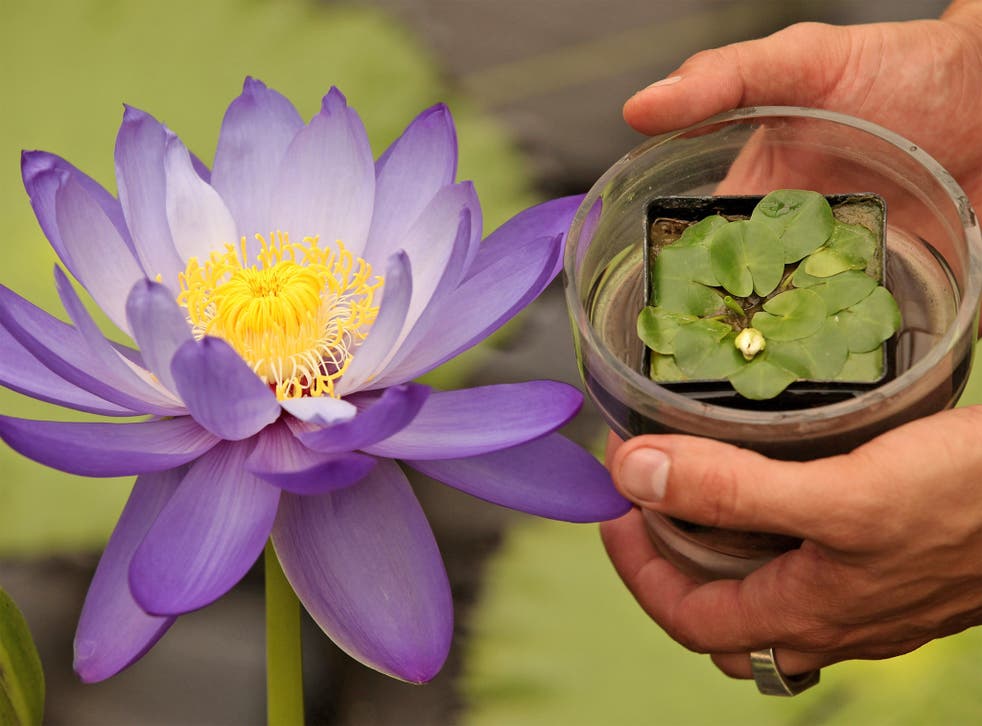 The police officer investigating the theft of the world's smallest water lily from Kew Gardens admits she has her work cut out finding the culprit for what seems, on the surface, to be a rather esoteric crime. The tiny Nymphaea thermarum lily, which is extinct in the wild, has shot to prominence since it was stolen between 8.30am and 2.55pm last Thursday from the Princess of Wales Conservatory.
Despite the public interest, Sam Johnson, the Richmond-branch CID Detective Constable leading the inquiry, says the lily's small size, unremarkable appearance – at least to the novice – and the tight-knit nature of the plant-collecting community will be a hindrance. "This is one of the most interesting jobs I've ever worked on and it's going to be really difficult to solve. It's quite a small community and not that open – our best chance of catching them is if someone starts boasting about cultivating it," the officer says. "The plant itself is so tiny and isn't in flower, and if you and I walked past it we wouldn't notice it. I would suggest it has been stolen to order for somebody with a real interest in water lilies rather than someone trying their luck."
The thief is thought to have dug or pulled the precious lily from the damp, temperature-controlled mud it needs to survive and experts say it may have been easier to sneak out of the botanic garden, which has its own security, because of its diminutive size. The plant's bright green lily pads can measure as little as 1cm across and its white flower with yellow stamen is barely bigger than a fingernail. The theft is likely to have earned the perpetrator thousands of pounds, given that the lily's rarity makes it "priceless" to enthusiasts.
It's not the only plant that appeals to the light-fingered. Other popular items on the black (green?) market are cycads, palm-like plants that are generally tropical or sub-tropical and can command £6,000, while certain orchids can fetch more than £3,000. Snowdrops are also popular, although they are a little cheaper at up to £600. Given the appetite in some quarters for rare plants, Britain's last remaining Lady Slipper Orchid – the country's rarest flower – is held in a closely guarded secret location somewhere in the North.
While the very rarest flowers may be in danger, plant crime is a far smaller business than trade in illegal timber, such as some rosewood species, and animal products, such as elephant tusks and rhino horn. However, the Kew Gardens theft suggests that this could be changing. "The Kew Gardens lily theft has shone the spotlight back on plants, which have been largely overlooked because it is much smaller than animal or timber trade," says John Scanlon, secretary-general at the Convention of International Trade for Endangered Species (Cites). "But it is nonetheless important and it doesn't take a lot of pressure to make rare plants extinct in the wild. We need to do a lot more work in this area."
Nevin Hunter, the head of the National Wildlife Crime Unit, has also taken note of the Kew theft. "We will be looking very hard to see if the attack on Kew is the start of a trend. It is so specialised that it suggests an organised criminal element," he says.
According to Grant Miller, border force senior office of the National team of Cites, the theft of plants is a relatively small but growing part of the illegal wildlife market. "We've seen organised criminals stealing ivory and rhino horns and we are worried that plants are the next step," Miller says.
Three months ago, his team intercepted four tonnes of Dendrobium nobile, an orchid that forms a key ingredient in a body-building supplement. "Criminals are increasingly realising that these products have a value and that makes it attractive to them – it's rich rewards with low penalties." Alas for him and for Kew's gardeners, this is one black market where there's plenty of green stuff to be had.