Beach hut sales all at sea as cold wind of recession blows
Prices are sinking as our long-running love affair with them is being soured by rent rises, vandals and arsonists, reports Graham Norwood
Graham Norwood
Saturday 06 April 2013 19:03 Comments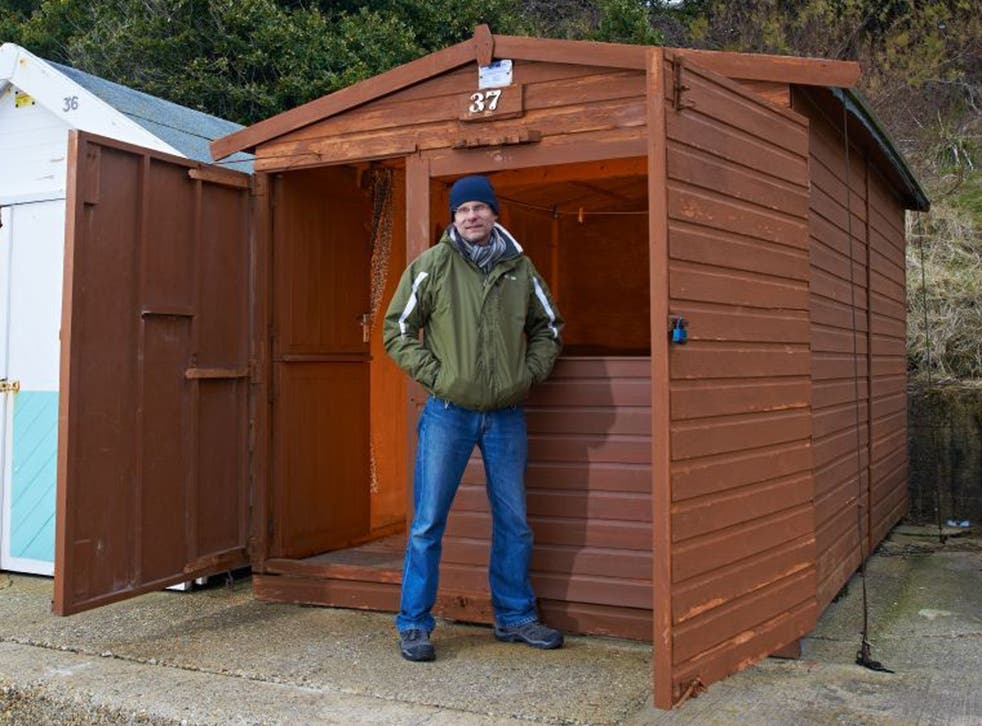 Spring in Britain means three things: longer days, blooming snowdrops and a flurry of stories about record beach hut prices. But this year is different as the continuing downturn means our love affair with the humble hut is threatening to run into the sand.
The website beach-huts.com – a sort of Rightmove for prospective hut buyers – has For Sale entries dating back more than three years and still unsold. These are not out-of-date ads nor are the asking prices unreasonable, as several huts are on sale for under £6,000.
"Prices have undoubtedly plateaued and owning one has perhaps become a little less fashionable. If I get a hut to sell I go through a waiting list compiled over recent years, but frequently the buyer has changed their mind.
"It's a luxury of a kind and this is not an age of luxury," explains Jonathon Holmes, an estate agent and West Sussex hut owner.
The website for his firm, Holmes Estate Agents, has a dedicated section for huts but he currently has only one to sell. It has, he admits, "hung around a little".
Although huts are still affectionately regarded by many, their big price rises prior to the downturn deterred some potential buyers, as did restrictions by most councils banning owners from staying in them overnight. A further deterrent today is the high running cost.
Most huts are leasehold so you can pay up to £1,500 a year for ground rent and may have to pay a transfer fee when it is sold privately or inherited by another member of your family – a common event with huts, which are often kept by families for several generations.
Alan Sarfas and Barbara Grace have owned a hut at Felixstowe for nine years, during which they claim the annual rent paid to Suffolk Coastal Council has risen from £400 to £800. This year's 12 per cent rise was the final straw and they spent £270 reducing the size of their hut to ensure it fell into a smaller, cheaper rent category.
"We're fed up being a cash cow. We are making a stand and we will fight strenuously against any future above-inflation increases," says Ms Grace, who has helped nearby hut owners form an association to campaign against increasing charges.
Nor are things going well at the high-end of the price spectrum.
The most expensive example on sale now is a new-build at Shaldon, Devon. It has a £245,000 price tag thanks to a marble wet room, fitted kitchen, bedroom area and under-floor heating. But despite press releases heralding its launch six months ago, it is unsold.
"We've had some viewings, mostly from second-home buyers from the South-east. They've considered its investment value in an expensive market like Shaldon. The hut could get £90 to £120 a night if it was rented out," claims Alan France of Fulfords estate agency.
One problem for up-market huts is competition from much larger properties. For example, Fulfords is also selling a two-bedroom Shaldon house with reception rooms, two bathrooms, a garage, garden and what it calls "stunning river views" for only £30,000 more than the hut.
Insurance is expensive too. Specialist insurers say a third of claims are for storm damage but the vast majority are because of vandalism.
Calshot Beach, Hampshire, is a trouble spot – 24 huts were broken into there in 2008, the following year four were destroyed by arson, and then late last year 18 huts were burgled. This winter has also seen wrecking sprees from Great Yarmouth to Lyme Regis, while in the past victims of vandals have included the Queen, whose Norfolk beach hut was set on fire.
Exact insurance costs depend on hut size, value, location and whether valuables like proper furniture are kept inside, but insurance firms suggest budgeting for £150 annually. Hut owners in many areas have banded together to install their own security systems including CCTV, lighting or even occasional private guard visits.
Despite the hassle, shrewd investors still, however, insist there is money to be made.
Andrea Foulkes, a former model and television presenter, says she has earned up to £15,000 a year in rental income with a large hut located on a beach in Cornwall, where the local council allow renters to stay overnight.
"But the problem is when it comes to selling. No lender will offer a mortgage on a beach hut. So if you're selling one for £120,000, as I am at Hayle in Cornwall, it means your buyer must have that amount in cash, which limits the market a great deal," she says.
Yet although the hut market has hit hard times it remains popular with those nostalgic for sunny days, beach picnics and burying dad in the sand. Celebrity owners include Rolling Stone Keith Richards and Suggs from Madness, plus author P D James and chef Aldo Zilli.
And these days you can even get married in one. A hut near Bournemouth Pier serves as a chapel where marriages and civil partnerships are staged, fulfilling a legal requirement insisting ceremonies are in "covered buildings". The firm Bellissimo Events charges £1,650 for a basic hut wedding package although it warns that "you then need to add the cost of your own fully-equipped marquee".
If this summer turns out like the last one, you may need sou'westers for guests too.
'I played here as a child and my children did the same. Now they're grown up and we want to sell'
Hype has it that the demand for beach huts is so great that they fly off the estate agents' shelves at vastly-inflated prices. Try telling that to Essex builder Murray Dellow.
He has been trying to sell his at Holland-on-Sea near Clacton for a modest £5,000 since summer 2010. It is advertised on beach-huts.com and despite being 10 to 30 per cent cheaper than others on the same beach, also advertised on the site, there have been no takers.
"The crash in the property market has hit this sector too. A hut is a luxury item that not everyone can afford," says Mr Dellow, who spends about £400 a year on rent, council tax and maintenance costs.
His hut is well-maintained, has a new roof, boasts nearby parking and – the Holy Grail of hut ownership – it is just 20 yards from a fresh water tap. It is also at the end of a row, giving its users more privacy and easier access than mid-terrace huts allow.
"This hut is fairly new but there's been one on this site and owned by my family for the past 40 years. I played in it when I was a child and then my children did the same. They've now grown up and we're trying to sell," explains Mr Dellow. "But in today's market, it's not easy."
Register for free to continue reading
Registration is a free and easy way to support our truly independent journalism
By registering, you will also enjoy limited access to Premium articles, exclusive newsletters, commenting, and virtual events with our leading journalists
Already have an account? sign in
Join our new commenting forum
Join thought-provoking conversations, follow other Independent readers and see their replies