Students with cash drive demand for luxury digs
Off-campus living has changed, and the right properties can be good investments, says Chiara Cavaglieri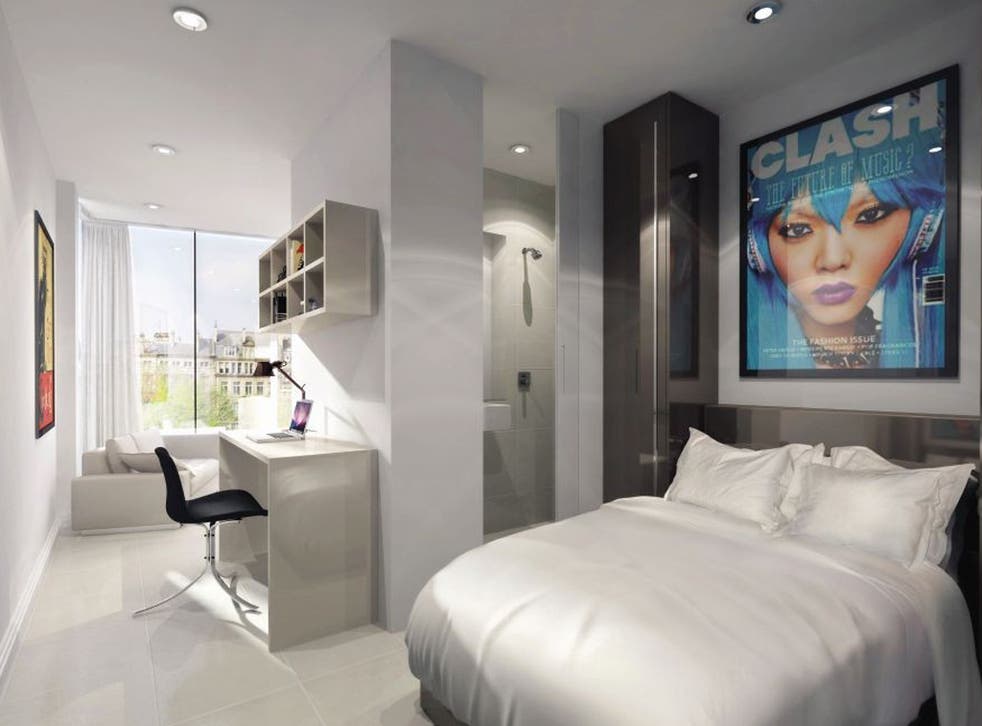 Smelly, damp, threadbare and, above all, messy. That's the popular view of student digs. But these days, many students are less willing to accept fleapits. Student accommodation is regarded as a lucrative asset by professional investors, many of whom are putting their money into high-end developments. But should you be getting in on the action too?
Investment in student accommodation is certainly big business in the UK right now, with £2bn ploughed into the sector in the first nine months of 2012, according to the retail property adviser CBRE, and the returns can be impressive too.
"Over the past two years, rental growth in the student housing sector has averaged 3-5 per cent nationally, consistently above other sectors, and we do not see this trend changing soon," says Eric Jafari, the chief executive of BridgePoint Ventures. "Furthermore, with an increase of 68 per cent in overseas students in the past decade – another trend that appears set to continue – the market continues to look remarkably robust."
There are 84,700 overseas students in London, a third of the total, and the British Council forecasts that 30,000 more will arrive by 2020. While local students adhere more closely to the stereotype, many foreign students are willing and able to pay for a bit of luxury, better security and extra facilities.
There are some considerable benefits to concentrating on high-end student property. When I started university nearly 10 years ago, most students would look to move into a big house together, cramming as many people in as possible. But stricter health and safety requirements were introduced for Houses in Multiple Occupation (HMO) in 2004. These have been enough to put off many first-time landlords, or anyone without the time to manage the property themselves.
"Overseas students typically prefer to live on their own or in much smaller groups," says Sharief Ibrahim at the estate agent Haart. "Demand is particularly strong for modern one- and two-bedroom apartments finished to a high standard offering additional benefits such as gym membership and concierge".
And, because financial guarantees – typically from parents or guardians – are difficult to obtain with overseas students, they are often asked to pay their rent in advance throughout the tenancy, which alleviates the perennial concern about unpaid rent.
Developers such as Vita Student have been quick to fill the gap for luxury student accommodation. The company is in the second phase of a £27m project at Tinlings in Liverpool – home to three leading universities. Vita is converting an existing building into 120 units, all fully managed, comprising self-contained studios and a smaller number of two-, three- and four-bedroom suites. Prices start from £60,450 with an assured annual return of 9 per cent for the first two years.
Similarly in Leeds, The Edge, an IconInc development, offers "hotel-standard" studio and one-bedroom apartments costing from £78,500, with facilities including a library, den, gym and concierge service and the same 9 per cent yield for two years to reel investors in.
An appealing prospect, but there is a warning if you're going to focus on one part of the market.
"Increased costs such as tuition fees are forcing student numbers to fall, with reports suggesting that the student housing bubble has burst, as some of the larger accommodation providers have failed to fill their bed space for the 2012-13 year," says Simon Thompson, the co-founder of Accommodationforstudents.com. "This makes it quite a dangerous time to be investing in the top end of the market where only a small percentage of students fit into this bracket."
As always, location and research are key. London is the obvious choice if you want to cherry-pick the richest foreign students, but it is also the most expensive in terms of the initial investment, so you could lose out if you aren't vigilant in terms of picking the right area and finding quality property.
In its Student Property Index 2012, Knight Frank says limited supply in London means it will remain a top investment opportunity, but it also ranks Kingston, Brighton, Edinburgh, Durham and Manchester at the top. Think about university towns and cities that are likely to reel in the most students – Knight Frank predicts that applications to the top universities (those in the Russell Group and the 1994 Group) will remain strong, while those languishing at the bottom of the league tables may struggle.
"A crucial part of anticipating the return on buy-to-let property is researching your target market thoroughly. The last thing you want is a property in an area unpopular with renters or an area that has been saturated with rental properties and so supply outweighs demand," says Matt Hutchinson, director of SpareRoom.co.uk.
Students are particularly keen on being close to facilities, so be wary of properties on the outskirts. You ideally want to be near both the campus and the town/city centre. Also, be prepared for void periods when students go home for summer.
If you do decide to invest in a development, pick a company that knows the market inside-out and has documented experience. Buying off-plan is high-risk, so unless the developer has a lengthy and impeccable record, tread carefully.
If you need finance, be aware that mortgages on student accommodation are hard to come by and most investors pay cash, although some specialist lenders do play ball, such as Paragon. Your exit strategy is also an important consideration; if returns fall and everyone tries to sell you could find yourself in trouble. This is particularly true if you are investing in student pods (bedrooms with shared kitchens) as opposed to houses. While houses can be valued and sold as residential homes, banks will not lend on pods and you may find them impossible to shift down the line.
Case study: Dr Susmita hunt
Susmita, 37, a biomedical editor in the West Midlands, has invested in Vita's new Tinlings development in Liverpool, paying £60,450 for a one-bed unit. She was seeking an alternative high-yielding investment and found Vita Student online. "I thought the student rental option looked good as a prospective investment, especially given how luxurious it seemed compared to my digs as a student! There appears to be an increasing demand for decent student accommodation, and this fits the bill, particularly in view of the numerous overseas students who come to the UK," she says. The building is still under development, but Susmita was attracted by an assured 9 per cent return in the first two years and the fact that she could let Vita do the hard work. If she wants to sell up, Vita have told her they will offer a fair market price for the unit, or she can choose to sell elsewhere.
Join our new commenting forum
Join thought-provoking conversations, follow other Independent readers and see their replies