Tenants in the dark as letting charges spiral out of control
Unscrupulous agents are levying fees of hundreds of pounds with no justification, says Chiara Cavaglieri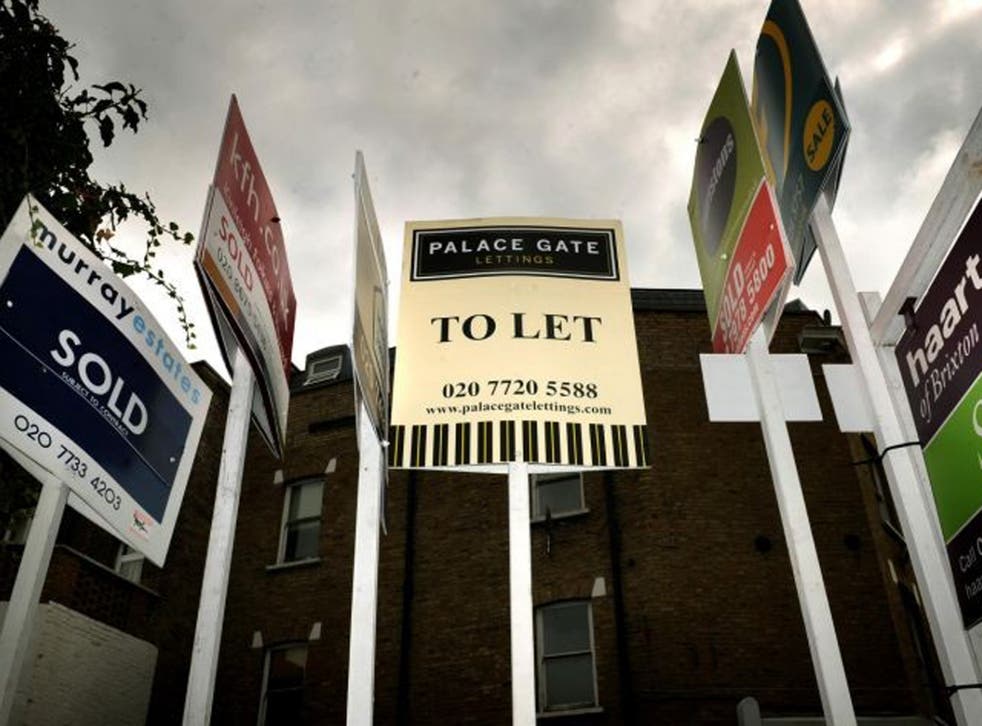 As private rental costs reach an all-time average high of £757 a month, some 69,000 people in private rented accommodation are now in arrears of more than two months, says LSL Property Services. With one in five households expected to rent by 2018, competition for each home already fierce, and availability changing on an hourly basis in some parts of the country, renters are not only trying to cope with rising costs for a roof over their heads, but are being stung by unscrupulous lettings agents inflicting huge administration fees.
For what amounts to a couple of hours work, letting agents are charging tenants as much as £600, according to new research by online landlord and tenants service Rentify. A handful of letting agents don't charge anything on top of the standard deposit and one month's rent in advance, but among those that do fees can be excessive. The average "administration" fee is £220 in London, but nearly 25 per cent of the London letting agents surveyed charge over £300. One hugely expensive agent in East Ham charges a colossal £600 and, outside London, tenants in Bristol face higher-than-average fees of £251.
Many letting agents have been accused of making fees up as they go along, charging tenants hundreds of pounds with no clear explanation or breakdown of what they are doing for the money. As many tenancy agreements last only six months, tenants are also paying through the nose again and again to renew their contract or move home.
Seemingly arbitrary fees running to hundreds of pounds for drafting standard tenancy agreements and conducting reference and credit checks, plus "holding" deposits to reserve properties and even check-out fees at the end of the tenancy, can be hugely profitable. The average cost of a credit check is just £50, dropping to a tiny 20p per check if larger agents are buying wholesale. Rentify says it charges a flat £15 fee for a thorough credit and reference check, with no hidden extras.
Agents already earn money charging landlords to rent out their properties, but many have long been doubling up by levying fees on tenants as well. Some agents are even making these fees non-refundable so tenants could fork out hundreds of pounds even if the agreement fails through no fault of their own.
"As if it wasn't bad enough that letting agents charge unnecessary administration fees to tenants, some of these charges are also passed on to the landlord, so the agent makes double the profit," said George Spencer, chief executive of Rentify. "These fees lack transparency and are simply unfair. Nor is it just bad news for one party, with tenants pulling out of properties because fees have not been disclosed upfront, or budgeted for, and wasting landlords' time."
Housing charity Shelter has warned that letting agency fees are "out of control" and it has launched an online campaign to end letting fees all together after finding that one in seven renters has been charged £500 or more. Meanwhile, the Advertising Standards Authority has stepped in to force agents to clearly display their fees in adverts alongside rental prices. This, though, this does nothing to compel them to make their charges fairer. The simple fact is that anyone can become a letting agent and there is no regulation to keep them in check.
However, the Government has recently announced plans to crack down on shoddy practices in the private rental sector. The new package of measures stops short of making letting agents hold a professional qualification, but it does support tenants looking for longer fixed contracts and introduces a compulsory redress scheme for all letting agents from next April. This scheme would give tenants somewhere to complain and, potentially, to gain compensation for poor service or hidden fees.
Proposals for the code also include requiring landlords to repay rent where a property is found to have serious hazards. This could mean allowing councils to recoup housing benefit so taxpayers' money is not used to support landlords who provide substandard property.
In the meantime, landlords and tenants alike are advised to stick to agents who are part of a professional body with a set of standards to adhere to. "With one in five households expected to be renting by 2018, it is of the utmost importance that both tenants and landlords fully understand the rental process and choose the 'right' kind of letting agent," said Isobel Thomson of the National Approved Letting Scheme (NALS).
Each letting agency is responsible for setting its own fees, but members of the Association of Residential Lettings Agents (ARLA) also operate under a strict code of conduct that compels them to be transparent about charges. Some key questions to ask any agent are: Is the agent a member of a professional body or licensing scheme? Is it a member of an ombudsman scheme? Which tenancy deposit scheme will deposits be paid into (a legal requirement)? Does the agent protect client money?
At present around 3,000 agents, representing 40 per cent of the industry, are not signed up to a voluntary redress scheme, so the new code should quickly eliminate less diligent agents.
Eric Walker, managing director of letting agent Northwood, said the SAFEagent mark is another voluntary initiative that offers some protection.
He explained: "SAFEagent is a signpost to letting agents who offer Client Money Protection, so if an agent absconds with funds or shuts up shop, clients' funds will be protected." Letting agents or landlords are also legally obliged to protect your deposit using a government-backed scheme, so you can get it back at the end of the tenancy.
Rogue agents aren't the only pitfall. Scammers posing as landlords on classified websites ask prospective tenants to transfer money as a deposit or fee, but then the "landlord" disappears.
Make sure you see a property before you part with any money.
Register for free to continue reading
Registration is a free and easy way to support our truly independent journalism
By registering, you will also enjoy limited access to Premium articles, exclusive newsletters, commenting, and virtual events with our leading journalists
Already have an account? sign in
Register for free to continue reading
Registration is a free and easy way to support our truly independent journalism
By registering, you will also enjoy limited access to Premium articles, exclusive newsletters, commenting, and virtual events with our leading journalists
Already have an account? sign in
Join our new commenting forum
Join thought-provoking conversations, follow other Independent readers and see their replies