Living in style with pets
The two needn't be mutually exclusive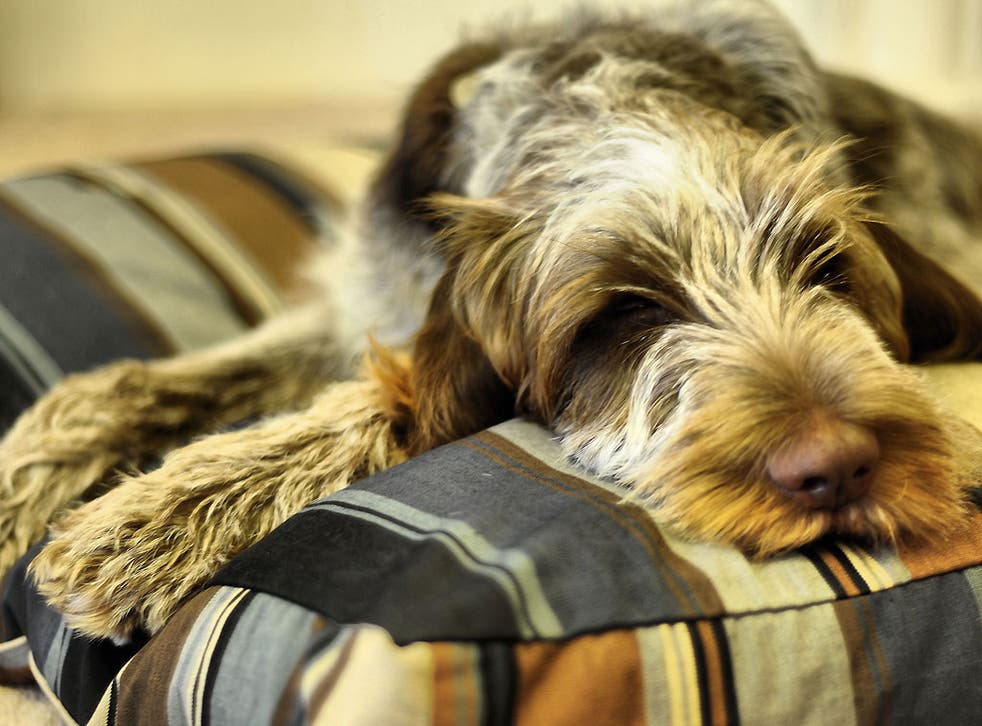 According to research by the Pet Food Manufacturer's Associations (PFMA), there are over 22 million pets currently living in households across the UK. But, at what cost to our home style?
As a dog-owner, I know only too well the damage that pets can wreak on decoration, not to mention the littering of unsightly pet accessories that can take over a living space. It's no wonder that pets can be notoriously off-putting to potential home buyers. So what can be done?
WALLS & DOORS
Whether it's the full-body shake-down of a wet dog in the hallway or kitchen; the innocently wagging tail that beats relentlessly against your paintwork; or the scratches on the painted door from a cat impatient to join you in another room, walls and doors tend to suffer when pets are around, but there are ways to combat the onslaught, says Marianne Shillingford, Design Director at the Dulux Design Service.
"As a designer, I want to combine good looks with practicality and always recommend that pet owners, who are doing the decorating themselves, use Dulux Endurance matt emulsion on the walls. It's 20 times tougher than standard emulsion and you can wipe it down safely without the risk of losing any of the lovely matt finish. If you are getting a decorator in, I suggest that they use Dulux Trade Diamond eggshell. It has a delicate mid-sheen finish that shows up less dirt and is much tougher than traditional oil-based eggshell. Paint is often a better option for interiors if you have pets as it can easily be washed down or painted over. But, if you do opt for wallpaper, it is best to buy a vinyl, washable variety such as Tektura as it's really strong."
FLOORING
Floors are another problem area if you have pets: nails catch on and hair gets stuck in carpet, muddy paws trail onto kitchen tiles and sharp nails scratch against wood flooring. So what should you go for to minimise damage?
"Wooden floors such as oak are a good choice as they are durable and easy to clean, but make sure you don't go for a style which is too smooth or polished," says Lucy Inskip, Senior Consultant from House Doctor, the interior design and home staging service. "A style which has a natural variation in the wood and a more textured finish, rather than smooth, will stand the test of time." Meanwhile, she says, "You may be tempted with tiled floors for durability, but avoid anything too light: both cats and dogs bring in soil, gravel and debris from outside and you don't want to be constantly cleaning the floor."
When it comes to carpet, natural weave varieties are best avoided as pet nails create unsightly pulls which are unrepairable, cautions Lucy. "A traditional twist carpet would be more hardwearing, but keep this to rooms where pets only enter once cleaned up from outside." And to protect all flooring, use "dirt trapper mats at outside door entrances to minimise mess."
UPHOLSTERY
Upholstery is another problem area if you have pets, attracting pet hair, dirtand doggy tidemarks – hardly the hallmarks of interior elegance. But there are ways to combat this too.
If you allow your pet on the sofa, there are some "brilliant, upholstery-grade, washable utility linens out there that can be used to make a lovely co-ordinating throw or quilt for your sofas and armchairs," says designer/maker Carla Knowles of Lola Charles, herself an owner of a chocolate labrador and two cats. "Make sure it is large enough to cover the seats and back of your sofa and, if your budget allows, get some spare loose covers, so you can swap them over regularly. Having interchangeable throws means that you don't have to change your off-white and cream colour scheme just because a pet has come into your life."
PET ACCESSORIES
Meanwhile, don't forget that there are a whole range of companies that now specialise in stylish pet accessories, such as dog beds, that don't have to be hidden away.
On the contrary, says Susan Troy, founder of The Stylish Dog Company, "your dog bed can be a real statement piece in a room. Our handmade iron dog beds are very elegant, as are our sofa dog beds, which can be chosen in your choice of fabric and wooden polished legs to match your sofa."
Meanwhile, she says, "It's possible, these days, to get stylish wooden dog feeders and bowls that will look great in your kitchen whatever your colour scheme. If yours is a modern minimalist feel, why not go for a contemporary raised feeder in sleek black finish to match your granite worktop? Alternatively, if yours is a country kitchen, then a raised wooden feeder, painted to match your kitchen, may be the ticket. Pottery dog bowls are now readily available in on-trend colours to complement your crockery and you can even have them personalised so there is no confusion as to who's bowl or treat jar it is!"
Britain is a nation of pet lovers, but we are also rather fond of our homes, points out Susan. Far from ruining the look of your home,your pet accessories "can be an easy way to keep up to date with the latest interior trends, in the same way as changing your sofa cushions or lampshades can be." Meanwhile, interior damage inflicted by pets can be limited at the outset by making smart decorative choices and, of course, being prepared for a few extra cleaning chores.
Emily Jenkinson is interiors writer for the mydeco marketplace, an online shopping experience where you can search hundreds of home furnishings and accessories all in one place.
Join our new commenting forum
Join thought-provoking conversations, follow other Independent readers and see their replies