Interior insider: Ellie Harrington of Duck Egg Designs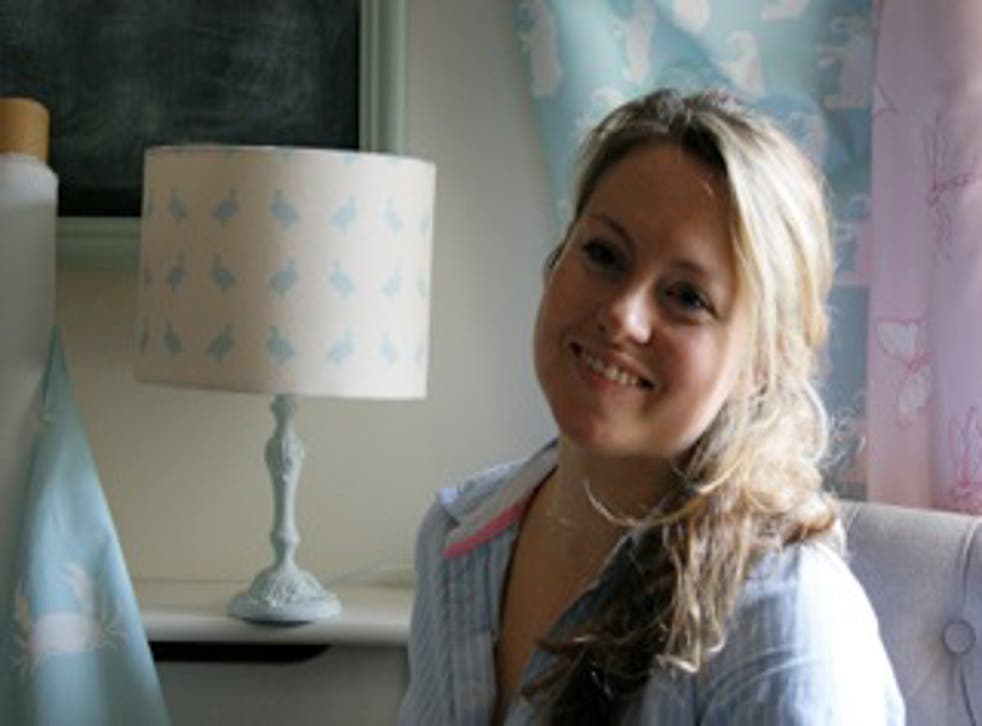 Last year Ellie Harrington was struggling to find soft furnishings for her Victorian cottage. The solution? To design her own prints. Encouraged by others, she has since set up an interiors company Duck Egg Designs selling her vintage-inspired fabrics and upcycled furniture. She will feature on the new TV show Kirstie Allsopp's Vintage Home.
My motto is… stolen from William Morris; 'Have nothing in your home that you not know to be useful or believe to be beautiful'. I love today's 'make do and mend' attitude.
I want to create… vintage yet fun fabrics for the family home. Our fabrics mix the rural with a gentle touch of humour.
Pattern became my passion when… I was studying History of Art at the Courtauld Institute. I have kept a sketchbook of print ideas and doodles influenced from afternoon wanderings at the V & A.
I paint in… our shed or wherever I can sneak in a new piece of furniture. My husband stoically reworks my hand-drawn designs into computer graphics and carefully watches the budget.
Rather excitingly… we are taking part in a Channel 4 interiors show presented by Kirstie Allsopp (showing in the Autumn), displaying our designs and home renovation work.
Filming with Kirstie was… great. She was fantastic and understood we wanted to create a practical yet country-style kitchen. The brilliant crew respected our style opinions and were patient with our budding thespian of a toddler.
I learnt a huge amount from… Chehvani Leonard, the stylist on Kirstie Allsopp's show.
East Sussex is… a real treasure trove of vintage finds. I have met some wonderful people who bring beautiful and unusual pieces over from France.
My vintage secret shopping place… is Rye. Not only a picturesque place, it is full of one-off finds for the garden.
My biggest design challenge… has been our first print collection and also transforming our long and narrow kitchen.
I love… the Gustavian style mixed with a little decaying French Chateau beauty. I often return to pictures from my travels to guide me.
I rely on… my husband to tell me if something is over the top. He trained in architecture so he likes clean lines and structural pieces, so it's what he doesn't say that often alerts me!
I really admire the brand of… Annie Sloan. Her paints are beautiful and give a very different finish.
I love browsing through… the fabric shops of Liberty. It is a wonderful melting pot of current design. The Cloth Shop on Portobello road could ruin me. Their vintage mangle cloths are a joy to look at.
For inspiration, I turn to… Country Living, Coast and World of Interiors magazines brilliant must have. I collect vintage maps and any books on print from second hand bookshops.
Annie Deakin is interiors writer for sofa and interior design website mydeco.com.
Join our new commenting forum
Join thought-provoking conversations, follow other Independent readers and see their replies