Swinging style: A Sixties retreat filled with post-war references in Suffolk makes the ideal bolthole for the fashion designer Margaret Howell, as Caroline Kamp finds out
Saturday 03 November 2007 01:00
comments
Swinging style: A Sixties retreat filled with post-war references in Suffolk makes the ideal bolthole for the fashion designer Margaret Howell, as Caroline Kamp finds out

Show all 5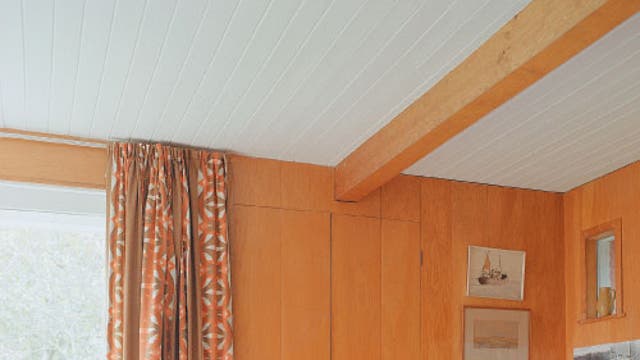 "It's rather a saturated salmony pink," says Margaret Howell in a not entirely flattering reference to the colour of her house. "It was a funny idea of the architect's, really, to paint it a traditional colour," she continues, "it looks great on a cottage with a great thick thatch." Except that Howell doesn't live in one of those; her house has a flat roof and a carport. It's a gasp of modern architecture deep in the East Anglian countryside. And it's painted "Suffolk pink".
As a fashion designer, Howell is known for her subtle use of colour. Walk into one of her shops and you find rows of discreetly toned and elegantly tailored clothes. Hers is a look that is resolutely under the radar. It is the antithesis of label flaunting designer fashion. So, for someone who takes the business of colour very seriously, the pink is a bit of a problem. "A grey or greeny grey might blend in a bit more," says Howell thoughtfully.
But it wasn't enough to put her off. The house is one of six built on the same plot by a Swiss architect called Rudy Mock in the 1960s. His daughter still lives next door. They were built as second homes in an area of Suffolk that is popular with holidaymakers. Howell herself used to come to the area when her children (Miriam, 29, and Edward, 25) were younger. She would rent one of the more typical country cottages nearby and admits she never really noticed these houses back then. But a developing interest in modern British design and architecture led to her decision five years ago to buy one. She bought it from a 90-year-old woman who had been in the house for more than 30 years. With the property Howell also managed to buy some of the furniture, such as the dining room table and sofa in the study.
The houses are in some contrast to the others around them. When they were built, the locals reacted by calling them rabbit hutches. Howell can't confirm if that opinion has changed. Even Howell's son was not convinced when he first saw the place, though she says he's coming round. But the house is an example of an architect's bold vision to embrace something new. The ground floor has an open-plan kitchen/dining area and living room, with a study off to the side. Upstairs are four smallish bedrooms and a bathroom. The living room has floor-to-ceiling windows facing the garden.
It's modern with a capital "M", and it seems to suit Howell very well. Inside she has furnished her home with items that date from the last half century. In one of the bedrooms she has an Ercol stacking chair, an Alvar Aalto table and Lucienne Day fabric on the bed. The contemporary feel is continued in the living room with an armchair, a vintage nest of tables and a sofa, "probably Danish". She went a little more retro in the adjacent kitchen with green and beige painted units and a yellow worktop.
Howell's interest in design is not confined to her home. Through her London shops she sells furniture from the post-war period alongside her clothes. In the past few years Howell has worked with British companies Ercol and Anglepoise to re-issue classic pieces. The emphasis on British-made goods is paramount: "American and Scandinavian design of that period has been heavily promoted," she notes, "but there was a lot of good design in Britain." It is this era, around the time of the Festival of Britain in 1951, which most excites her. "It was a turnaround. Very sound and reassuring if things were done. The Festival Hall was built at a time when they had to watch materials - and yet they made good things," she says.
Her latest collaboration is with Ernest Race to re-issue his Heron chair and footstool from the post-war period. With solid wood scarcely available, designers at the time looked to other materials, in this case steel, which was more commonly associated with the aircraft industry. And in doing so, Race altered the look of furniture from something very heavy to something much lighter. "I like the clean modern shape and it's very comfortable," says Howell. "It reminds me of the Eames lounge chair, but whereas Eames used rather opulent and luxurious moulded rosewood and leather, Race used functional materials - it is utilitarian yet elegant."
It is hard not to wonder whether Howell's appreciation for this time of modest means is perhaps hard-wired. Born in Surrey in 1946, she was a child of the 1950s. Her mother, who worked in a dress shop in Reigate, encouraged Howell and her sister to make their own clothes, as she did herself, saying they could have much better quality. The teenage sisters would spend weekends rummaging through jumble sales of old Victoriana finding brass tins and crocodile bags, bringing them home and polishing them up. Even today Howell has trouble walking past a charity shop without diving in. It was while "jumbling" in her twenties that Howell bought the man's pinstripe shirt that set her off on her career path. She brought it home and put it on her boyfriend. Struck with how beautifully it was made, Howell set up a workshop and started making men's shirts. She now designs for both sexes, but shirts are still the cornerstone of her collections. "I'm attracted to tailoring," she says, "it's a constructive way of working and I like the details."
So it seems a natural fit that she would be drawn to things which have a similarly authentic sensibility. She has mugs from Holkham pottery, coffee cups from that perennial British favourite, Midwinter, and heavy-duty cast iron candlesticks by Robert Welch. But her interest is not only confined to the past: she is just as enthusiastic about design in Britain today, singling out David Mellor and Matthew Hilton for note. She is particularly keen on a lamp she has by Hilton - "it has a contemporary edge yet it's something you're familiar with". This sense of continuity with the past is very important to her - Howell does not embrace the fast moving nature of her industry: "I like that philosophy of designing things to last rather than to be got rid of."
When Howell bought the house, her aunt, a former fabric designer at Heal's, was adamant she should rip the kitchen out. "I could have changed it and modernised it but I didn't want to," she says. Instead she has sensitively maintained the period feel of the property, but it still feels fresh. The wood-panelled study and staircase add a wonderfully cosy warmth. Her personal touches, such as the black and white photographs of local woods stuck up on the study wall, suggest that this house is a place where she can come and think. She goes for long walks, in any weather. And swims in the sea. Everything inside the house has been carefully considered, the only slight niggle is that the outside is so ... pink.
Join our new commenting forum
Join thought-provoking conversations, follow other Independent readers and see their replies