Carl Froch wants to come out of retirement to fight Joe Calzaghe, insults size of Welshman's head
Froch, 42, has promised that he will come out of retirement to fight the undefeated Calzaghe, 48
Luke Brown
Friday 10 April 2020 15:20 Comments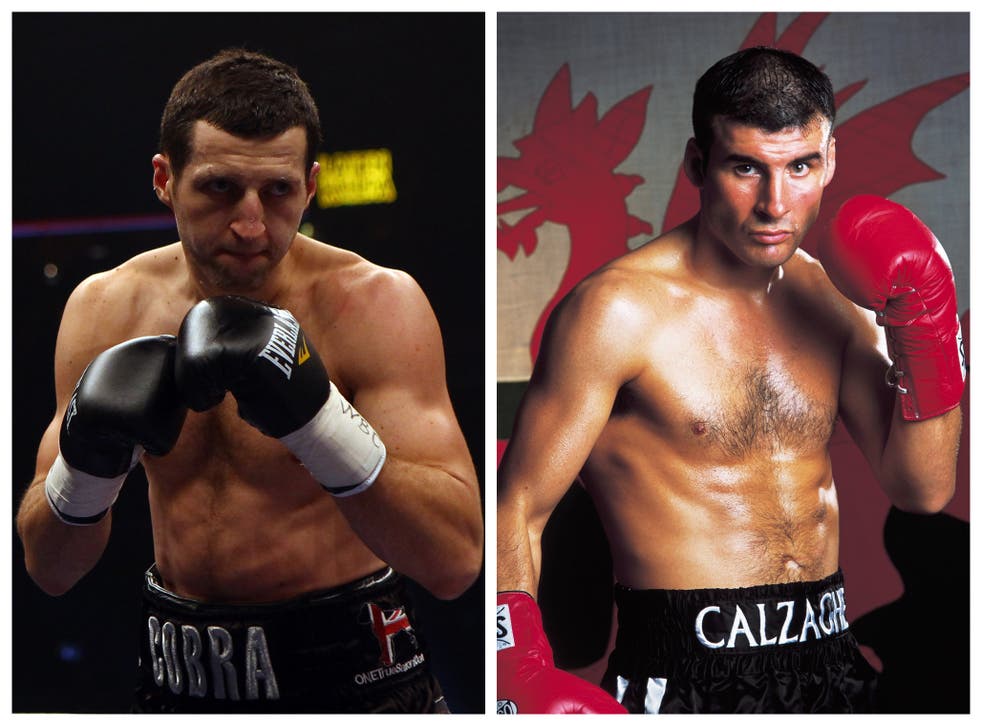 Carl Froch, 42, has bizarrely called out Joe Calzaghe, 48, expressing incredulity at the size of the Welshman's head and promising that he will come out of retirement to fight him.
Froch vs Calzaghe is one of the great lost fights of British boxing. In 2008, Froch was made mandatory challenger for Calzaghe's WBC super-middleweight title, only for the champion to move up to light-heavyweight.
Calzaghe fought twice at the heavier weight, outpointing American legends Bernard Hopkins and Roy Jones Jr. to retire from the sport with a flawless 46-0 professional record and still intact reputation as one of the greatest British fighters in history.
Froch enjoyed incredible success of his own, going on to win the title left vacant by Calzaghe by beating Canada's Jean Pascal. He lost the title to Mikkel Kessler only to win it back by outpointing Arthur Abraham, and collected both the IBF and WBA belts after suffering a second career defeat to the slick Andre Ward in Atlantic City.
Froch hung up his gloves after two memorable knockout victories over George Groves, the second in front of 80,000 fans at Wembley.
However, despite the storied records of both men and the fact that they are long since retired, Froch has decided to agitate for an unlikely fight with his old adversary.
Speaking on his Froch On Fighting podcast, Froch said: "Eddie Hearn sends me a message saying, 'I'm doing some virtual press conferences, I'm thinking about getting you and Calzaghe on.'
"I thought, 'He's probably not gonna get Calzaghe on, he probably won't fancy it.'
"I said to him, 'Forget the virtual one, we'll do the press conference, but if we can get him out of retirement, I fancy a bit of that.'
"I've always said I'll come out of retirement for the right dance partner. Obviously I'm not gonna jump in there with a current world champion who's been active, but someone like Joe Calzaghe, I mean, I'm not being funny.
"I don't wanna be horrible or disrespectful in any way, but it's gonna sound like I am, even though I'm not, but have you seen the state of him?
"Have you seen the size of his head? I don't know why it's swollen up so badly. He looks like he's got high blood pressure. He looks a bit of a mess.
"So if he agreed to give me a fight, to come out of retirement, because of my cheek, and because of the way I'm speaking about him, then I'd definitely fancy a bit of that.
"But he ain't gonna wanna come out because he knows he'd get absolutely flattened, because I'm in good shape."
A number of successful British boxers have flirted with the idea of coming out of retirement in recent years.
Last year, Nigel Benn was forced to cancel his return bout against former WBC super-middleweight world champion Sakio Bika when he suffered a shoulder injury in sparring ahead of the fight.
And in 2018, Lennox Lewis, a former three-time world heavyweight champion and two-time lineal champion, said that he was poised to end his retirement to fight fellow three-time champion Vitali Klitschko.
Fortunately, the fight never happened.
Register for free to continue reading
Registration is a free and easy way to support our truly independent journalism
By registering, you will also enjoy limited access to Premium articles, exclusive newsletters, commenting, and virtual events with our leading journalists
Already have an account? sign in
Join our new commenting forum
Join thought-provoking conversations, follow other Independent readers and see their replies