Woman abused by Floyd Mayweather accuses Conor McGregor of making light of domestic violence
Josie Harris has accused McGregor of 'sensationalising Mayweather's past acts of domestic violence in disregard for those who have suffered at the hands of an abuser'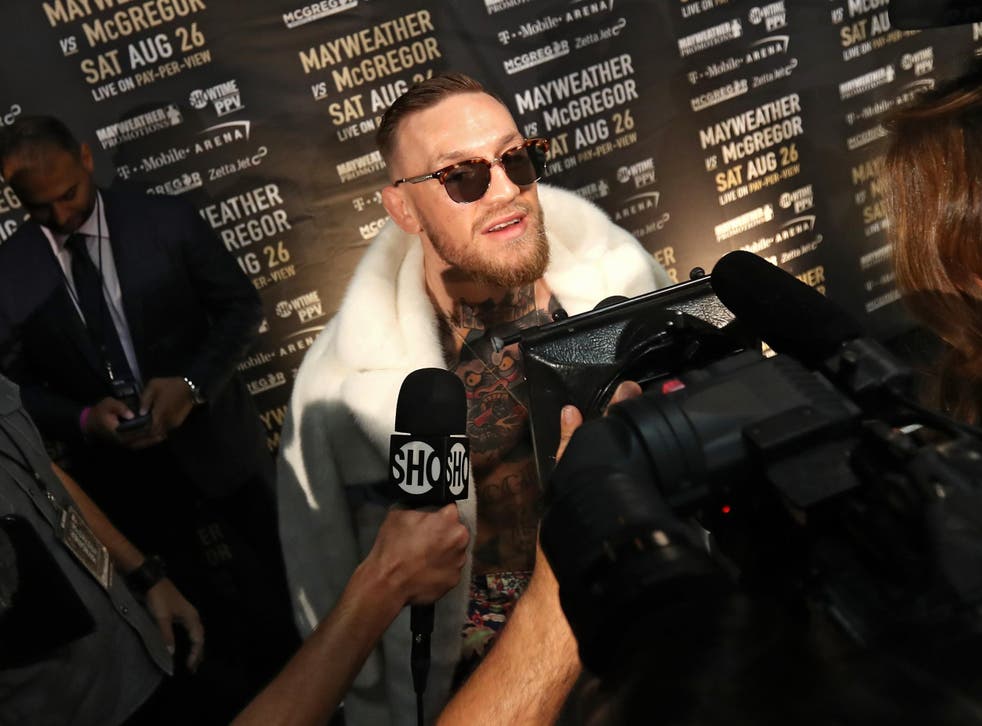 Floyd Mayweather's ex-girlfriend has accused Conor McGregor of making light of domestic violence, through a statement released by her attorney.
Josie Harris, who is the mother of three of Mayweather's children, was the victim of a domestic violence incident in Las Vegas in 2010. Mayweather pleaded guilty to misdemeanour battery and spent two months in prison for the attack.
McGregor, who will be making his professional boxing debut when he fights Mayweather on August 26, appeared to make light of the incident last week when he was photographed wearing a Golden State Warriors NBA shirt with 'CJ Watson' written on the back.
Watson is the man Mayweather accused Harris of talking to behind his back, prompting the altercation.
When quizzed by current Warriors player Draymond Green on why he was wearing the jersey, McGregor commented: "That's CJ Watson mate. I don't know who the f*** you are. No disrespect tho kid, keep hustling and stay in school.
"Now ask yourself why I'm rocking CJ when I don't know or give a f*** about basketball. I dribble heads off the floor. Not a ball. This is no game here, kid."
McGregor's comment was quickly shared thousands of times across various social media platforms, but in a statement released to American news site TMZ, Harris has criticised McGregor for wearing the deliberately inflammatory shirt.
"The Watson reference relates to the early-morning hours of September 9, 2010 when Mayweather attacked and beat Harris in front of her and Mayweather's three children – acts of domestic violence that were incited in part by Mayweather's jealousy over a suspected relationship between Harris and Watson," the statement notes.
"McGregor's exploitation of the events surrounding Mayweather's violent beating of Harris, for the sole purpose of promoting an upcoming boxing match … demonstrates not only an insensitivity toward the emotional wellbeing and privacy of the victim of Mayweather's domestic violence, but also a general disregard for the physical and emotional trauma and long-lasting psychological impacts suffered by victims of domestic abuse.
"Although McGregor played no part in Mayweather's physical and emotional abuse of Harris, his exploitation of the events of September 9, 2010, for publicity, entertainment and personal gain demonstrates a lack of sensitivity toward Harris and her three children who witnessed Mayweather's violence and the trauma they have suffered, and continue to suffer, as a result of Mayweather's conduct.
"By sensationalizing Mayweather's past acts of domestic violence in disregard for the privacy and wellbeing of those who have suffered at the hands of an abuser, further compounding the emotional and psychological trauma, shaming, humiliation, blaming and embarrassment suffered by so many victims."
The statement then concludes with a direct plea for McGregor to refrain from making light of the incident in the future.
"On behalf of Josie Harris, her and Mayweather's three children, and all victims of domestic violence; we ask that Conor McGregor refrain from capitalising off of the trauma suffered by her and other victims of domestic abuse."
McGregor has referenced the domestic violence previously, and on Janaury 11 tweeted a cartoon of himself standing above a knocked out Mayweather, along with the caption: "Call me CJ Watson!" The tweet was liked over 25k times.
Join our new commenting forum
Join thought-provoking conversations, follow other Independent readers and see their replies