Conor McGregor's farcical Grand Arrival offers us a glimpse of what is to come ahead of Floyd Mayweather fight
The Grand Arrival ceremony was proving relatively uneventful until McGregor arrived on the scene, brawling with Floyd Mayweather's entourage and squaring up to Paulie Malignaggi
Luke Brown
Las Vegas
Wednesday 23 August 2017 15:30 Comments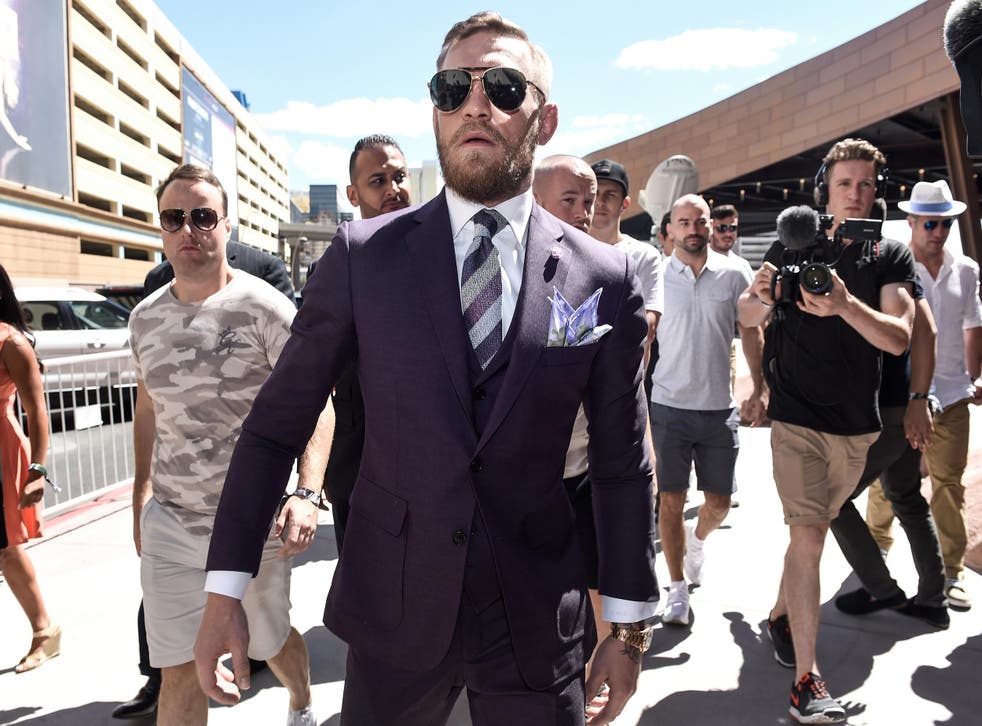 It had all been going so well. A reasonably small but respectably vocal crowd had stood patiently for over two hours on the Toshiba Plaza, enduring searing 40° heat and then cheering happily when Floyd Mayweather was brought onto the stage at Tuesday's Grand Arrival ceremony.
His entrance was uncharacteristically understated. After posing for photographs and making some small talk with the Corona girls — whose grins were etched onto their faces as if carved in stone — Mayweather dutifully walked to the front of the stage and answered a few questions in front of the fans. Many of them were wore his 'The Money Team' branded hats, which retail for $50.
"This fight is not going to go the distance," Mayweather smiled, sounding a little bit tired but still happy to play to the gallery. "If you want to bet on this fight, bet that it's not going to go."
Three minutes later and he was done, quickly sidestepping off the stage, swallowed up by the bloated posse of bodybuilders that surround him at all times like dignitaries around a Queen. Perhaps three minutes of chat was rather brief considering his fans had stood sweltering for far, far longer than that for him to arrive — but they didn't seem to mind too much. Plus he had gone the entire interview without once using the word 'bitch', which must have set some kind of personal record.
So far, so reasonable. For once, the freak show appeared to be running smoothly, perhaps conserving its manic energy for Wednesday's press conference, or Friday's weigh-in, or even Saturday's scrap.
Cue the entrance of Conor McGregor. Cue chaos, confusion and comedy.
Conor McGregor's most memorable quotes

Show all 15
The Irishman was due to make his appearance immediately after Mayweather and, having appeared suddenly from behind a large building, began stalking up to the stage. Mayweather's band of merry men were meanwhile leaving, walking straight in the direction of the other group.
It didn't take a genius to work out what was going to happen next. It didn't even take a WWE fan. The two entourages were on a collision course, and there was going to be some serious cross-code handbags.
From the position of the press pit, it was difficult to see who threw the first w***** sign, or who blurted out the first sexist insult, or racial epithet, or homophobic slur. Later, holding court in the late afternoon sun and drenched in the rapidly flashing lights of a hundred SLRs, McGregor revealed he was the one to instigate the hoo-ha.
"On the way in there was meant to be a face-off. And then suddenly there wasn't," he complained, no doubt devastated at a missed opportunity to bawl his spittle into Mayweather's gold-rimmed sunglasses. "So I saw him on the way [to the stage] and said 'what, are you afraid of a face-off today?'
"He started mouthing something at me, and then suddenly his big goons — his absolute donkeys — turned it into a pushing and shoving contest."
Are donkeys known for their pushing and shoving capability? Regardless: things were quickly broken up, presumably after both men realised that they risked losing their hard-earned multi-millions if they decided to begin belting each other in the face a few days early. Both were dragged away, with Mayweather quick to disappear and McGregor pushed in front of the fans, but not after taking a minute to sort out his collar and adjust his elaborate pocket square.
But the drama wasn't over. In fact, the drama had only just begun. Because former WBA welterweight champion of the world Paulie Malignaggi was yet to show up, screaming himself hoarse about McGregor's testicles.
Whoever was tasked with working out the logistics of this event deserves a dressing down — or perhaps a significant pay-rise — because McGregor was confronted by enemies at every turn, as if he was involved in a giant real-life version of Pac-Man, only with angry American bruisers taking the place of all the ghosts.
After dutifully informing the crowd that he was going to "knock him out early, in one or two rounds", McGregor hopped off the stage after a similarly breezy three minutes. Only stood in between him and a pleasant evening of Instagramming his rippling tattooed torso was Malignaggi, who was present under pretence of working as an analyst for Showtime but in reality probably has his eyes on a lucrative freak show of his own.
This time there was no pushing or shoving — just an exchange of insults that would make even the entire cast of Jersey Shore roll her eyes at the trashiness of it all. The two men snarled at one another. "Did you bring your balls this time?" Malignaggi enquired; one, two, three times. "You got your a** whopped," replied McGregor, reticently refusing to confirm or deny whether he had indeed brought the crown jewels along to Vegas with him.
A police officer intervened, dragging Malignaggi away despite his frustrated cries of 'but I'm a fighter!' And after one final altercation with a completely random fan (who took great delight in bawling "YOU'RE A P****" in McGregor's direction) he was gone, off to press his suit ahead of Wednesday's final — final — press conference.
Meanwhile, some way down the road, Mayweather was sat calmly in front of the boxing journalists and their gigantic dictaphones. At least somebody was taking it all rather more seriously. Right?
"What will you be doing for the rest of the week ahead of the fight," somebody asked, quite reasonably. "I'll be at the Girl Collection strip club every day this week," was the reply. "Every day."
Register for free to continue reading
Registration is a free and easy way to support our truly independent journalism
By registering, you will also enjoy limited access to Premium articles, exclusive newsletters, commenting, and virtual events with our leading journalists
Already have an account? sign in
Join our new commenting forum
Join thought-provoking conversations, follow other Independent readers and see their replies