Commonwealth Games 2014: Dan Rivers fires Games shooting record but loses in shoot-out agony
Elena Allen, a Muscovite who married Welsh shooter Malcolm Allen, settling in Newport, held her nerve to win a shoot-off against England's Sarah Gray for a place in the gold-medal match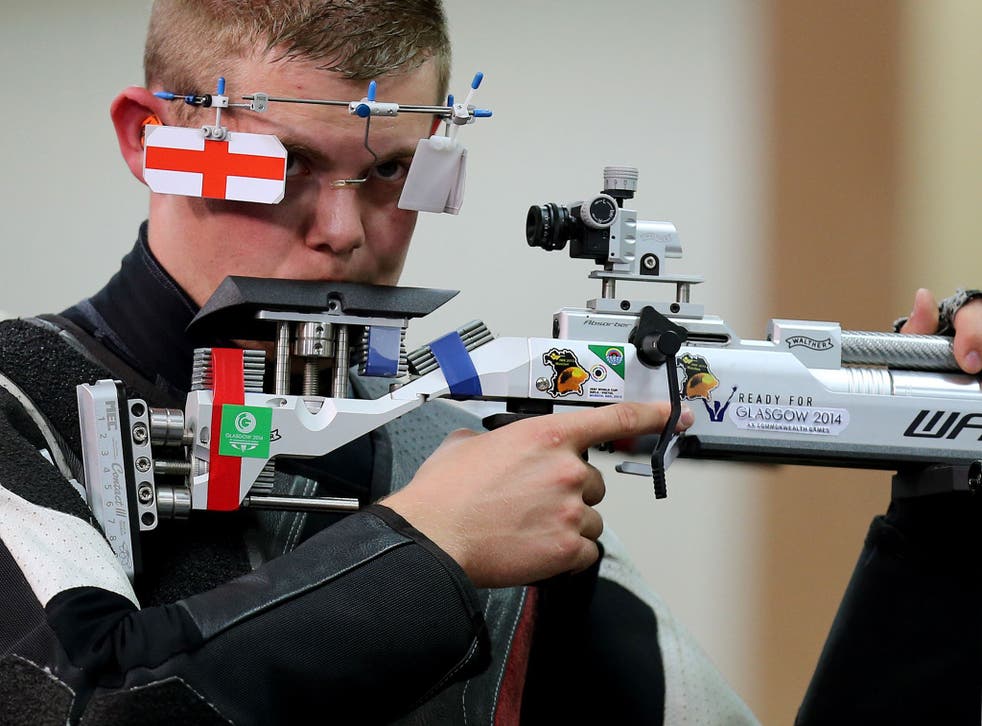 Carnoustie has not known a day of shoot-out drama quite like it since 1999, when the Frenchman Jean van de Velde fluffed a three-shot lead at the 18th hole of the Open and proceeded to lose to Aberdonian Paul Lawrie in a three-way play-off.
The celebrated golf town might be far from the madding crowds of Glasgow – 100 miles both literally and metaphorically from the host city of these XX Commonwealth Games, with its hallowed links course and its tranquil setting on the Angus coast – but it could hardly have witnessed more drama on the opening day of the shooting competition yesterday.
It was a day when England beat England in one shoot-out; when another representative in England kit won one shoot-off but lost another, all in the same match; and when a Moscow-born Welshwoman won a shoot-off to claim her adopted country's third medal of the Games.
The latter scenario unfolded in the final of the women's skeet. Elena Allen, a Muscovite who married Welsh shooter Malcolm Allen, settling in Newport, held her nerve to win a shoot-off against England's Sarah Gray for a place in the gold-medal match.
Commonwealth Games 2014 - In pictures

Show all 61
In that the 42-year-old missed only three of her 16 shots but her opponent, Australia's Laura Coles, hit one more. "I'm happy with silver," Allen said. "A medal is a medal. If you only get into the bronze-medal match, one of you walks away with nothing."
Gray was left with that empty feeling after losing out on bronze to Andri Eleftheriou of Cyprus and finishing a tantalising fourth. Still, at least she made it to the final, emerging victorious from a three-way shoot-off for the sixth and last final spot.
After Panagiota Andreou of Cyprus missed with her third effort, that came down to a shoot-out between Gray and her England team-mate Amber Hill, the 16-year-old wunderkind from Bracknell, who last year followed in the footsteps of Wayne Rooney, Tom Daley and Andy Murray as BBC Young Sports Personality of the Year.
Hill travelled to Scotland with high hopes of finishing among the medals but missed one of the clays with her fifth effort. "I'm please I at least had a shot at making the final," the teenager said. "I'm sure I'll learn from this experience."
There was one medal for England's shooters – from the roller-coaster ride of the men's 10m air rifle.
Didcot's Dan Rivers shot a Games-record score of 623.6 points in qualifying, then found himself in a shoot-off with Ravi Kumar of India to make the top three in the final. The Oxfordshire man scored a 10.1. Kumar fired a 9.6.
Then, with silver at stake, Rivers tied for second place with Abdullah Baki of Bangaladesh. In the one-shot shoot-off he fired a 9.4, his rival 9.8.
Still, at least the Englishman hit the target. Unlike GarethSouthgate, he would not be doing Pizza Hut adverts with a paper bag over his head. He had bronze for consolation, Baki taking silver and India's Abhinav Bindra gold.
"It's not often you get shoot-offs," Rivers reflected. "One today was enough. To get a second was just mental.
"As soon as you see it coming up on the screen that you're tied, your heart rate just goes up even more. You don't think your heart can go any faster, but it does. You just pick your timing, go between the beats, and do your best.
"We try and put pressure training on against each other, shooting against the clock, but it's not on this kind of scale. This is like a penalty shoot-out in front of a fully packed stadium."
Join our new commenting forum
Join thought-provoking conversations, follow other Independent readers and see their replies