Commonwealth Games 2014: Helen Clitheroe and Jo Pavey still in running to be golden girls
England athletes were competing for major title when Glasgow team-mate Gorecka was a toddler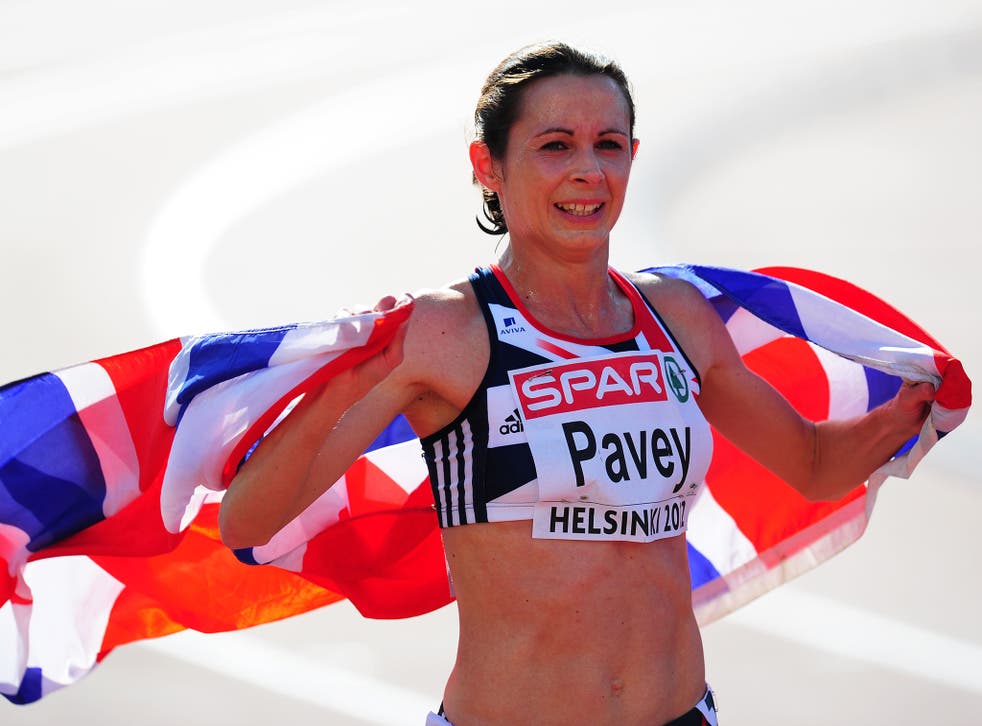 You could call it a battle for the ages. When the three England representatives line up for the Commonwealth Games women's 5,000m final at Hampden Park, two of them – Jo Pavey and Helen Clitheroe – will be able to look back upon international running careers that started when their team-mate, Emelia Gorecka, was a mere toddler.
Gorecka was born in 1994. Pavey ran for Britain at the World Championships in Athens in 1997. Clitheroe competed for England in the 1998 Commonwealth Games in Kuala Lumpur.
"It's exciting that Helen and me are running in the 5,000m in the Commonwealth Games," said Pavey, the Exeter Harrier who won a silver medal in the same event in Melbourne in 2006.
"Out of the three of us, there's going to be two 40-year-olds and then somebody half our age.
"It's quite a funny team mix, isn't it? Emelia's only 20. It's weird to imagine being at that World Championships in 1997 and Emelia being a three-year-old little girl at the time.
"It's exciting seeing the young girls coming through, like Emelia, because they're the future of the sport. It's good to see."
It is that. Gorecka is the latest product from the Aldershot, Farnham and District club stable nurtured by distance-running guru Mick Woods. Following in the footsteps of Steph Twell, who took Commonwealth 1500m bronze for Scotland in Delhi four years ago and who will also be in the 5,000m field in Glasgow, Gorecka won two European junior cross-country titles as an Under-20 before in her first year as a senior she pipped Pavey in an epic race for the British 5,000m title in Birmingham last month.
It is equally good to see stalwarts like Pavey and Clitheroe still making the major championship grade into their forties. At 41, Yamile Aldama competes for England in the women's triple jump at Glasgow 2014.
It is inspirational, too. All three have come through injury hardships. And Pavey and Aldama both have two young children.
It is rare, and possibly unique, to have one forty-something athlete competing in a track event at a Commonwealth Games, let alone two in the same race.
Away from the track, though, there have even been medal winners in the athletics programme who are over 40 at "the Friendly Games".
The granddaddy of them all was Jack Holden, a tough as nails foundry worker from the Black Country. He was 42 when he won the marathon at the 1950 Empire Games, as the quadrennial gathering was then known. When his shoes started falling apart in the Auckland rain, Holden tore them from his feet and ran the last nine miles barefoot. His feet were cut to ribbons by the finish. He won by four minutes and five seconds.
The Tipton Harrier was 43 when he won the European marathon title in Brussels later the same year, finishing 32 seconds clear of Finn Veikko Karvonen.
"I can remember Karvonen coming up to me after the race and asking me my age," Holden recalled in an interview in The Independent on Sunday shortly before his death 10 years ago. "When I told him, he said, 'But you're older than my father!'"
Commonwealth Games 2014 - In pictures

Show all 61
Two 40-year-old female field eventers have won Commonwealth medals. Rosemary Payne took silver for Scotland in the discus in Auckland in 1974. Judy Oakes struck shot put gold in Kuala Lumpur in 1998, in her sixth and final appearance for England at the Games.
Sixteen years on from her international debut in those Games, Clitheroe is preparing to make a fifth successive Commonwealth appearance. A bronze medallist in the 1500m behind Kelly Holmes and Hayley Tullett in Manchester back in 2002, the former lifeguard has fought back from the brink after a career-threatening injury that cost her a place in the London Olympic Games in 2012 (a year after she had won the European indoor crown at the age of 37).
"It's a good feeling to make the team after the problems I've had in the last couple of years," said the Preston Harrier. "It was a massive part of my motivation to get back.
"It's great that Jo is in the team, and the same race, too. When she made the World Championship team in 1997 it inspired me and we've had this long international career together since then. We're rivals but we're great mates as well.
"For me, the Commonwealth Games are all about appreciating the fact that I haven't given up on myself, that I'm coming up to my fifth Games and doing myself justice and being as competitive as I can be – and being an old bird on the start line."
Old bird she might be, but Clitheroe is ranked eighth on the entry list for the women's 5,000m. Pavey is ranked even higher, in third spot – behind the Kenyans Mercy Cherono and Janet Kisa, and just ahead of Gorecka.
So the chances are that at least one of the old birds could be flying down the home straight battling a young fledgling for a place on the podium at Hampden.
Join our new commenting forum
Join thought-provoking conversations, follow other Independent readers and see their replies