Commonwealth Games closing ceremony 2014: Glasgow's big hearted night out to say farewell
Jonathan Brown
Monday 04 August 2014 09:40 Comments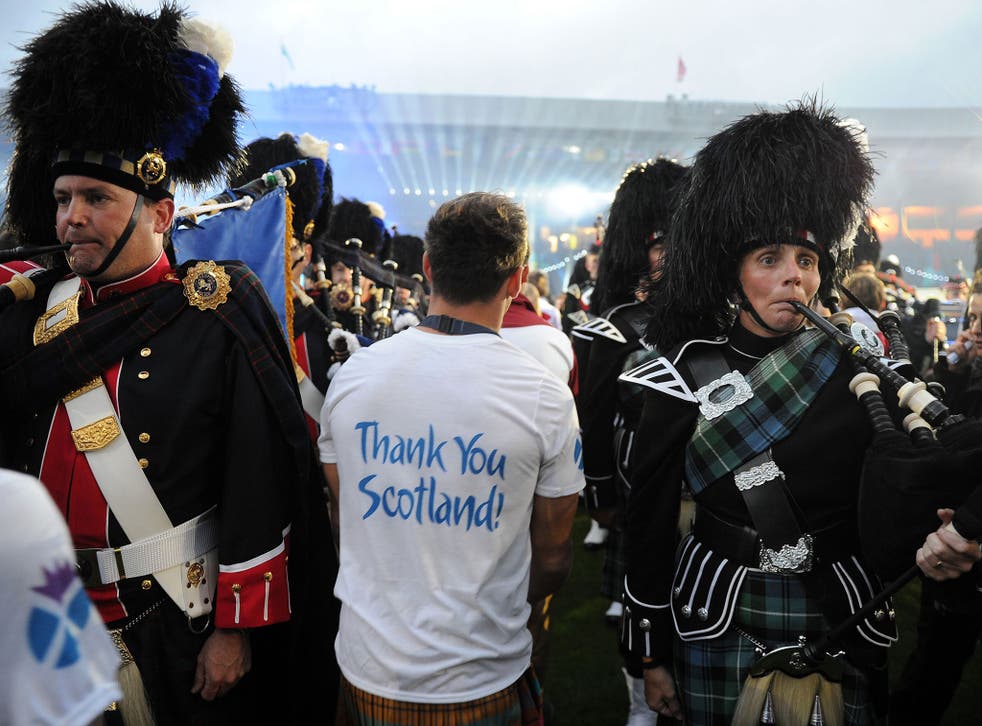 Closing time in Glasgow might once have been thought of as a perilous affair.
But after 11 days in which much of the world seems to have fallen in love with the city, organisers laid on a traditional Clydeside farewell – confident that Glasgow's reputation for hospitality had been firmly etched on the global psyche.
The Australian pop star Kylie Minogue symbolised the passing of the baton from Scotland to Brisbane which will play host to the Games in 2018. Other musical stars performing at a packed Hampden Park were home-grown including veteran singer Lulu, Deacon Blue and the Glasgow newcomers, the synthpop band Prides.
The show was hailed as celebration of sport, culture, friendship and fun. Its artistic director David Zolkwer described the ceremony as a traditional "back to ours" affair, honouring the people of the city that had made the past days possible.
"The show has been inspired by the simple idea of a great night out in Glasgow – a typical Saturday night with friends coming together for a night on the town," he said prior to the show. "We'll see friends coming together; there'll be a bit of a chase before couples find each other; there'll be the seductive lure of the slosh performed by the women of the cast and there'll be some old-school romance in the form of a mass cast smooch."
Commonwealth Games 2014: Closing ceremony

Show all 9
Among the more memorable moments created for the show – broadcast live in 71 countries and territories – was the famous scene from Bill Forsyth's coming-of-age film classic Gregory's Girl, which saw 1,000 people lay on their backs and dance to the sky.
Organisers – who previously staged the Athens 2004 Olympic ceremonies – said that this was a tribute to a job well done by the hosts and the prowess of the athletes.
They had just 18 hours after the conclusion of the rain-lashed athletics' final night on Saturday to create the 160ton set and take all 2,000 volunteer performers through the final run-through.
Dr Bridget McConnell, Glasgow 2014 board member paid tribute to the people of Glasgow. "They are the heart of these Games. It is their generosity and spirit and the hospitality of this city that have been at the forefront," she said.
Kylie took to a confetti-strewn stage shortly after the handover ceremony singing songs including "Into the Blue", "The Locomotion", surrounded by Gay Gordon dancers kick-starting a ceilidh section to the ceremony.
The Australian star was introduced by the compere Des Clarke as part of the re-enactment of a Glaswegian love-story vignette in which the men are courted by chip-munching female suitors. Earlier Lulu sung her hit "Shout" as athletes flooded from tents and into the park.
Register for free to continue reading
Registration is a free and easy way to support our truly independent journalism
By registering, you will also enjoy limited access to Premium articles, exclusive newsletters, commenting, and virtual events with our leading journalists
Already have an account? sign in
Join our new commenting forum
Join thought-provoking conversations, follow other Independent readers and see their replies