Afternoon delight puts England on verge of victory in third Test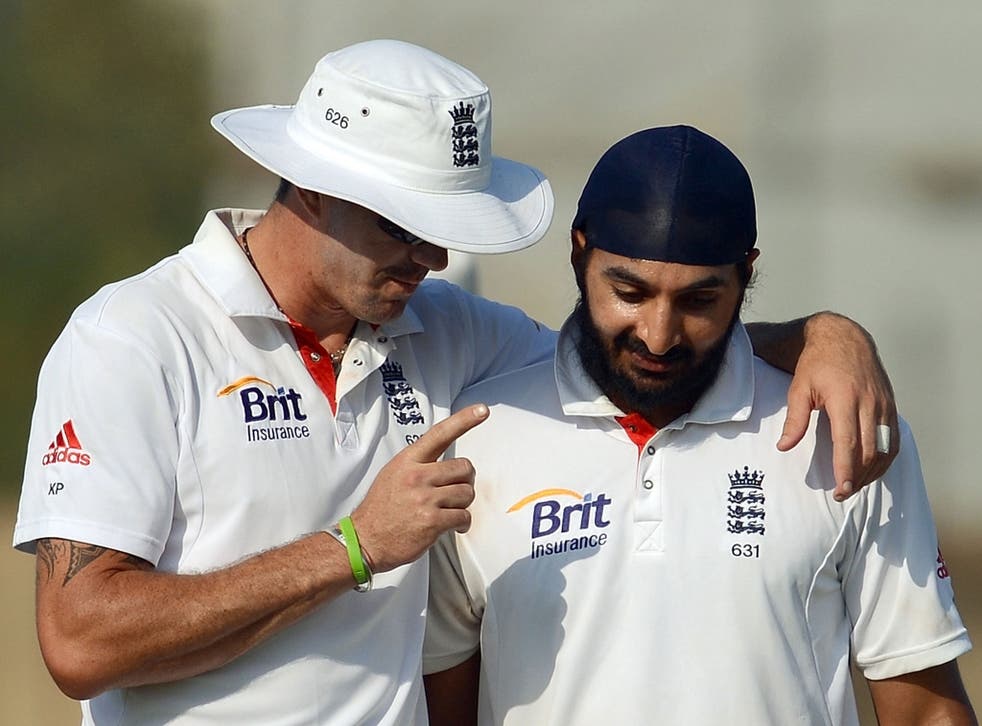 England inflicted a telling collapse on India to put themselves on the verge of victory, and an unassailable 2-1 series lead, after day four of the third Test at Eden Gardens.
Number eight Ashwin even took India into a 32-run credit by stumps on 239 for nine, and forced England to take a second new ball under floodlights, as the contest somehow limped into a final day.
There was no way past Ashwin and Ishant Sharma for more than an hour in a ninth-wicket stand of 38.
Ashwin escaped a stumping chance on 22, and Sharma was dropped by wicketkeeper Matt Prior on nought - both off Monty Panesar.
Then even after Panesar at last got the number 10, toppling over to be bowled, Ashwin stayed to complete his 111-ball 50 with successive fours off Graeme Swann which also ensured England must bat again.
The tourists left a chastening morning behind with a devastating bowling performance after lunch as their hosts collapsed from 86 for none to trail by 62 on a teatime 145 for six.
Six wickets fell for just 36 runs, and an innings victory was therefore probable for England on day four of this third Test.
At the very least, it seemed they would surely now head for the final Test in Nagpur in the knowledge they cannot lose the series.
England's last four wickets could muster only 14 runs on the way to 523 all out, and then they were unable to take one of their own this morning.
But after Graeme Swann kickstarted India's troubles by bowling Virender Sehwag with the first ball of the afternoon, the hosts simply folded.
Their second innings had begun with a four from the first ball, Gautam Gambhir squeezing an inside-edge square off James Anderson.
England then had a half-chance to see off each of the openers before lunch.
But Sehwag escaped on seven when Swann could not hang on to a low one-handed catch to his left at second slip off Anderson; then Gambhir pushed Panesar off the face of the bat to short-leg, where Ian Bell could not quite react in time.
By lunch, the most worrying aspect for the tourists was the increasing ease with which Sehwag in particular was playing their spinners. But they need not have been concerned - because Swann produced the perfect off-break to draw the drive, beat the bat and hit the outside of off-stump straight after the break.
Gambhir had accepted the blame in the first innings for Sehwag's run-out, and perhaps will need to do likewise for his part in a faulty single which saw off Cheteshwar Pujara thanks to Bell's direct hit from midwicket.
Transient controversy followed when Gambhir escaped on 36, umpire Rod Tucker apparently initially satisfied he had edged to slip but unsure whether the ball had carried to a diving Jonathan Trott.
It had, but third umpire Vineet Kulkarni also seemed to convey the fact Gambhir had not got bat on ball after all.
The right decision, it appeared, had been reached via a grey area in the established process for series not involving DRS.
But the fact that Gambhir followed some reverse-swing from Steven Finn to edge behind just four runs later relegated the discussion, and it appeared less relevant still when Sachin Tendulkar was next out - edging a Swann arm ball to slip.
Yuvraj Singh and Virat Kohli's attempt to stop the rot did not last long either, before the left-hander was bowled by one from Anderson that snaked in from round the wicket and kept low, and India captain Mahendra Singh Dhoni edged the same bowler low to his opposite number Alastair Cook at slip.
England had arrived this morning in the hope of maximising the pressure, and an hour's profitable batting would have been their first wish.
Instead, their innings was finished in under five overs.
Matt Prior and Swann could add only a single between them to their existing seventh-wicket stand of 56.
Prior drove the first ball of the day for a single, only for Swann to then immediately become Pragyan Ojha's fourth victim - edging another attempted drive to slip.
Then Prior went to cut Zaheer Khan at the other end, and edged behind - England's second departure in the space of seven balls.
Finn and Anderson managed a boundary each, but the introduction of Ravichandran Ashwin for Ojha (four for 142) brought two wickets in two balls to conclude the innings.
Ashwin had previously conceded 183 runs for his one success - but after Anderson edged to slip and Monty Panesar went lbw first ball, despite an apparent inside-edge, the off-spinner had two more at no further cost.
It seemed the mid-match momentum had perhaps switched, all the more so when Sehwag and Gambhir tried to seize the initiative too.
But it was a short-lived illusion.
PA
Join our new commenting forum
Join thought-provoking conversations, follow other Independent readers and see their replies