Alastair Cook: 'It was a long way back,' says frustrated England captain after Pakistan defeat
'You don't need to be a rocket scientist to work out the problem when you lose seven for 60'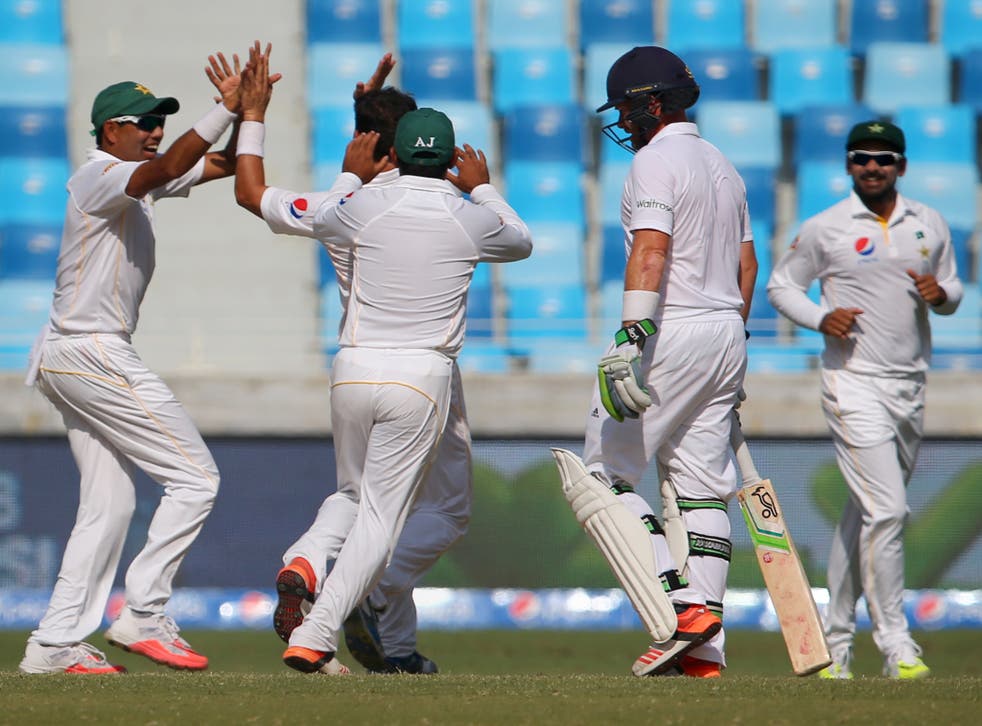 Nobody should begrudge England's intrepid efforts to save their bacon yesterday but they were attempting to repair terminal, self-inflicted damage. In batting for 137.3 overs in the second innings of the second Test, they came within 40 balls of securing a draw.
But as their captain Alastair Cook readily conceded, it was what happened on the third morning, when seven wickets went down for 36 runs in 18 overs, that eventually mattered. Their endeavours on the final day were magnificent but still a crack papering project.
"You don't need to be a rocket scientist to work out the problem when you lose seven for 60," he said, forgetting that it was worse than that at seven for 36. "If you bat 75 overs in the first innings and 140 in the second, it shows how badly we played in the first. It happens too often at the moment as a side. It's a real frustration."
That was mild public criticism by Cook of a middle order which has too frequently fallen short this year. He might be a little more strident in the sanctity of the dressing room and who could blame him?
But he was proud of England's ultimate cussedness and how the ninth-wicket pair of Adil Rashid and Mark Wood made the opposition begin to fear the worst. At the start of the fifth day England had already lost three wickets which made it, in essence, Pakistan's to lose.
Cook said: "You always have faith and belief in the team but we always seemed to be two wickets ahead of where we should have been. When Woody walked out with 40 overs to go, it didn't look quite so encouraging. But he can bat and as that partnership grew and grew, people sat stiller and stiller and didn't move as much.
"The belief started to happen. But it was a long way back from that third morning – and we probably didn't deserve to get out of jail, however well Adil played."
England's hopes perished finally on one of Rashid's few misjudged shots, an off-balance drive off a leading edge into the covers. Yasir Shah, the Pakistani leg spinner, had his man.
"A few of us would like our shots back," said Cook. "You never mean to get out, you never mean to mess up but he'd probably like that back especially considering how well he played the other 170-odd balls."
Misbah ul-Haq, the Pakistan captain, reflected on his opponents' shortcomings without remotely gloating. He sounded positively sorrowful about Ben Stokes and Jos Buttler.
"In both the innings, they struggled and that's a difference between the two teams," he said. "Stokes has been doing well for England, and so has Buttler. But not scoring here in those positions is making a difference for them. Obviously it was tense in the end, because it was touch and go. But a win is win, no matter how close."
Cook must now ponder changes as England try to level the series in Sharjah starting on Sunday. His own presence is a mild doubt. After the shenanigans of denying that he was injured the day before, England admitted yesterday that the captain had a stiff groin ("It's pulled up better today, it should be fine," he said).
Of more concern, thankfully, is the composition of a team undermined by Wahab Riaz's pace and Yasir Shah's spin on Saturday.
"Full credit to Riaz," said Cook. "He bowled really well, 90mph reverse-swing from different angles with some short stuff thrown in, so we aren't saying it's easy. But it's a realisation that it's a tough moment. You have to try and get through. We didn't."
Join our new commenting forum
Join thought-provoking conversations, follow other Independent readers and see their replies