Alex Hales returns to century duty as Nottinghamshire make hay against Warwickshire
Nottinghamshire 397-7 Warwickshire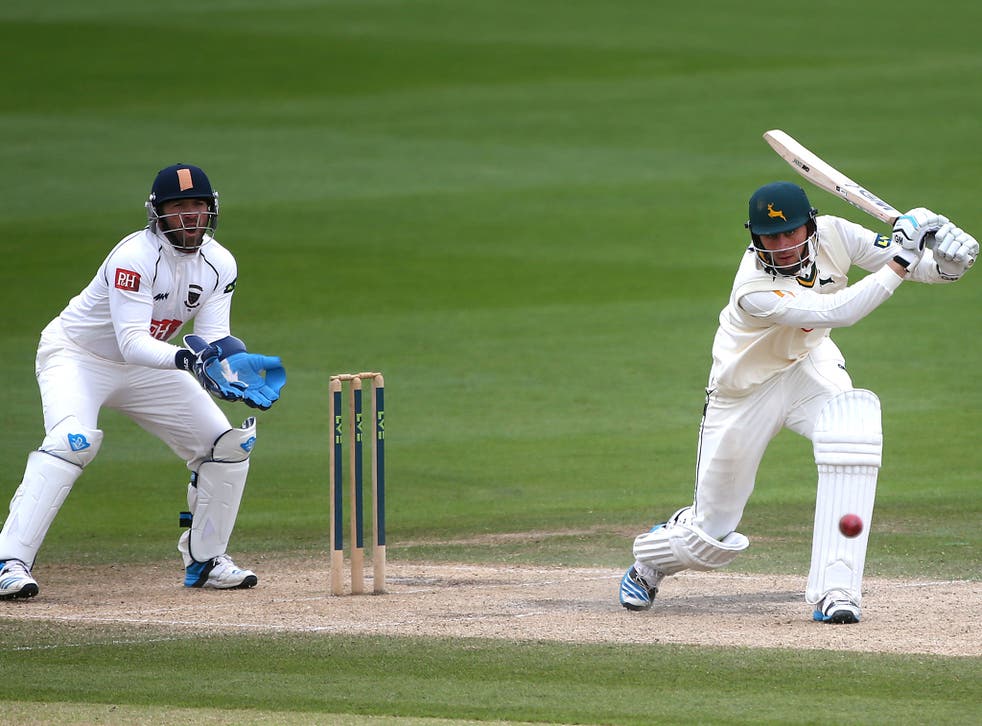 The wisdom or otherwise of pitching Jonathan Trott back into the heat of Championship cricket may become clear later in this match, whose opening day Alex Hales dominated with a superb 183, one short of his career best and his third century here, after Warwickshire were tempted to bowl first on a green-tinged pitch.
The colour proved a deceit, one for which Nottinghamshire, the joint First Division leaders, would have also fallen, as it happens. Warwickshire did not help themselves by using the new ball badly, however, bowling too short and too wide. As Hales and Phil Jaques helped themselves to runs off the wayward quicks, there was a certain irony in that it was Trott who managed to break their partnership.
Trott rarely bowls for Warwickshire, even when available, but with Nottinghamshire scorching along at five an over at 128 for 1, an invitation to see whether his gentle medium pace might achieve something paid off with his 17th ball, which veered away just enough to find the outside edge as Jaques pushed at it, and Tim Ambrose dived to his left to take the catch.
Otherwise, fielding in the outfield, it was an uneventful first day back for Trott, who had not played in the Championship for 11 weeks after a relapse in his recovery from his mental collapse in Australia.
If the Jaques' dismissal was on the soft side, however, Steven Mullaney's was a proper giveaway, pulling a Rikki Clarke long-hop straight to deep square leg.
It is the kind of thing that last season would have tended to befall Hales in what was a woeful year. This season he has been in the Championship only when others have been injured, for the most part, but he is undoubtedly making the most of the chance to re-establish himself.
He drove superbly yesterday, racing to 67 off only 63 balls with his 12th boundary, before showing that he was ready to be patient, too, adding only one more in his next 69 balls faced before two in a row off Jeetan Patel, the off-spinner, took him to a 134-ball hundred, his second of the season.
A six hooked almost straight behind him off Chris Woakes took him past 150 for the fourth time before he was sixth out for 396, leg before to Boyd Rankin, leaving the field with an average of 130.8 in eight innings on this ground.
Join our new commenting forum
Join thought-provoking conversations, follow other Independent readers and see their replies