Andrew Strauss has ground to make up before he even starts new England role
New England director risks being tainted by shoddy sacking of Peter Moores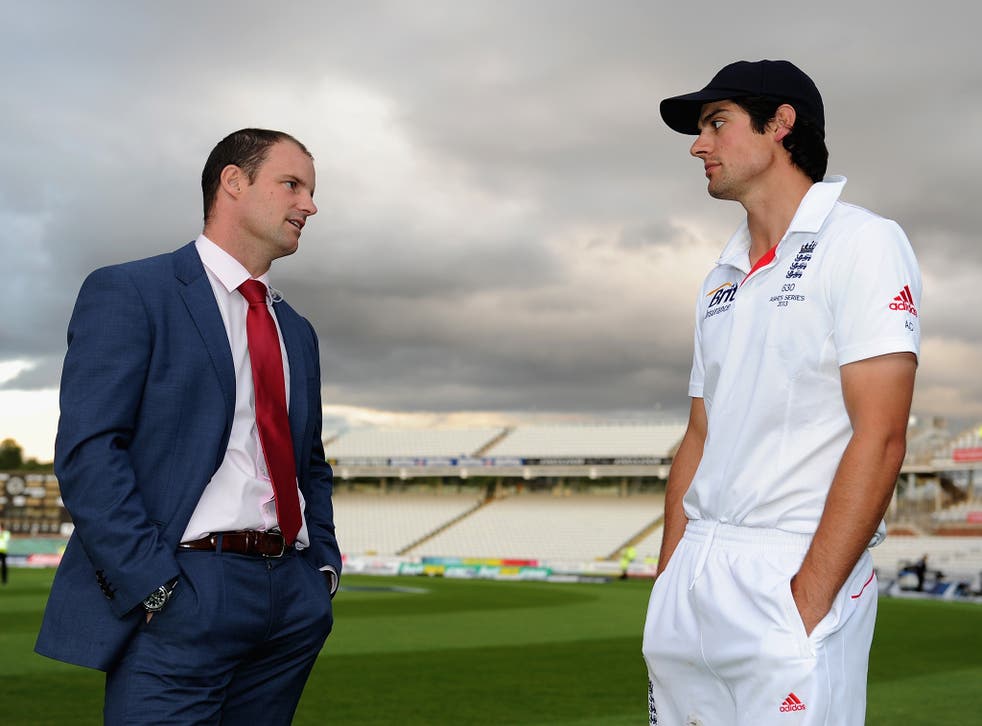 Andrew Strauss will make his first public appearance as director of England cricket tomorrow. If the task at hand was always certain to be herculean, it has been aggravated by the manner of his appointment and the mis-handled sacking which accompanied it.
There is no doubting Strauss's integrity, honesty or wisdom and he will need all those qualities in the days and months ahead. But before he can tackle the myriad difficulties confronting the teams he now controls, he must explain the circumstances surrounding the shoddy dismissal of the coach, Peter Moores.
Unless and until Strauss does that satisfactorily at Lord's in the morning, his role will be tainted. Strauss's appointment and Moores' departure, it now seems clear, were inextricably linked.
Both – the latter unforgivably – were floated in public before being officially confirmed on Saturday afternoon as the England and Wales Cricket Board sought to claw back a modicum of self-respect and control. The world knew that Moores was to be sacked by England for the second time by Friday lunchtime, and only as a result of that leaking was the man himself told in Dublin on Friday evening, shortly after the aborted one-day match against Ireland.
One of the costs for hiring Strauss was obviously the departure of Moores. If it was ruthless it was also the product of a genuine belief that the team needed an immediate change of direction. But it was handled abysmally, almost with a casual disregard for Moores' feelings, which allowed the story to be published around the world.
Strauss has lost ground to retrieve even before he has started the job. He will need all the statesmanlike qualities which marked most of his tenure as England captain. Then he has to come to terms with what needs doing to make England a competitive force again, preferably in time to regain the Ashes this summer (no laughing at the back).
Hiring a new coach
Now that Moores is no more – and a genuine developer of young players is crazily lost to England – Strauss must act quickly to replace him. The candidates are hardly abundant, though the viable ones are outstanding.
The riches of the Indian Premier League have distorted the field. It is possible to earn a substantial sum as a coach in the IPL for 10 weeks' work a year. Few would want to exchange that for the job of England coach, which manages to double both as goldfish bowl and pressure cooker.
Paul Farbrace, who will take over temporarily for the New Zealand series, will probably not want the job. He is a wonderful and enthusiastic commentator, he and the equally effusive Moores combined well together but Farbrace also recognises his limitations and what he is good at.
He was deputy to Jason Gillespie at Yorkshire and although Gillespie has not yet heard anything from England or Strauss – and nor should he have done – and is being championed by people who have not a clue of his merits, he would be an admirable choice.
It would also be a significant step for him. The England job entails a ridiculous amount of time on the road and for anyone with a young family that has to be a crucial consideration.
One of the sadnesses, and this is not in any way to disparage the fact that Gillespie is Australian, is the lack of suitable English nominees. It is yet another weakness of a system whose chief virtue too often seems to be having loads of money at its disposal. Strauss must get the right man but he will have to be in place for the Ashes.
The Captain
Presumably, given the usual routine at ECB Towers, it would have leaked by now if Strauss wanted to replace the captain, Alastair Cook. So close to such a big summer this is in any case improbable, though Cook must bear quite as much responsibility as Moores for England's moderate performance in the recent drawn series against West Indies.
Cook has grown as a captain and, having come so far with him, it would be almost perverse to sack him now – and have there not, by now, been sackings enough? But the uncomfortable feeling remains that he is not a natural fit for the job. As well as this, Strauss has to decide who will be one-day captain, with the smart money on the 24-year-old Joe Root.
The selection issue
Strauss is in overall charge but he cannot do the lot himself. Players have constantly to be watched and scrutinised; it is why a selection panel has almost always been in place and why it still works for Australia.
The national selector at present is James Whitaker but he will have, at the very least, diminished powers. Strauss had better draw up his template fast.
Kevin Pietersen
It would help if this particular hare could finally stop running. In a podcast on the Lord's website a few weeks ago, Strauss alluded to the fact that recalling Pietersen would be difficult. He should state unequivocally whether Pietersen is now eligible for selection or not.
Vision
He has to plan ahead and he should prepare for stormy times. If and when the Ashes are lost, Strauss's head will assuredly be called for.
Join our new commenting forum
Join thought-provoking conversations, follow other Independent readers and see their replies