Angus Fraser deserves credit for unleashing Steven Finn's growing aggression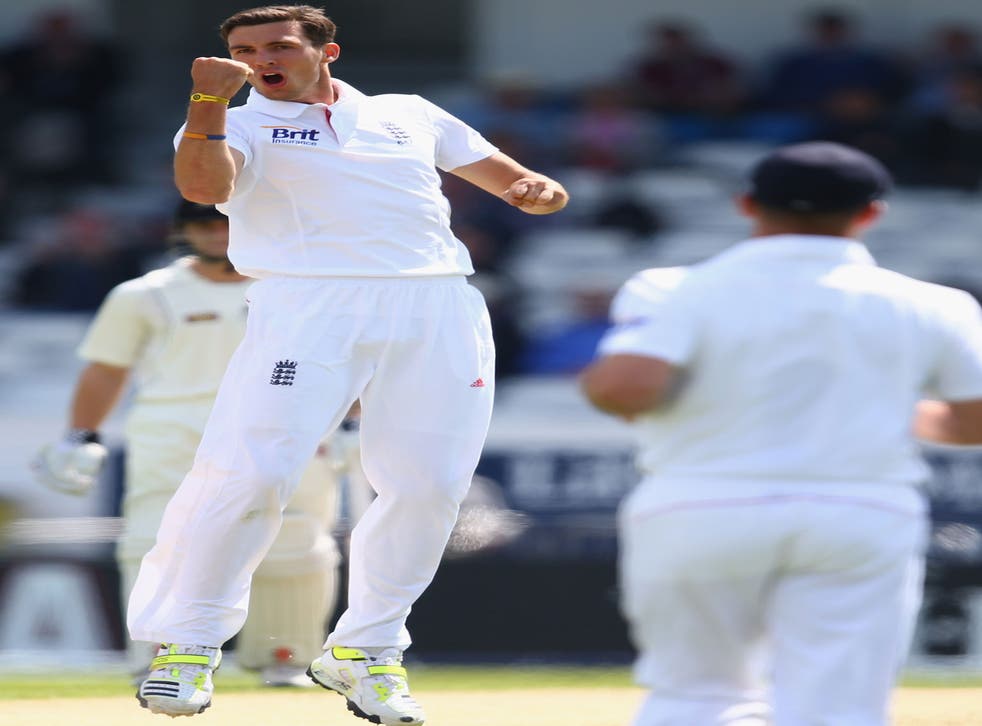 When a cricketer suffers poor form, his wisest move is usually to speak to those who know his game best.
During rare periods of uncertainty, Shane Warne would seek the counsel of the late Terry Jenner, the former Australia leg-spinner. When he was struggling before the 2010-11 Ashes, Kevin Pietersen went to South Africa to work intensively with his favoured coach Graham Ford, and ended the series with an average of 60.
Steven Finn speaks frequently to Angus Fraser, the former England seam bowler who is now managing director of cricket at Middlesex. Finn has found life difficult during the first part of the summer but had lunch with Fraser last Monday, and his spell indicated that the penny had dropped.
Earlier this year, Finn reduced the length of his run-up to try to correct the habit of kicking the stumps as he reaches his delivery stride, but he took only seven wickets in three Championship matches.
Reverting to his original approach to the crease, Finn picked up four wickets against New Zealand at Lord's in the first Test, yet this was not the fast bowler who can exude such menace and purpose. At Headingley, we saw Finn at full force – and Fraser must take credit.
"He's learning to be a high-quality bowler in the public gaze," said Fraser before this match. "Rather than bowling just to take wickets, the important thing is to bowl consistently, and trust that the wickets will come.
"Steven will find out what works for him. Everyone will have an idea on what he should be trying to do, but when you're running in to bowl, you want a maximum of two things in your head, not half a dozen."
From the evidence either side of lunch, Finn seems to have removed the clutter from his mind. He bowled with speed and precision, approaching 90mph on many occasions, and brought the match back into England's control after New Zealand made a serene start to their innings.
The first wicket was a gimme, a simple caught-and-bowled from a poorly judged shot by Peter Fulton. Soft as it was, it galvanised Finn and soon he had another. Hamish Rutherford drove at a full delivery on off and Ian Bell held the catch in the gully.
Those two strikes punctured New Zealand but it was Finn's merciless burst at Ross Taylor, who has a Test average of 42, which deflated them. Taylor had to face a single delivery before lunch; it struck him on the arm. Efficiently though the batsman played it, Finn had sent his message.
He hit Taylor twice more after lunch and it became clear that Finn had his man on the run. Sure enough, when another brisk delivery nipped back towards Taylor, he mistimed a push off the back foot and the ball cannoned into the stumps.
When he was replaced at the Rugby Stand End by Stuart Broad, Finn's analysis was 12 overs, three maidens, 3 for 36, and what happened next emphasised the spell's importance.
Taylor was out 16 minutes after lunch, at 1.56pm, leaving his team 72 for 3. Less than one and a half hours later, New Zealand were 122 for 9 as Graeme Swann beguiled them from the Kirkstall Lane End, taking four for 20 from less than seven overs.
The performance proved Swann has recovered from the elbow injury that stopped him taking on New Zealand during the three-Test series in March. "I was optimistic I'd be able to perform but you're never sure, so I'm delighted it seems to be coming out nicely," he said after taking his first Test wickets against New Zealand, and his first at Leeds. "It feels like it did 18 months ago."
While Swann and Finn are rejuvenated, these are worrying times for Nick Compton. The opener was dismissed for a tentative seven from 45 deliveries in England's second innings, but at least he has the support of his colleagues. "[Scrutiny] is the nature of the beast, but we all really rate him and he'll be back with a bang in no time," Swann added. "We know he's a magnificent player and we're all with him."
Join our new commenting forum
Join thought-provoking conversations, follow other Independent readers and see their replies