Ashes 2013-14: The Aussie angle
If Haddin is about to retire, what better way to go than after the series of his life in which he has saved the Aussies time and time again?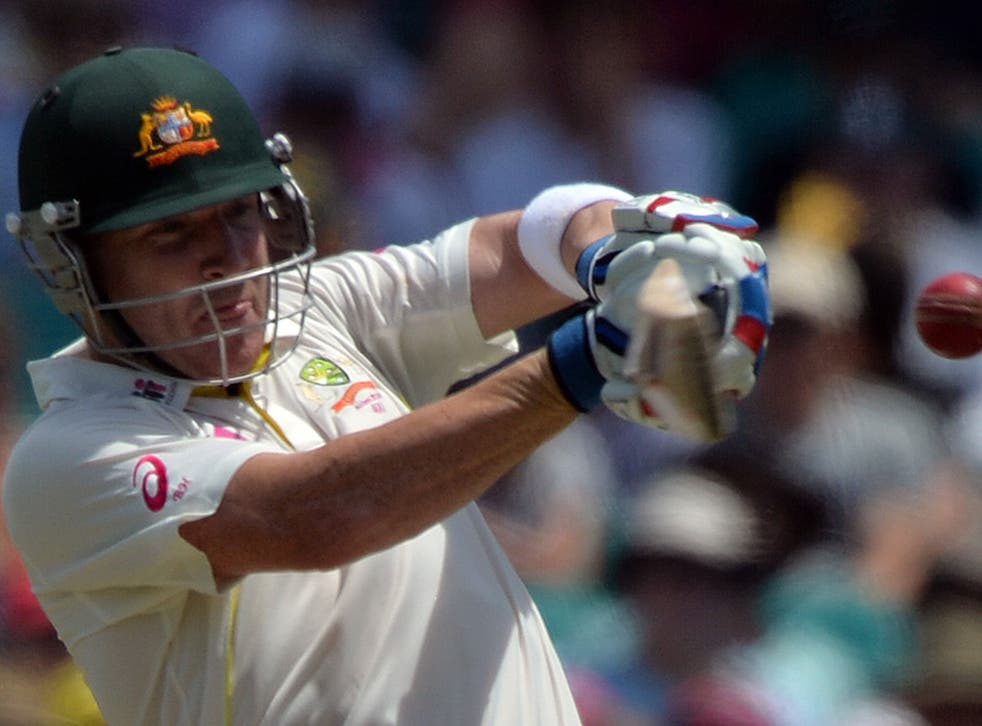 As rumours swirled around the SCG suggesting that Brad Haddin would retire after the fifth Test, nothing had changed as far as the player himself was concerned.
Four times previously during this series Haddin had walked in at No 7 in Australia's first innings with his team's position ranging between shaky and downright diabolical.
Four times he responded with half-centuries that changed the momentum of the match and helped create Australian victories.
Why change a winning formula?
Haddin's arrival at 97 for 5 yesterday was the perfect stage for him to display once again the ferocious and clinical counter-punching that has marked his performances since returning to the team six months ago.
When he departed just two hours later, he had 75 beside his name, a century stand with Steve Smith to his credit and a total of 225 for 6 for the team to build on.
Haddin stood down from Test cricket last year because of his baby daughter's illness but knowing that it was a decision that could end his career.
He was 34, a capable replacement in Matthew Wade was in the wings and he was not aware whether Mia Haddin's battle would be successful or how long her treatment would take.
Two things came from the illness.
It provided Haddin with the perspective to know that there are significantly more important things than cricket.
Equally, it gave him the resolve to make the most of any bonus opportunities that came his way.
Mia is now in remission; her father critical to Australia's Ashes triumph.
The rumours were understandable.
Haddin is now 36 and facing the prospect of a tough three-Test tour of South Africa in the spring before a nine-month void leading into the next assignment against Pakistan.
As he prepares to complete the most successful series of his career and move closer to a rare Ashes clean sweep on his home ground, there could barely be a more feted way to exit Test cricket.
But Haddin is no romantic, enjoys playing the game for its own sake and feels no compulsion to take part in a fairy tale.
He had a job to do yesterday and took to it with the energy and alacrity that has marked his batting all summer.
"Brad has been outstanding," Smith said after his own valuable 115. "I could just take a back seat and watch him go.
"The way he played his shots today was brilliant."
"He has come in in tough circumstances and has tried to switch the momentum in the game.
"He has done that on numerous occasions this series."
Haddin has been so effective that he is duelling with speedster Mitchell Johnson to be the most influential player in the series.
Johnson had lifted his series tally to 32 wickets when he captured Michael Carberry close to stumps yesterday while his menace with new ball and old has had a discernible impact on England's batting.
Yet his bowling would have been significantly less incisive without substantial totals to defend and that is where Haddin's contributions have been so valuable.
He has gone past 50 in six of his seven innings during this series but the most remarkable feature of his batting has been his capacity to produce half-centuries from positions of adversity in each of Australia's first innings where his scores have been 94, 53, 55, 65 and 75.
The brutal and positive nature of the knocks has been as crushing for England as the volume of runs, as Ben Stokes admitted on one of the two best days of his fledgling career.
"He comes out and plays his natural game straight away no matter the situation," Stokes said.
"When he came in today and started hitting me over my head I stood there scratching my head, thinking: 'This is not supposed to happen.'"
It is happening and has been all series.
The Australian players are mystified about the Haddin retirement rumours but, even if they are without substance, one thing is clear – it is highly improbable that he could produce a better stage on which to exit the game.
John Townsend is Cricket Writer for 'The West Australian'
Join our new commenting forum
Join thought-provoking conversations, follow other Independent readers and see their replies