Ashes 2013-14: The Aussie Angle - Darren Lehmann deserves more credit than he will admit
But even he didn't know it could get this good for revitalised Australia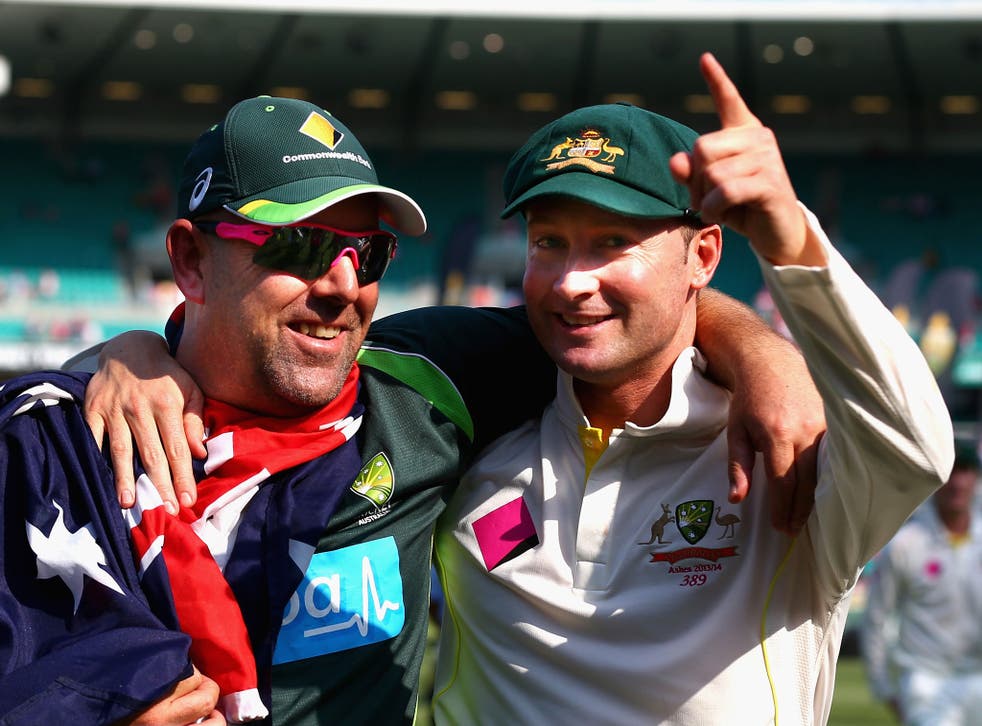 Had you asked any Australian to identify their team's prospects leading into the winter Ashes series there would have been a vast similarity of responses. "We should be competitive, it certainly won't be a 3-0 result to England and we might even pinch the series if things go our way," was the consensus view.
Who's a nation of rotten judges now?
After claiming 100 England wickets in a five-Test series for the first time and completing a 5-0 whitewash with a three-day drubbing in the final engagement, Australia may take some time to get used to the tectonic shift in the Ashes power bases.
The England captain, Alastair Cook, and coach, Andy Flower, should be nervous about their immediate job prospects while their opposite numbers, Michael Clarke and Darren Lehmann, are being lauded for leading a spectacular turnaround in Australia's fortunes.
No team has previously managed to go nine Tests without a win then eclipse it with such an explosive and devastating performance that a clean sweep appeared so inevitable from so early in the campaign.
Lehmann said it started in England, particularly during the third Test at Old Trafford, where Australia put two losses behind them to play aggressive and positive cricket only to be stymied by the weather.
Read more:
"I thought we had the makings of winning the Ashes comfortably but not 5-0," Lehmann admitted. "Learning to win was the big thing and it gets a lot easier to do that once you have won."
ASHES PODCAST: Stephen Brenkley and Tom Collomosse discuss the third day of the Fifth Test. Listen below…
Parachuted into the job two weeks before the first Test of the marathon 10-match campaign when Mickey Arthur was sacked, Lehmann claimed he did not have to change much in the Australian set-up.
"There was some direction missing, that's all," he said. "The playing group and support staff needed some direction about where we wanted to go and how we went about it.
"I was pleased about the work ethic but it was about how we went about the quality of training and the people you play against."
The coach was reluctant to admit it but his influence was crucial in firstly regaining a happy and contented dressing room while encouraging the players to produce a particularly Australian, but specifically Lehmann, brand of cricket.
That demanded highly aggressive play with bat and ball, challenging verbal confrontations that played some part in the shock departures of key England figures Jonathan Trott and Graeme Swann, and a refusal to be intimidated or tied down.
Lehmann also made clear the Test team was the vanguard of Australian cricket and that Cricket Australia bureaucrats, whether team managers or high-performance managers, had no role in its running. Certainly, the days of a team manager having a formal say in the dropping of a national vice-captain had ended.
The most critical factor has been the rehabilitation of Mitchell Johnson, who put behind him the anguish of the 2009 and 2010-11 disasters to lead the attack in brutal and clinical fashion.
No one likes facing heavy artillery with only flimsy protection and limited resolve, yet Johnson's 95mph fire and brimstone brought 37 wickets in a Boy's Own Ashes yarn.
No England player could counter Johnson's muscular menace and there were several batsmen who the Australians came to believe were seeking a Blighty wound to escape the firing line.
Johnson bombarded the England batting line-up in a fashion that made it easier for his colleagues to mop up the remnants and it was quite fitting that he, ahead of counter-punching No 7 Brad Haddin, was nominated as the most influential player in the series.
The left-armer intends to be back in 2015 to avenge his five-year-old England nightmare, while Australia's pace assembly line should showcase several genuine quicks to support his impact.
Cricket needs a strong and vibrant Ashes rivalry to inspire the game on the world stage, which partly explains why the contest is held in three of every four calendar years and will return so soon.
John Townsend is Cricket Writer for 'The West Australian'
Join our new commenting forum
Join thought-provoking conversations, follow other Independent readers and see their replies