Ashes 2013-14 - the Aussie Angle: Two overs from two England bowlers cost an even 50 in a reminder of how far the pendulum has swung back to Australia
It was yet another day that went to Australia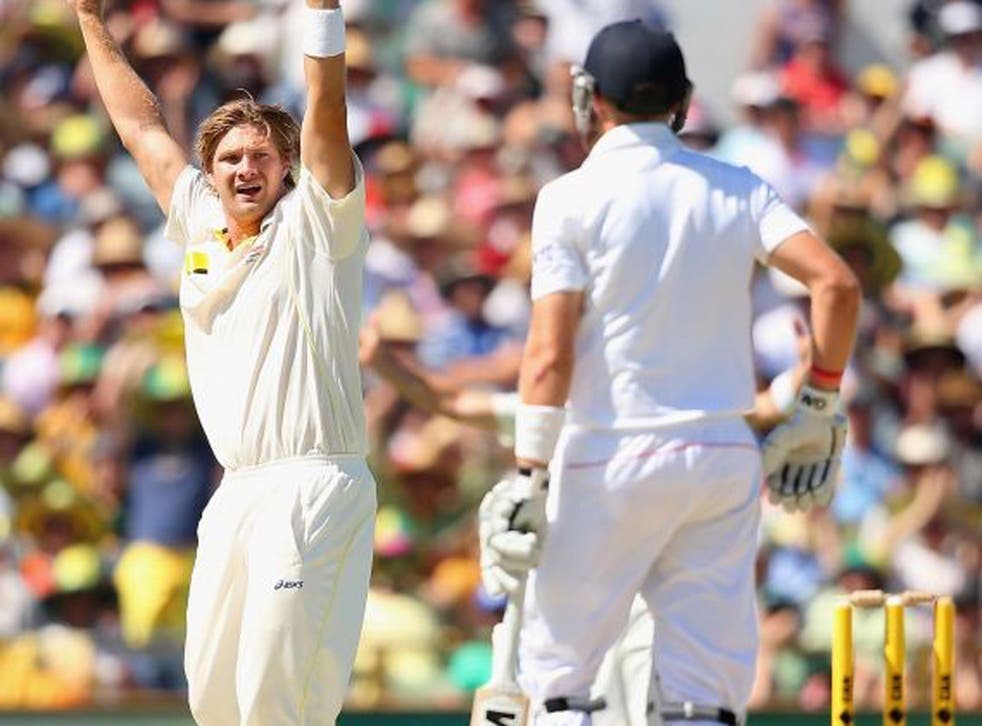 Who would have imagined George Bailey, of all people, channelling Brian Lara?
In the midst of a bout of particularly pyrotechnic batting by the Australians, as their opponents withered in the heat and despair of a Perth furnace offering nowhere to hide and few places to run bar the fence to fetch yet another bludgeoned boundary, Bailey placed his name alongside the great West Indian.
Both men now share the record of taking 28 runs from a Test over.
Perhaps like Ravi Shastri, whose feat in striking six sixes in a first-class over has never resonated like the earlier effort of Gary Sobers, Bailey's blitzkrieg won't carry the same historic weight as Lara's.
The bowling was top-shelf, of course.
Jimmy Anderson is no slouch, even if his best days are behind him and three series full of Ashes glory have given way to one of heartache and spurned dreams.
Lara took his 28 off Robin Peterson, the yeomanlike South African spinner whose greatest claim to fame may well be his strike at the same ground last year when he placed the full stop on Ricky Ponting's stellar career.
Bailey may nick for fun, as critics suggested when he came into the Test team and promptly gave Anderson his first success of the Ashes, but he can hit straight as well as any batsman in the game.
He showed that at the Waca earlier in the year with a peerless 125 against a reasonable West Indies one-day attack unable to defend his assault on the sight screen.
Four straight sixes sailed into the crowd that day while a handful more followed in Nagpur only a month or so ago, when the Tasmanian eviscerated India for 156.
A one-day strike rate of 92 to complement an average of 54 puts Bailey in elite company in the short game and underlines the reason why he has been tasked as the main offensive weapon against Graeme Swann.
Yet for all of his poised and clinical brutality, a cameo that further embarrassed the boof-headed Channel 9 executive who said Bailey would have been "flipping burgers for a living" if it wasn't for the cash the network tips into cricket, his barrage was overshadowed by the performance at the other end.
Shane Watson remains an enigma, though a humorous and self-deprecating one.
If he was subjected to harsh but essentially warranted criticism over his failure to convert 88 of his 91 innings into centuries before yesterday, it would be churlish then to damn the fourth ton for being scored during a low-pressure spree prior to an inevitable declaration.
Watson's onslaught enabled the declaration to come earlier than planned – by as much as an hour perhaps – while his punishing performance drained even more resolve and focus from the England players.
Five sixes were swung into the crowd while he sprinted from 50 to 100 in just 20 deliveries.
Swann was shellacked for 14 in the ominous first over of the day while he came back later only to have 22 go back over his head.
"To have a licence to take on the game and to have it come off was a lot of fun," a gleeful Watson said.
"We have played these guys a lot over the past couple of series and we have learnt more about how not to allow them into the game."
Two overs from two Ashes stars cost an even 50 in a spotlit reminder of how far the pendulum has swung back to Australia over the past few months.
Watson suggested that the significance of Stuart Broad's foot injury became more apparent once he and his colleagues took the attack to Anderson and Swann, though he identified lively medium Ben Stokes as a player who England could build around in years to come.
Join our new commenting forum
Join thought-provoking conversations, follow other Independent readers and see their replies