Ashes 2013-14: Batting coach Graham Gooch wants England to rediscover their 'will' to win and get campaign back on track
The Ashes holders went behind early in the series after defeat at Brisbane but Gooch wants players to put in the hard work to correct the situation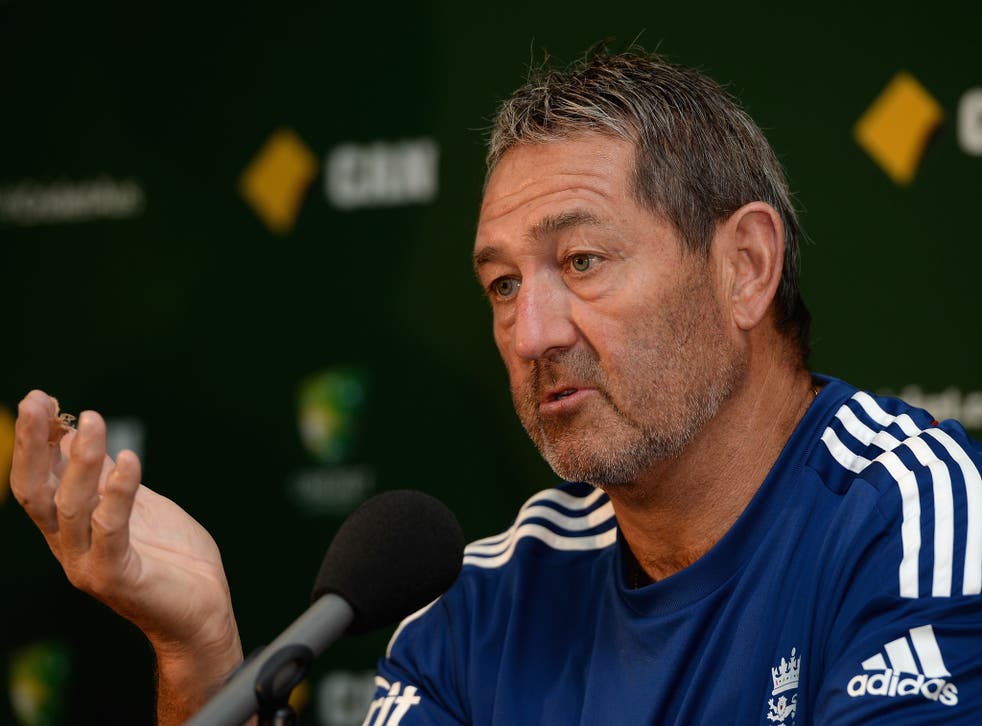 Graham Gooch believes England must simply demonstrate a better "will" to succeed if they are to get their Ashes campaign back on track.
England's batting coach also advises the folly of obsessing about Mitchell Johnson in the second Test at the Adelaide Oval, and the attendant danger therefore of taking a collective eye off Australia's other skilful bowlers.
Gooch has conceded England's batsmen were way off the "standard required" in the series opener at the Gabba, where Johnson ran riot on a fast and bouncy pitch - finishing with a nine-wicket match haul as the tourists were twice bowled out cheaply and trounced by 381 runs.
"We have to show better will than we did in the last game," he said.
"To get dismissed twice for under 200 is very disappointing.
"You're not going to win any games of cricket if you do that.
"We know we didn't perform anywhere near the standard required, or what this team is capable of.
"We're going to work hard to put that right. It's quite simple."
Gooch is happy to acknowledge nonetheless an outstanding individual performance from Australia's resurgent left-arm fast bowler.
"He had a great game at Brisbane, and I take my hat off him.
"He took nine wickets, and you'd be lauding any bowler on any side who took nine in a Test - so congratulations to him.
"He caused a lot of problems for some of our players.
"Since we've been here, we've prepared for left-arm - we did three years ago - by bringing left-arm bowlers in for our practice and generally focusing on that line of attack."
Even so, Gooch will be making sure England's batsmen do not train their eyes solely on Johnson when they need to be aware too of the threat posed by his fellow seamers Ryan Harris and Peter Siddle - as well as off-spinner Nathan Lyon, on his home pitch.
"Johnson inconvenienced a few of our players ... (but) it'd be a mistake just to focus on one bowler," he added.
"They have four other very good Test bowlers in Lyon, Siddle, Harris - (Shane) Watson if he bowls - so we have to be aware of all of them.
"Mitchell Johnson will be part of that, and short bowling will be part of that, but it's a mistake just to focus on one person."
England have yet to decide, meanwhile, who will move up from the middle order to fill the vacancy at number three left by Jonathan Trott's departure after the first Test.
Gooch has confirmed Joe Root and Ian Bell as the obvious candidates.
Should Root bat at three this week, in less than a year since he made his international debut, he will have filled every position in the top seven - bar captain Alastair Cook's slot at number one.
"We had the plan of him [Root] batting six with (Michael) Carberry opening, which has been disrupted through no fault of his own," said Gooch.
"So he's going to have to stand up if he's asked to bat three. You have to adapt.
"You'd like to map out the pathway for someone as best you can. But sometimes these situations arise, and you have to handle them.
"Sport doesn't always turn out as you hope it's going to, and whoever bats three will stand up for England.
"That's their job - and that's what I expect them to do."
PA
Join our new commenting forum
Join thought-provoking conversations, follow other Independent readers and see their replies