Ashes 2013-14: Darren Lehmann refuses to rock the boat as England navigate stormy waters
Australia coach keeps his counsel ahead of one-day series despite a familiar look to their beleaguered opponents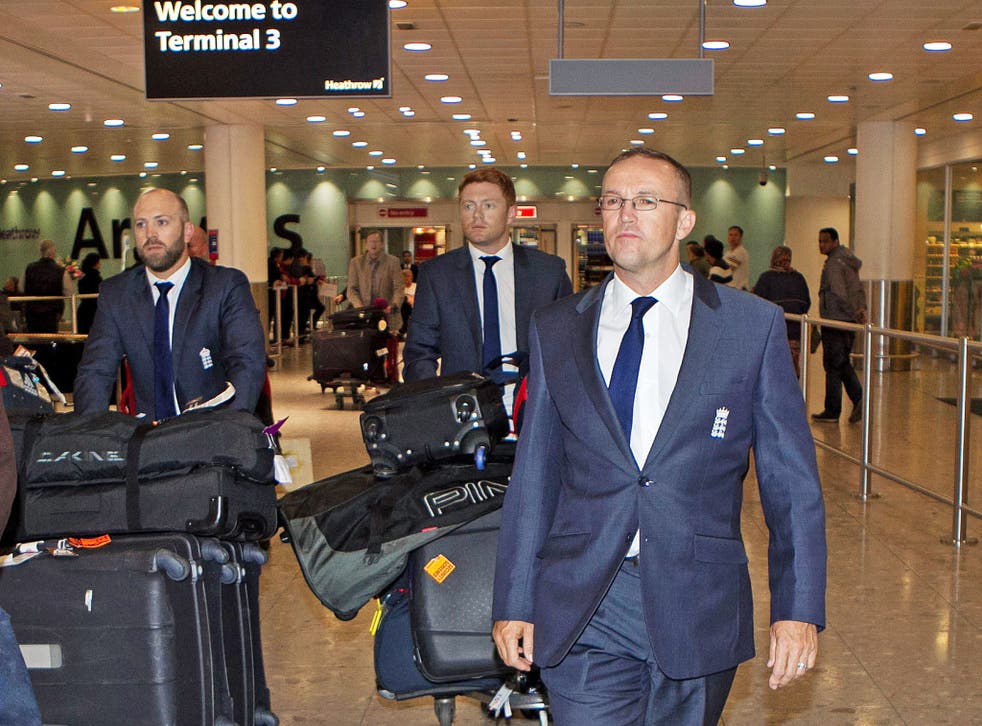 For the past five days, observers have wondered when there was last so dramatic, rapid and complete a turnaround. The conclusion of the overwhelming majority is never but Darren Lehmann was not inclined to dwell on the matter on Thursday.
Seven months ago, he was made coach of Australia, a sporting ship that was heading for the rocks quicker than a Mitchell Johnson bouncer, which in those far-off days was a thing of the past. Now here Lehmann sits at the prow of a craft in full sail and on the crest of a wave.
The similarities in the mirror image are uncanny. Australia were in dire form with a dressing room in chaos. They did not know where their next win was coming from. Players were short of runs, wickets and belief and at odds with each other and the world.
The reflection is not quite perfect but it is England now who are in a state of tumult. They, too, have forgotten what it was like to win and do what they will to quash rumours of disruption in the camp that will not disappear.
Following a 5-0 crushing, with gossip rife about the precise level of acrimony between the coach, Andy Flower, and the senior batsman and former captain, Kevin Pietersen, with other players uncertain of their futures, Lehmann obviously realises that England are in the place occupied so recently by Australia.
Having lost 4-0 in India and 3-0 in England, the tables have not so much been moved as been the object of a tectonic shift. Lehmann was not playing the game yesterday of what England could do next as his players gathered in Melbourne for a one-day international series that is bound to be overshadowed by the fallout from the Ashes.
"I'm not going there," he said. "That's for them to work out. We've got enough to worry about, getting ready for a one-day series and Twenty20 series here then another Test series, but the World Cup is a focus as well.
He added: "They've been great players, all of them, over a period of time. The England team have good decisions to make and they'll make them, I'm sure."
And that was as much as he was prepared to venture on the subject of England. But the parallels between Australia at the start of their Ashes tour last summer and England towards the end of this tour of Australia are obvious.
There was no progress on the Flower-Pietersen imbroglio with the pair heading for home but it will probably dominate the agenda for months.
When Ashley Giles, the one-day coach, at last speaks in public, which he is not scheduled to do until after the first ODI here on Sunday, he will undoubtedly field a plethora of questions on the state of the dressing room.
With Flower having stated categorically that he intends to stay in the job, Giles will remain as one-day coach. But the feeling that he is the man in waiting will not recede any time soon, unless and until England have unfurled their plans for a new beginning.
If Pietersen is particularly under the spotlight, Ian Bell, Jimmy Anderson and Matt Prior are also durable players whose time may have come if England are serious about rebuilding. They must be careful not to drop an entire generation but keeping the lot would look plain daft.
In a perverse way, Pietersen might have benefited from the latest exposure of his fractious relationship with the coach. It is nowhere near as bad as it was in 2012 when Pietersen was deeply upset about the unreasonable manner in which he was being treated by his employers (as he saw it), but it has always been based on mutual accommodation.
If Pietersen were not to feature again, it would make Flower's denials this week that anything had yet been decided seem decidedly hollow. In other words, England might have to go with the player simply to demonstrate that they had not already made their minds up.
A school of thought, which is acquiring students more quickly than a desirable comprehensive in a middle-class area, is that Pietersen would be the better for being more involved in the decision-making process, for being made to feel part of the leadership group.
The counter-argument to which is that he is a player of 33 years of age who has played 104 Test matches, is a former captain and should, if he were a team man, be ready and willing to offer counsel and guidance as a matter of course. That he is fielding in the country much of the time and out of the loop is spurious. Someone has to be out in the long grass.
Pietersen is perhaps fortunate that he is not part of the one-day series. It really would be a circus with him in town. But at least his latest spat is deflecting attention from the others whose futures are threatened. It will be fascinating to see how Bell copes in the coming weeks. He ended the Test series, like Pietersen, on the lowest of notes, looking distracted and batting carelessly.
Unlike Pietersen, Bell would not know how to rock the boat, no matter how stormy the seas, something for which he does not receive sufficient, or indeed any, credit. He rarely misses a game, he never complains and though he is far from faultless as a batsman, he is a boon in the dressing room as well as being tactically astute, a facet of his game that he should make more of.
England, or what was left of them, flew into Melbourne from Sydney on Thursday to join the other one-day players and backroom staff. They start training today.
Australia have rested Johnson for the opening one-day match and Lehmann suggested they will give others odd days off in the five-match series. He likes to select the best available team but he needs them to have some fuel in the tank for the upcoming Test series in South Africa, which is probably dominating his thoughts.
Join our new commenting forum
Join thought-provoking conversations, follow other Independent readers and see their replies