Ashes 2013-14: England captain Alastair Cook should remember Michael Clarke holding back tears after last summer's drubbing at Lord's
Aussie Angle: Mitchell Johnson's job, in the words of Jeff Thomson, is to  'run in and let it go whang'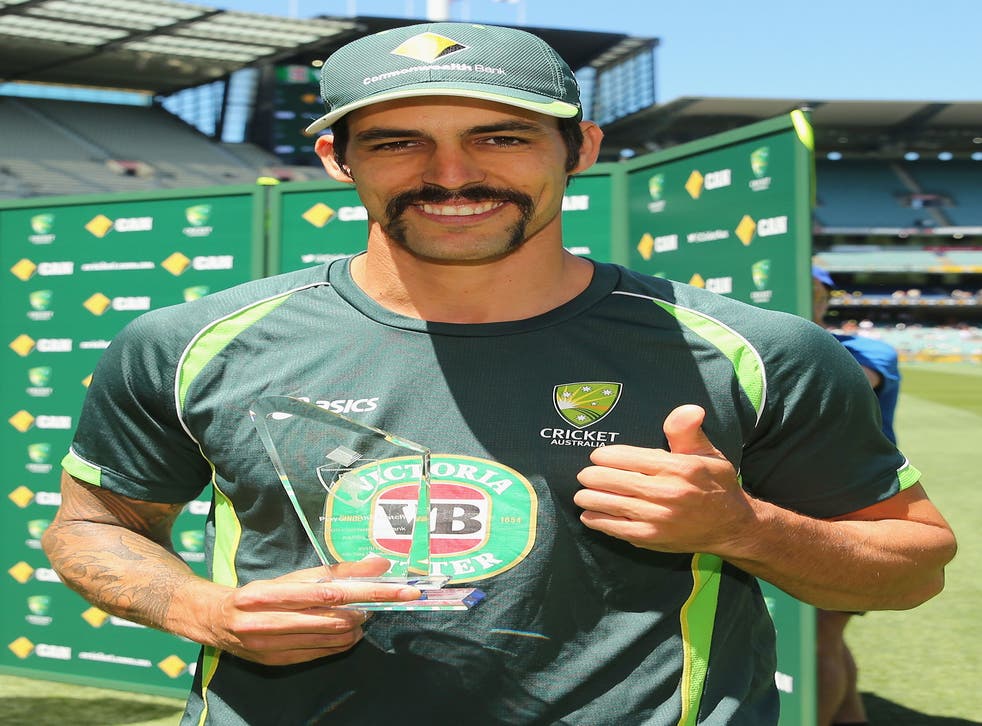 The steely Australian outfit that crushed England at the MCG yesterday is a far cry from the wan and insipid bunch that left Lord's six months ago with the captain holding back tears and his team not knowing where to look for answers.
Alastair Cook was dry-eyed, though understandably subdued, when he fronted the press after overseeing a fourth straight Ashes loss on Sunday that was the most galling of the series, given that his team was well on top early on the third day.
Yet if Cook is looking for any succour in the darkest days of his captaincy, he need only cast back to his opposite number after that Lord's pizzling. A four-day victory to a home team at its most iconic venue should not come as any surprise.
Any loss prompts a degree of soul-searching but Cook and Michael Clarke have experienced such parallel highs and lows this year that one captain should act as an exemplar to the other. Losses are painful and distressing but not insurmountable; victories are joyous and fulfilling but hardly guarantees of future success.
Australia have added Mitchell Johnson to their roster in the most significant change to the two teams. No one – not Johnson, not his management nor the Australian camp, not a Barmy Army prepared with fresh choruses for an old tune – would have conjured the prospect of him claiming 31 wickets by the end of the fourth Test and annexing three man-of-the-match awards.
Johnson had been a figure of derision rather than menace, a laughing stock rather than the mustachioed and muscle-bound enforcer who has made the England tail fear for limb if not life. The big left-armer spent the summer Ashes campaign getting his technique in order and his mojo back.
No single other factor has played such a part in the turnaround of both teams but it is to the credit of the Australian selectors, and a captain and coach who both espouse faith and loyalty as their benchmark but carry it out to the letter.
Johnson has spent much of his career, particularly the horrific series in 2009 and 2010-11, not knowing what his role required.
Was he an out-and-out pace bully? A second-change bowler required to maintain line and length? A swinger? A seamer? An all-rounder?
If nothing else in his current iteration, his job description is remarkably simple. In the words of Jeff Thomson 30 years ago, he is required to "run in and let it go whang".
With coach Darren Lehmann and his henchmen placing less emphasis on control and more on speed and menace, Johnson has both provided the latter while rediscovering the former as a natural consequence of his buoyant confidence.
The return to old-fashioned cricket has also allowed Australia to find the natural mongrel and ferocity of purpose that have been part of the nation's most successful teams. Not only has Lehmann introduced a greater sense of freedom but he has created an environment where basic cricket parameters are not the norm.
Ryan Harris is fit and bowling well? Pick him until one or the other ceases. Need an opener to blunt England's highly effective spearheads? Get the most successful one in state and county ranks, ignore every number associated with him except his run tally and back him to display the same class that he has demonstrated for 15 years.
Robust and sensible players, those with heart and skill and experience, have become valuable commodities once more.
Brad Haddin and Harris and Chris Rogers and Peter Siddle and George Bailey add far more than their wickets and runs, even if the latter is finding it tough at a higher level than he has previously in a steady state career.
They form the calcium-enriched backbone of the Australian team and complement the undoubted talent but sometimes fragile souls like Johnson and Nathan Lyon or the highly tuned but temperamental elements like David Warner and Shane Watson.
Australia have reverted to an old but favoured method of sporting success: pick talented and sensible players, work them hard, show faith in their contribution and lead them well.
It is not that difficult – in theory, at least. Cook need not despair.
When Clarke harks back to his moment of deepest despair, he can consider that time and a decent system will inevitably overcome the heartache of defeat.
John Townsend is Cricket Writer for 'The West Australian'
Join our new commenting forum
Join thought-provoking conversations, follow other Independent readers and see their replies