Ashes 2013-14: England disappointed but not angry after three dropped catches allows Australia to edge day one
Panesar, Root and Carberry all failed to cling on in the final session as Australia reached close of play on 273-5 having won the toss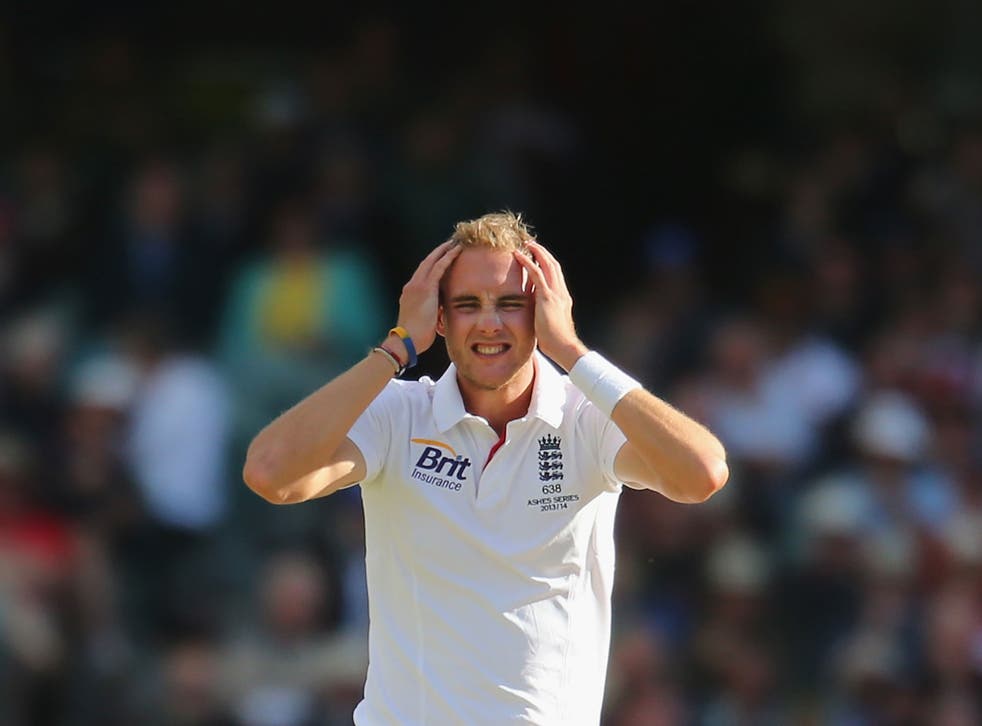 England spinner Graeme Swann acknowledged England were disappointed to have dropped three catches but refused to apportion blame after the tourists had to settle for limiting Australia to 273 for five on day one of the second Ashes Test.
Chris Rogers led the way for the hosts at the Adelaide Oval scoring 72 at the top of the order, with George Bailey contributing 53 and Shane Watson 51 and with captain Michael Clarke still there on 48.
Stuart Broad took two wickets and James Anderson, Graeme Swann and Monty Panesar one apiece, but it could have been so much better for the tourists had a trio of chances not been put down after tea.
Panesar ought to have taken a straightforward return catch, offered by Bailey on 10, then Joe Root failed to cling on to a half-chance at midwicket to get rid of Michael Clarke, and then - worst of all - Michael Carberry put down the simplest of opportunities at backward point to get rid of Brad Haddin (seven not out).
AUDIO: Stephen Brenkley and Tom Collomosse discuss the days play. Listen below…
However, Swann said on Sky Sports 2: "We're fairly pleased. Five five down for 270... it would have been ideal if we'd got six or seven. We missed a couple of chances that on another day we'd expect to take. But we stuck to our guns fairly well.
"We're disappointed, but not angry. That's cricket. You do drop catches.
"We've fielded exceptionally well on this trip so far, taken some belters.
"It's just a shame that today was the day that a couple went down but we've got a great spirit in the camp and nobody's going to be hard on anyone else.
"We know how hard we all work on our fielding, and we'll come back tomorrow and hopefully take those half-chances."
Swann was encouraged by what he saw from the wicket on day one.
"There's no pace in the deck whatsoever," he said. "There's a little bit of turn. It's drier than we'd normally expect in Adelaide. It was slow and very easy to bat on if they were willing to play straight.
"We've got to try to come back tomorrow and get the ball talking early on. It got a bit of reverse swing today, which was encouraging.
"If we can do that again tomorrow, and then a bit of spin from me and Monty, and hopefully go through them cheaply."
He added: "If we can keep them below 350, we'll be happy. You never know what par is until both teams have batted. We thought 500 was par (in the first Test defeat) last week and we only got 120!"
Australia opener Rogers was satisfied with his knock, having used the time since his team's emphatic first Test victory to overcome a "technical flaw" - the nature of which he kept to himself.
"I was under a little bit of pressure after the last game," he said. "A technical flaw had probably crept into my game, so I had some time to iron that out and felt a bit better at the crease today."
Rogers admitted the home team had revised their target after wickets began to tumble in the latter part of the opening day.
"At one for 155 I think we thought 400, 500 was on the cards," he said. "But then a few tricks started to happen and they got a few wickets. We thought maybe even 300. but we've got a good tail.
"Four hundred would be a good score, I think.
"They bowled well in patches today and really made us work hard for it. You can say poor shots, but those things happen."
Looking ahead to how things would play out in the remaining four days, he added: "Anderson's spell in the middle there was excellent - he started to get it going so that's a good sign for us.
"It feels more a day three wicket than a day one wicket. There was some surprising turn at times. I think this game... it's not going to be a draw - there's going to be a result."
PA
Join our new commenting forum
Join thought-provoking conversations, follow other Independent readers and see their replies