The Ashes 2013-14: Michael Carberry feels debt of gratitude to Shane Warne
Carberry hit an opening century in England's latest warm-up game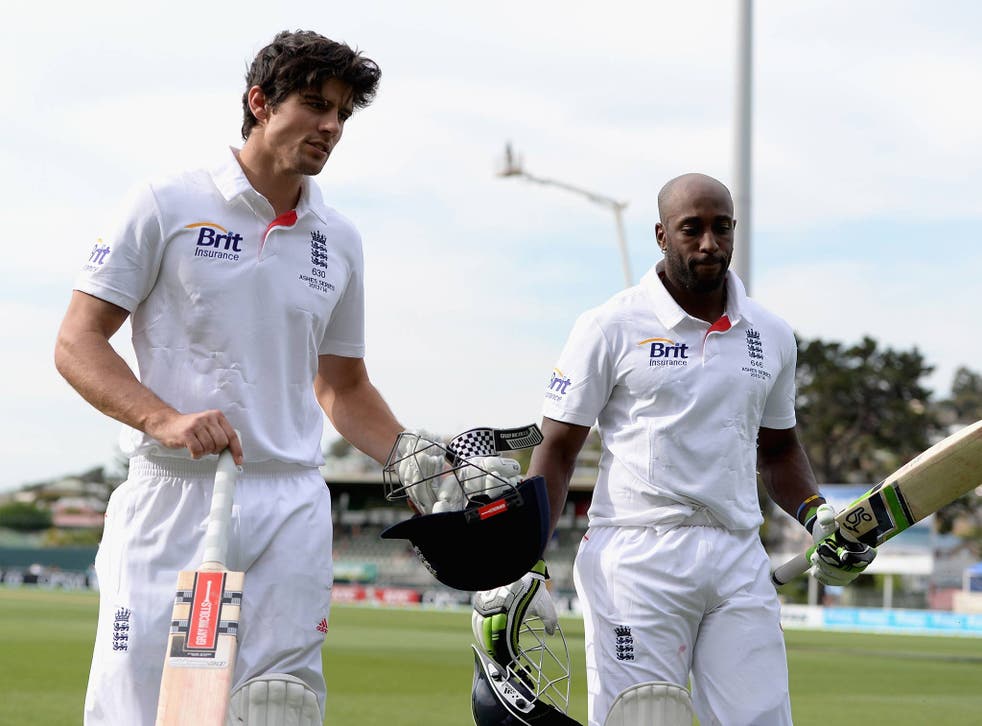 Michael Carberry is in a unique yet significant minority of England's Ashes tourists who feel a debt of gratitude to Shane Warne.
Carberry has surely put himself in the frame for the first Test in Brisbane, following his solitary previous cap in Chittagong three and a half years ago, by chalking up his maiden England hundred in an unbroken stand of 318 alongside Alastair Cook in Hobart.
The journeyman left-hander's share was almost equal to his captain - 153 not out plays 154 - in England's highest opening stand since a Test alliance between Cyril Washbrook and Len Hutton 65 years ago.
Carberry, whose hard-working career path took him first from his native Surrey to Kent and finally to Hampshire, believes the positive influence of Warne as his captain on the south coast gave him the freedom and confidence to establish himself and eventually push for higher honours.
Warne has hardly made himself popular with Carberry's current England team-mates in recent days, having reissued his critique of Cook's "negative" and "boring" captaincy and questioned the wisdom of persisting with Joe Root as a Test opener in Australia.
It is hardly likely to have been at Warne's specific suggestion that Carberry partnered Cook at the top of the order on day one of England's second tour match against Australia A at Bellerive Oval.
But there was an irony nonetheless when, while Root noisily powered away on a gym rowing machine yards away from Carberry's post-match press conference, the 33-year-old spoke glowingly of the help he has received from Australia's record-breaking leg-spinner.
"I think Shane Warne is basically the reason why I actually got a chance to play Test cricket," he said.
"I was a young guy, a little bit lost in county cricket. I came to Hampshire - and from day one, he made me feel very much at home and gave me the backing every young player needs.
"He allowed me to play a brand of cricket I wanted to play.
"I think he was very influential in terms of me doing what I've done, then getting the chance to play for England a few years on."
It is a mentoring role which has endured too.
"Whenever I've caught up with Shane, he's always had very kind things to say about my game.
"He's someone I still keep in contact with, even though he might be overseas. He's always been a great friend to me."
Carberry may have benefited from Warne's wisdom, but he has had to dig deep within himself too to overcome more hurdles than most.
It was in the winter after that Test debut that a blood clot was discovered on his lung, preventing him from touring with the England Performance Programme and interrupting his career the next summer too.
Following his 78 in Perth last week, Carberry recalled his decision to undertake an apprenticeship as an electrician - in case his cricket career was not fulfilled.
Asked after his chanceless century here whether it is a dream come true, after his hardships, to be perhaps on the verge of a heartening Test comeback, he said: "Yes, it is.
"It's obviously been well-documented that I have had some tough times personally off the field.
"By the grace of God, I'm here to enjoy what I'm doing now.
"I think, when things like that happen, it gives you perspective on your cricket.
"It made me probably relax more, and try to enjoy the game for what it is - rather than, as young players do, put pressure on yourself to get where you want to get to."
It maybe taught him too to take nothing for granted.
"I'm trying not to look too far ahead," he said of a possible Test return in Brisbane.
"I'll worry about the Gabba when I get there.
"I look to try to be flexible, and do whatever job is required of me and I feel I can do for the team.
"If it's to be opening, great; if it's to bat down the order, even better."
To that end, Carberry intends to keep things simple - as he demonstrated while batting all day.
"Thankfully, I've done it a few times in first-class cricket - so I'm not averse to doing it.
"But obviously, to do it for England is a very special moment.
"I thought the Australia A guys bowled very well up front.
"The new-ball pair were as good as anyone I've faced, and you can only make runs agains the people you're playing against."
Home wicketkeeper Tim Paine gave Carberry due credit, but provided hope too for his compatriots that they might be able to exploit a potential weakness if he does partner Cook in the Ashes.
"We thought we were 'half a sniff' around that gully region, if we bowled the right length to him, but we just couldn't get one to go to hand.
"He's obviously a class player. I'm sure if he does play in the Ashes, he'll be hard to get out.
"But I think there is an area there, if you stack up your gully region, at some point you'll get a chance."
PA
Join our new commenting forum
Join thought-provoking conversations, follow other Independent readers and see their replies