Ashes 2013-14: Michael Clarke compares victory to 5-0 whitewash
The Aussies have reclaimed the urn after going 3-0 up in the series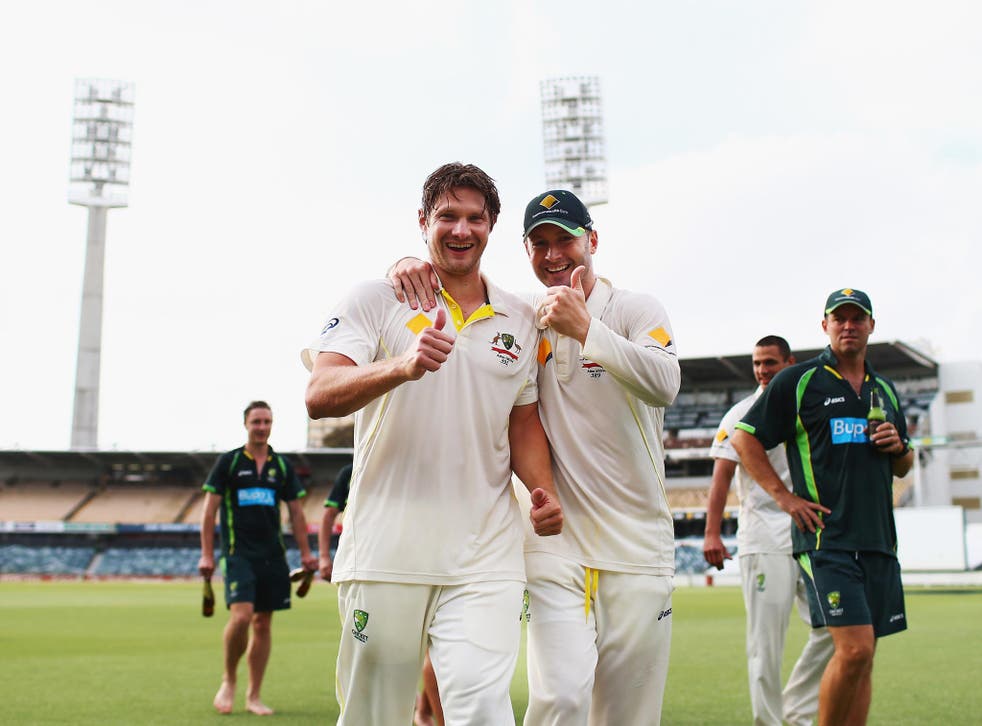 Michael Clarke is hailing Australia's Ashes victory as a special achievement to compare with their whitewash of England in 2006/07.
Australia have defied general expectations of a closely-fought contest this winter by hammering England three times to regain the urn before Christmas.
After their latest win - by the smallest margin yet, of 'only' 150 runs at the WACA - Clarke was careful to pay due respect not just to Ricky Ponting's 5-0 class of 2006/07 but also the opponents he and his team-mates had again thoroughly outplayed.
Clarke, a young middle-order batsman seven winters ago, marked his - and his opposite number Alastair Cook's - 100th Test by leading his team to a famous victory and unassailable 3-0 lead, with two to play.
Echoing the thoughts already expressed by his wicketkeeping colleague at the safe re-deliverance of the urn, he said: "Today, as Brad Haddin said, we brought it home.
"To get the Ashes back is so special, because of the work these guys have put in."
Asked if this is therefore the proudest moment of his outstanding career, he said: "It's as big, there's no doubt about it.
"I certainly don't want to disrespect 2006/07 - that was a very special series at a very different time in my career.
"I was a lot younger ... a little bit older, a little bit greyer, this is certainly as special."
It is too, of course, for a generation of Australians who have previously had to get used to losing to England.
"I don't think you'll find one bloke in that dressing room who won't say that this is the pinnacle - playing Test cricket against England and winning the Ashes," Clarke added.
"That's always been the pinnacle for Australian cricketers."
Clarke spared a thought too for Cook.
The England captain is under unaccustomed scrutiny after failing to consolidate the superiority which saw his team beat Australia 3-0 themselves, on home soil only four months ago.
Back then, it was Clarke who had to come up with all the explanations in defeat.
"I've read a bit of the stuff in the media back in the UK, and I know what Alastair feels like at the moment.
"It's not that long ago I sat in the same position.
"I think they're a very strong team, and the Australian players deserve a lot of credit for the way we've performed in this series.
"Alastair Cook is a fantastic leader. To play 100 Test matches, and have the record he has, I think he deserves a lot of recognition."
Clarke knows from personal experience that success at the highest level is hard-earned.
"Test cricket is extremely tough, and I know what it feels like to sit on the other side and not get the result you want," he said.
"But that doesn't mean you haven't got the best players there; it doesn't mean you haven't got the best captain there.
"I believe Alastair Cook is a wonderful player and a very good captain - and I certainly don't believe he deserves the criticism I've read in the last few days. Nor do the England team.
"They outplayed us (a few) months ago, in the UK."
Darren Lehmann replaced the sacked Mickey Arthur as Australia coach barely three weeks before the start of last summer's Ashes.
He was unable to work the oracle then, but is being praised to the rafters now for the positive influence he has had.
His winning brand of man-management reportedly veers from the avuncular to the disciplinarian, and he was happy to see how much the success clearly meant to his team.
"It was very emotional for a lot of players," said Lehmann.
"Obviously it's been a tough time over the past few series against England - they're a quality side - so to see the guys with a few tears in their eyes and faces was great.
"It shows the emotion of winning an important series. They should enjoy that."
Clarke confirms they will, but not for too long - because he expects England to be determined opponents in the final two Tests over Christmas and new year.
"I think England will play exceptionally hard in Melbourne, like they have in these first three Test matches, and I believe we have to be at our best to beat them," said the captain.
"I can guarantee you there won't be any complacency (from us).
"We will be 100 percent ready to go and do what we've done in the first three Test matches, in preparation to win that one."
PA
Join our new commenting forum
Join thought-provoking conversations, follow other Independent readers and see their replies