Ashes 2013-14: Ryan Harris promises to come out 'all guns blazing' in second Test despite doubts over his long-term fitness
Harris has suffered with injury in the past but the Australian bowler claims the testing Adelaide pitch won't pose him a problem later this week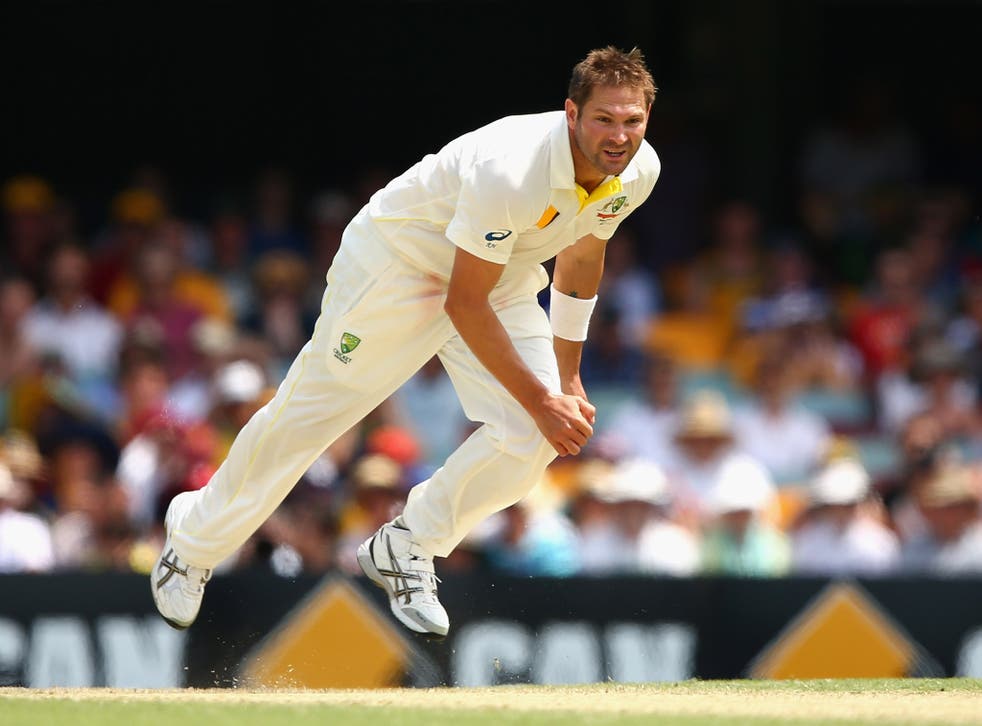 Ryan Harris will make no allowances for his own perceived fragility when he leads the Australia attack in the second Ashes Test.
A combination of the 34-year-old's long-standing, but not especially recent, susceptibility to wear-and-tear injuries - and the likelihood of a war of attrition on a docile, drop-in pitch at the Adelaide Oval - has led many wise heads to call for him to be rested here.
He does not see it that way, however.
Far from taking a breather, in fact, Harris is committing himself to a full workload - no matter how many overs are required to try to bowl England out twice again.
Thanks to match-winner Mitchell Johnson, that process took less than 130 overs - and only 34, including five wickets, from Harris - in Australia's 381-run win in the first Test at the Gabba.
In Adelaide, to the same end, he is already contemplating the likelihood he will get through more than 50.
Australia, whose captain Michael Clarke had a minor injury scare at nets on Monday but returned to bat apparently unhindered after landing awkwardly on his right ankle in fielding drills, have been urged to handle Harris with care.
Yet contrary to many predictions, he was a tireless workhorse in the last four Ashes Tests in England last summer, and is not about to let up now.
"I will be all guns blazing here," he said.
"I am not going to miss a Test unless I have to.
"I have said since the start I am here to play five Tests. I had the turnaround in England and got through it okay."
Harris and coach Darren Lehmann have not discussed the possible contingency of saving him for next week's third Test in Perth.
"I must admit, all the reports about me resting, I have not even had the conversation with 'Boof' yet.
"He has not mentioned one word about me resting - which is good.
"I don't think going into a game holding me back is good.
"It is not what you do. You have to go in and bowl as if it is your last Test.
"If I was going in only to bowl 30-35 overs, I would not play.
"You can't have one bloke going half-hearted, because it puts pressure on the three other bowlers."
Harris has another wish this week too, the opportunity to bowl early at Ian Bell - one which will be granted if England push the prolific middle-order batsman up to number three to replace the absent Jonathan Trott.
"I hope it will be Bell in there early, because it will give us a chance to get him out.
"Jonathan is a big loss, and we have got to make sure we capitalise on that and we are ready for whoever comes in.
"I want him [Bell] in there early.
"It gives him more time to get in, but gives us more time to have a crack at him and get him out earlier."
Harris is convinced, as was Lehmann when he spoke on the same subject two days ago, that none of the Australians will reference Trott's stress-related illness in any of their Adelaide 'sledges'.
But he is equally adamant that the aggression - verbal and otherwise - is not about to stop just because the Ashes has moved on from Brisbane.
"We will keep that pressure and aggression on.
"It is Ashes cricket. It is hard cricket, and everybody wants to win. It means a lot.
"We will keep the same aggression and do whatever we have to do to get those guys out - simple as that."
PA
Join our new commenting forum
Join thought-provoking conversations, follow other Independent readers and see their replies