Ashes 2013-14: Top order fragile despite careful building
The Aussie Angle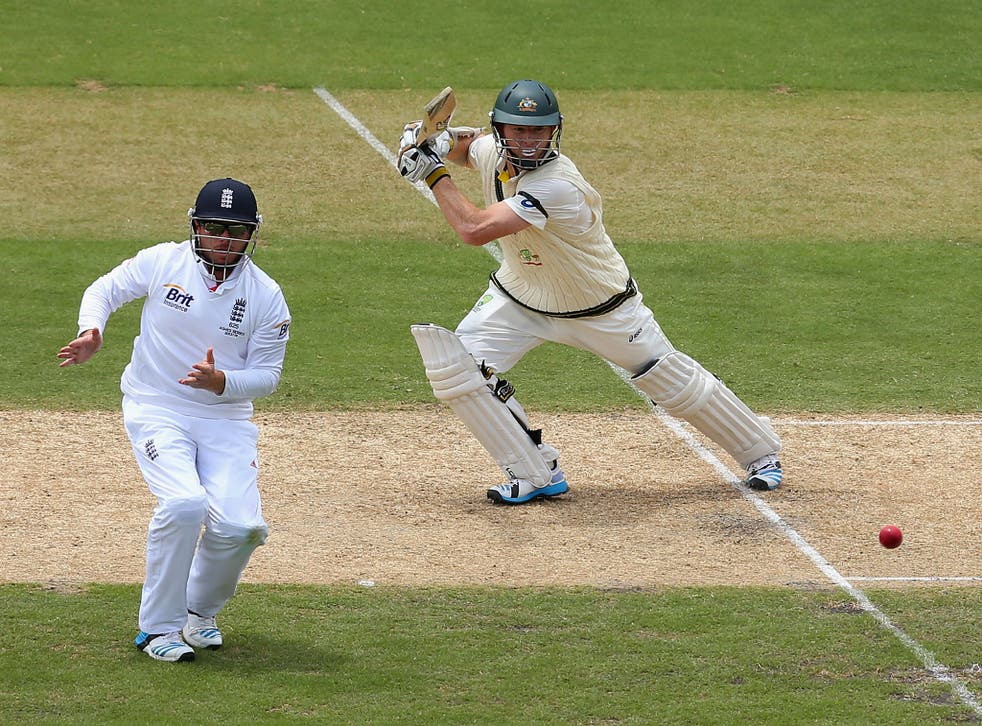 The doomsayers were in their element before the second Test. England were shattered after their mauling at the Gabbatoir, their resolve broken by Mitchell Johnson and their grasp on the Ashes slipping by the day. And the Adelaide Oval would be a batting paradise where records would tumble as the pitch failed to crumble.
But Australia's first-day total of 273 for 5, after the loss of three wickets in 25 minutes before tea, put paid to that hocus-pocus.
Yes, the Adelaide drop-in is as hard as the massive concrete stand rising on the east bank but it still offered enough variation to reward bowlers who persevered and perspired in the team cause.
The ball that Monty Panesar got to jag from the middle and leg stumps to cannon into Steve Smith's off peg lit up the expectations of fellow spinners Graeme Swann and Nathan Lyon alike.
Shane Warne's fingers were twitching in the commentary box – and not just from nicotine denial.
Yet for all the familiarity in Australia's ability to convert a solid start into yet another desperate innings requiring the rescue services of their captain, there was also something considerably unfamiliar about the way they went about their batting.
Just as the Adelaide Oval has gone from being Test cricket's most charming ground, with its panoramic views of St Peter's Cathedral and the purple Adelaide hills, to a pragmatic Australian football stadium with a toilet-seat configuration of stands spreading in horseshoe pattern from the fulcrum of the scoreboard and northern grass bank, so too did Australia's most luscious strokeplayers swap style for stuttering and tepid toil.
Opener Chris Rogers was a case in point, a highly experienced batsman who was inhibited by expectation and external pressure.
Knowing on one hand that he needed a decent score to maintain his career after two failures at The Gabba, he recognised on the other that he was required to flourish on a surface predicted to require a massive first-innings total.
Rogers was caught between the two stools and was unable to commit strongly enough to either one.
"At my age, I know I am only two bad games away from my career being over," he said after a 72 that exhibited his fighting spirit but little else.
"The pressure I put on myself might be a good thing because I think I play better under pressure. If that is the way my career goes, I just have to accept it."
Swann, in particular, has a hold over the left-hander that saw him claim Rogers six times during the English summer and repeatedly threaten him again in Adelaide.
Three catchers were stationed close to the bat for much of the battle between the pair and while Rogers several times struck crisp drives against the off-spinner, the opener was rarely able to escape his spell.
Swann eventually struck with perhaps his worst ball of the day, a wide half-tracker that Rogers should have cracked to the point fence. Instead he issued a tentative poke that provided a catch into Matt Prior's gloves.
Rogers worked hard in the second innings in Brisbane before being undone by a poor delivery, perhaps the result of his concentration waning against an easy offering after being on red alert for so long against the searing missiles that threatened his wicket.
It is not necessarily the Australian way to scrap as hard as the top order had to yesterday, though David Warner and Shane Watson, normally players who like the feel of the ball rocketing from the middle of the bat, also eschewed their normal approach to spent considerable periods consolidating throughout their innings.
Warner also fell to a poor stroke, probably the most poorly executed of the day, while Watson precipitated a clatter of wickets with a luckless straight drive that held in the air long enough for James Anderson to snare a superb reflex catch.
Three other chances went down in what was another uncharacteristic element of the first day.
Progress has not stopped at the once picturesque Adelaide Oval; for the members of Australia's still brittle top order, progress may also be measured in stands of substance rather than style.
First day in numbers
7 - Graeme Swann dismissed Chris Rogers for the seventh time in seven Tests
4 - Fifties scored by Shane Watson in five innings at the Adelaide Oval
227 - Test wickets for Broad – seven shy of 10th-placed Englishman Andy Caddick
Join our new commenting forum
Join thought-provoking conversations, follow other Independent readers and see their replies