Ashes 2013: England's conviction squeezed slowly dry as batsmen go walkabout in Test
Cook's men again fall short of expected total as Australia seize the advantage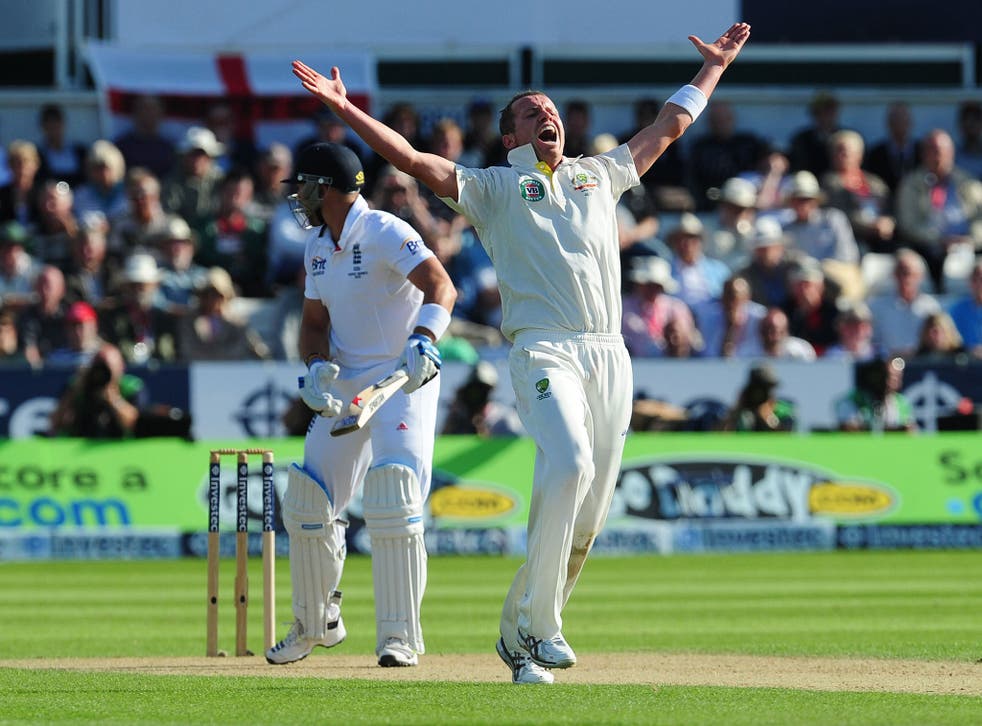 It is as well that England have already retained the Ashes. On the evidence of recent days they could well be handing them back shortly wrapped in fancy paper and ribbon.
The team who took a 2-0 lead in this series against Australia is suddenly bereft of direction and drive, operating on mogadon when they are not having a quick fag behind the bike sheds. They reached 238 for nine in 90 long overs on the first day of the fourth Investec Test.
At various times they promised much. They have been promising much for months, dwelling on past glories, but in large sections of this summer and the summer before their batting has been capricious and unconvincing.
Whatever else their total might have been it was hardly the form of a confident side who are ready to take all before them. It is a jolly good thing that those inside the camp, rather than the camp followers, played down the idea of this series being won 5-0.
The day followed a course which has become familiar in the past month. The pitch was slow and dry, if not as either slow or dry as the play, and only the lush countryside around confirmed that it was Chester-le-Street and not Chittagong.
England were squeezed drier still by Australia. The tourists were not particularly incisive at the start but their patience, changes of bowling and fields cunningly set yielded high dividends. Nathan Lyon, an off-spinner who has been much-maligned took four wickets including that of Kevin Pietersen which he thoroughly merited because he kept his nerve when the batsman was about to try to take him apart.
By the close, the home side had raised their run rate to 2.64 runs per over, a veritable express train compared to the cart horse which operated before lunch. There are those who would maintain that it was traditional Test cricket which overlooks the fact that it was probably why Test cricket got into trouble in the first place.
The score was obviously more famine than feast. It may look more like the latter once Australia have batted but it is doubtful. The key stand of the day was the 73 that Alastair Cook and Jonathan Trott shared for the second wicket.
It was more enervating than entertaining but England were miles away from the 400 would have been looking for when Cook won the toss.
Cook was the day's top scorer with 51 etched painstakingly, sometimes painfully, from 164 balls. It was his third slowest half century for England which followed the slowest at Trent Bridge in the opening match of the series.
The innings was also his third fifty of the series and for the third time he failed to go on, although on this occasion he could be excused for receiving a bobby dazzler of a ball from Jackson Bird, playing his first Ashes match. You half expect someone with a name like that to run up to the wicket playing blues clarinet, instead of which he bowled a rigid wicket to wicket line for most of the day, making the batsmen play and leaving everyone to wonder where Australia have been hiding him so far.
Cook begins to embody England's present struggle with the bat. They have now failed to make 400 on four successive occasion and have done so only once in the last ten.
They can say all they want about the high quality of their batting, they can say it until the cows come home on the rural pastures hereabouts and they may well point to arid, turning pitches they presumably encouraged but England are not batting with conviction or zest.
It would help if they could compile an opening stand worthy of the name. Cook and Joe Root have yet to share a partnership of 50 together and the 34 they put on yesterday in a little more than 17 overs was their second highest. Root was out pushing forward, though he was given not out at first.
There was relief all round, except for England, of course, when Hot Spot showed a mark. Hot Spot showing a mark is incontrovertible. Apart from his 180 at Lord's, a resplendent innings which have ended when he was eight had Brad Haddin not been dozing behind the stumps, Root has made 78 runs in his other six innings in the series.
England seemed to have repaired this nearly damage when Trott joined Cook. They both began to approach fluency, which has not often been the case recently. Trott found a late cut and a cover drive, strangers to him, both of which went for four. Cook was eking out runs but that was all right as long as he occupied the crease.
In search of his fifty, Trott was caught off bat and pad at short leg to give Lyon his first wicket. Pietersen came out flailing, clearly determined to stamp his authority on proceedings and lift England from their state of torpor.
He bludgeoned Lyon out of the attack with two meaningful blows and was brisk and busy. Michael Clarke is a shred tactician, however, and he brought back Lyon to try his round the wicket line of attack again. Within five balls, Pietersen pushed forward to a ball going across him, edged behind and immediately walked.
Three overs later, Cook succumbed to Bird and immediately after tea Ian Bell drove Lyon to deep mid-off. Bell could be forgiven this lapse considering the series he has had but was inopportune and careless behaviour of which he has been guilty in the past.
Matt Prior and Jonny Bairstow now batted with caution befitting men determined not to make a mistake, both defying their natures. Prior was beaten by a ball nipping back and Australia's referral when their lbw appeal was turned down was upheld. Bairstow went 43 balls and 64 minutes without scoring, broke the shackles with a two ands two balls later was leg before sweeping. His review failed.
In the evening sunshine, England bucked up against the second new ball with a flurry of fours. It cheered everybody up no end. England should try it more often.
Join our new commenting forum
Join thought-provoking conversations, follow other Independent readers and see their replies