Ashes 2015: Mitchell Johnson accuses Jimmy Anderson of sledging hypocrisy
England's nemesis ridicules bowler's plea to play Ashes in right spirit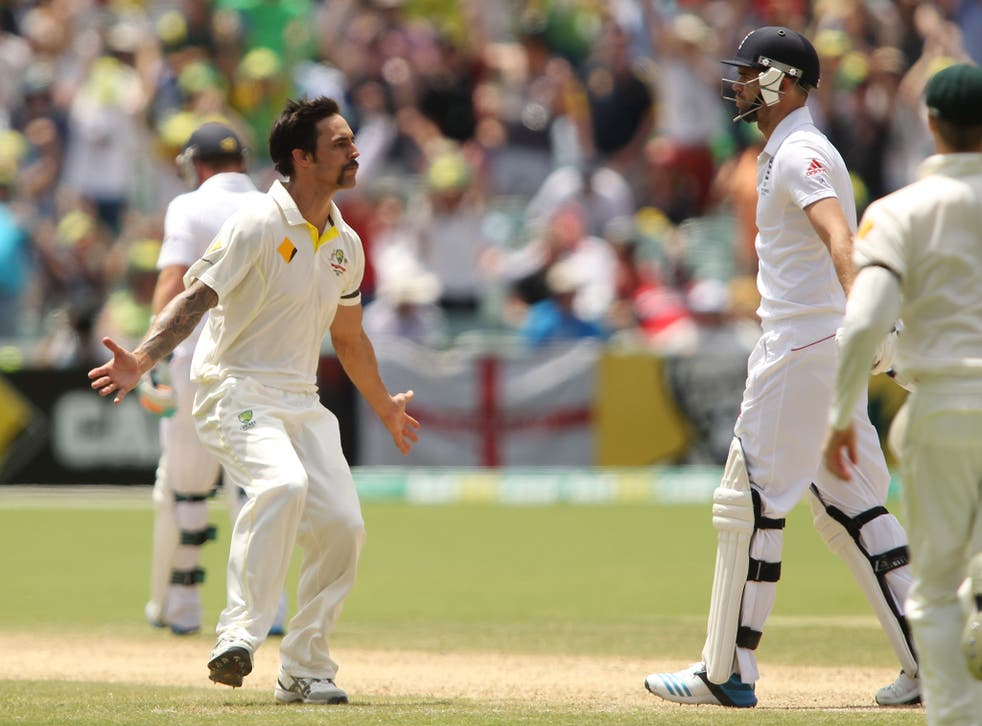 Mitchell Johnson has laughed off Jimmy Anderson's call for the forthcoming Ashes series to be played "in the right spirit" as hypocritical.
The Australia fast bowler – no stranger to sledging – was responding to Anderson's hope that the Ashes would be "played in the same nature" as the good-spirited recent series with New Zealand.
Johnson, though, raised an eyebrow yesterday at the England bowler's sincerity. "That is interesting coming from him because he is probably one of the biggest [sledgers] in the England team," said Johnson, before predicting a resumption of hostilities in the first Test in Cardiff next week. "I don't think anything is going to change," he added. "I think he is just trying to get it out there to make himself look better."
Johnson was England's nemesis in the 2013-14 Ashes, taking 37 wickets and being named man of the series. He made the pointed remark yesterday that Ben Stokes – with whom he barged shoulders at the Adelaide Oval – was England's only player who stood up to the Australians as the tourists lost 5-0.
"Stokes is just playing the game and is fiery and we like that," Johnson said. "We like someone who has got a bit of guts and determination. We spoke about him throughout that series that he was probably the only guy that really fought and it showed. He has been able to do that. He stirred up a few of the West Indians recently. We weren't sure why he wasn't picked in the World Cup squad."
Johnson insisted there was no bad blood with Stokes and he was looking forward to facing him again. "It is always nice to be able to play against competitors," he said. "Virat Kohli is the same. That is what I love about cricket, having a bit of fire in the game. That is what people want to see in Test cricket."
Join our new commenting forum
Join thought-provoking conversations, follow other Independent readers and see their replies