Ashes 2015: Older and wiser Mitchell Johnson can be a guiding light for Australia
Australian paceman has dealt with flak and can help his team-mates cope with Ashes pressure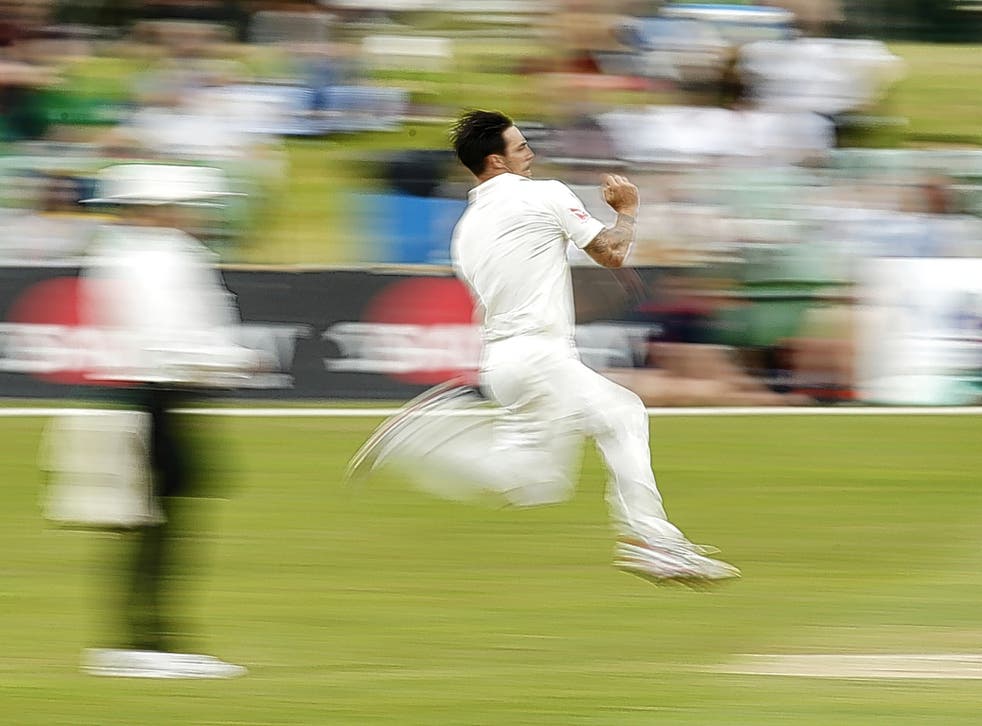 The Mitchell Johnson who is likely to walk out in the first Ashes Test at Cardiff next week is a version never seen here before. The fast bowler's first Ashes tour in 2009 ended in defeat. For 2013 he was dropped. This time, though, Johnson arrives transformed by a spell of success which gives him a new authority and presence on and off the field.
Johnson blew England away in the 2013-14 Ashes in Australia, taking 37 wickets and winning the Man of the Series award. He was ICC cricketer of the year last year, and this year was excellent in the World Cup which Australia won, another step in their remarkable improvement under coach Darren Lehmann.
Winning the Ashes in England – something Australia haven't done since 2001 – would be the pinnacle of this side's development, and also of the second stage of Johnson's own career. He said yesterday, at Australia's base in rural Essex, that this "is probably my last Ashes series". Victory would be the perfect goodbye.
All of Johnson's recent achievements make him far more comfortable with the theatre and drama of the Ashes than he used to be. If the younger Johnson was sometimes affected by the mind games, his 33-year-old self was more in control yesterday, making his points but never losing his cool. That other side of the Ashes – the media, the fans, the pressure – overwhelmed Johnson in the past, but not any more. Now he is the senior bowler imparting his lessons to the less experienced Josh Hazlewood and Mitchell Starc.
"I have had some experience here," Johnson said. "It is probably up to me now to help these young guys now, to know what to expect over here in these conditions, and with the media and off-field stuff."
That is the side of the Ashes that can get to younger players, but having come through it before, Johnson is in a position to offer help. "Being able to experience all of that has made me a better player and a better person," he reflected. "That is where I think I have to be able to help the younger guys who have not been through that experience at all."
Johnson, speaking with honesty and self-knowledge, admitted just how startled he had first been by the intense scrutiny of a match at Hove on his first tour six years ago.
"When I came here I was playing well at the time," Johnson said. "Then I remember one of the warm-up games down in Hove. We had all the media, which was not something I expected at all. I came in and it just blew me away.
"It pretty much started from there. I was taken aback by it, did not expect it at all, then the crowds and everything else on top of that." The English crowds did not exactly take to Johnson, mocking him for his early Ashes form, and there was an incident in Australia 18 months later which still stands out.
"I remember in the 2010-11 Ashes, walking down the street in Melbourne with my wife and copping abuse from about 10 English blokes," he said. "That was quite disappointing at the time, and as I was with my wife, it was really disrespectful."
It was not a pleasant experience but, again, Johnson feels he has moved beyond it. "Back then, I took it personally, 100 per cent. It hurt at the time but I have grown from that. Those things don't affect me now, it is just words."
It is through the experience of playing and learning that Johnson has grown used to this sort of treatment. "That has been the history of Ashes cricket and probably cricket in general," he said. "I have been targeted all over the world. In South Africa, they went after me. That was good fun. It is always nice to be able to retaliate when you get wickets."
That, ultimately, is how Johnson has responded, with stacks of cricket's most precious currency – 291 Test wickets . He said there is "probably a bit more appreciation" after his recent performances and sensed a slightly lighter tone during his historic 2013-14 series.
It was soon after that series whitewash that Lehmann's Australia re-assessed their targets, looking at two in particular. First there was the World Cup, which Australia regained. Now there is the away Ashes, in which Australia last triumphed 14 years ago.
This is what everything has been building up to and Johnson, six years on from his first tour of England, is now a master of Ashes cricket and all that goes with it.
"Once we got here from the West Indies, I could feel that excitement in the air, the build-up already," he said. "We were only a day in when we arrived and had some time off with the boys. But we were all itching to get out there. I just want to get out there and play."
--
England's nemesis - Mitchell Johnson's record
Ashes record in England
Games Wkts Runs Best Av 5w
Tests 5 20 651 5-69 32.55 1
Ashes record in Australia
Games Wkts Runs Best Av 5w
Tests 9 52 1071 7-40 20.59 4
Career statistics
Games Wkts Runs Best Av 5w
Tests 66 291 8,027 8-61 27.58 12
Ashes highlights
Best figures 7-40, second Test, Adelaide, 2013. In that series he took 37 wickets at 13.97.
Best match 9-82, third Test, Perth, 2010.
Join our new commenting forum
Join thought-provoking conversations, follow other Independent readers and see their replies